Twitter CEO Elon Musk faced mockery after he boasted about paying from his own pocket for NBA superstar LeBron James, horror author Stephen King and "Star Trek" legend William Shatner to be verified on his social media platform.
James, King and Shatner had all publicly rejected the idea of signing up for the website's new Twitter Blue verification service, which for $8 a month gives a blue check mark next to subscribers' names. It replaces the free tick system for public figures that the platform axed on Thursday.
King realized something was afoot late Thursday, as other users' blue check marks began to vanish but his remained in place.
"My Twitter account says I've subscribed to Twitter Blue. I haven't. My Twitter account says I've given a phone number. I haven't," King tweeted.
Musk copped to the reason. "You're welcome namaste," he replied to King.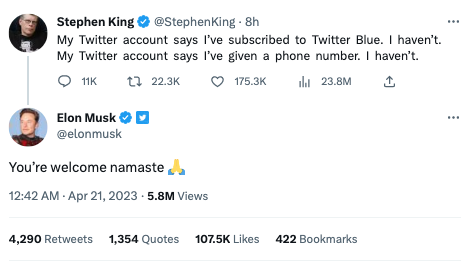 Critics interpreted the stunt as an attempted troll by Musk, but many agreed it had gone awry.
Popular in the Community