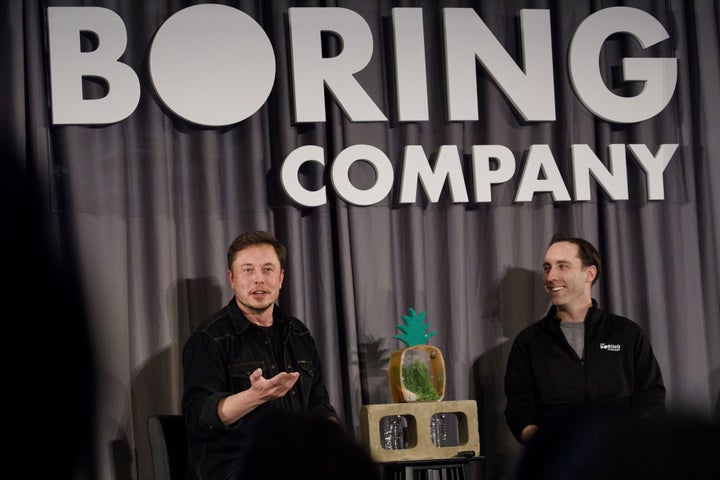 The tech billionaire's tunnel-building endeavor confirmed to HuffPost late Wednesday that it had been selected to construct an express transit network between downtown Chicago and O'Hare International Airport.
The company claims the trip through its futuristic tunnels will ferry up to 16 passengers in high-speed electric vehicles. The cars, called "skates," could leave as frequently as every 30 seconds and travel more than 100 miles per hour, The New York Times reported.
The trip will reportedly take about 12 minutes each way.
There are few speedy options to get from downtown to O'Hare; travelers can either drive on the often traffic-clogged roadways or take the L train. Both options can take more than 40 minutes, The Verge reported.
"This transformative project will help Chicago write the next chapter in our legacy of innovation and invention," Emanuel told The Times on Wednesday. He will provide more details at a news conference with Musk on Thursday.
The project, which still needs approval from the city council, is expected to cost around $1 billion and will be entirely financed by the Boring Company. Rides would cost about $20 to $25, and all fares and branding associated with the project would go to the company itself, per The Chicago Tribune.
It's unclear how quickly the project will be completed after the contracts are signed. Boring Co. is still building its first test tunnel in California. But Emanuel expressed optimism that Musk was up to the task.
"I'm betting on a guy who has proven in space, auto and now a tunnel, that he can innovate and create something of the future," Emanuel told the Tribune. "Given his track record, we are taking his reputation and saying, 'This is a guy in two other transportation modes who has not failed.' That's what we're doing."
One of Musk's other company's, Tesla, Inc., recently announced plans to lay off about 9 percent of its workforce in an effort to become profitable. About 3,500 people, most of them salaried employees, are expected to lose their jobs. The automaker has lost money every year since its founding more than a decade ago and has struggled to keep up with orders for its electric cars.
"What drives us is our mission to accelerate the world's transition to sustainable, clean energy," Musk wrote in an internal email to staff that he later posted to Twitter. "We will never achieve that mission unless we eventually demonstrate that we can be sustainably profitable. That is a valid and fair criticism of Tesla's history to date."
Aside from tunnels, the Boring Company recently caused a literal firestorm on social media after Musk sold 20,000 branded flamethrowers for $500-a-pop. The company made $10 million from those sales.
Popular in the Community