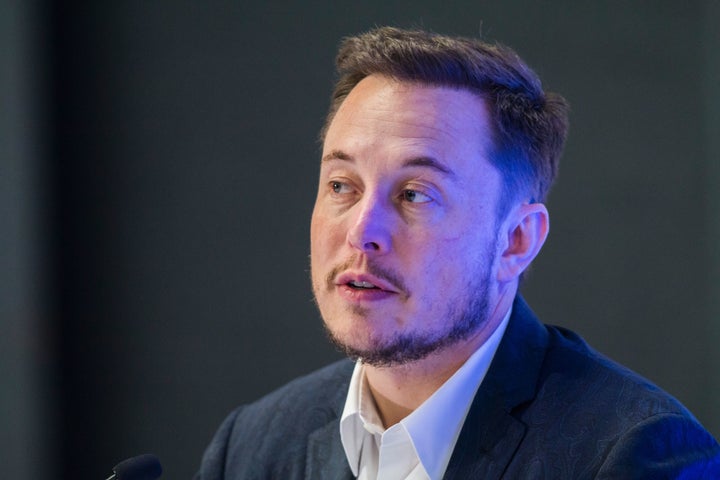 These are complicated times for green guru Elon Musk.
First, President Trump, whom he opposed during the presidential campaign, named him to his Strategic and Policy Forum and his manufacturing council. Then Musk broke with the environmental community and endorsed Rex Tillerson, the former CEO of Exxon Mobil, for secretary of state. Progressives were incensed by what they viewed as Musk's betrayal. "What did they promise you in the golden room?" one tweeted to Musk.
Next, Musk defended Trump's controversial travel ban that targets Muslims, sending out a retweet that said "after reading the language of [Trump's executive] order, it looks far less bad than portrayed by left." This prompted an even more intense response from progressives. One group, Americablog, went so far as to create an online petition demanding Musk end his association with Trump. "Enough is enough," the group declared. "Tell Elon Musk to stop defending Trump's racism — it's time to dump Trump."
For much of his career, Musk has painstakingly crafted his image, one of being the ultimate protector of the environment who, as a result, is a darling of the left. Why, then, would he risk destroying that image — his most valuable asset — by defending Trump? The answer is simple. He doesn't have any choice. His businesses rely on the federal government, and they still don't make money.
After being saved from bankruptcy in 2008 with its first government contract, SpaceX, Musk's space exploration company, has stayed in business only because it received $6.5 billion worth of contracts from the U.S. military and NASA. Since going public in 2012, SolarCity, Musk's solar roof installer, has not had one profitable quarter, despite receiving federal tax credits to help reduce the price of solar panels the company installs. In November 2016, SolarCity was so close to bankruptcy Musk was forced to save it by having Tesla purchase the company in a $2.6 billion all-stock deal.
But Tesla, Musk's electric car manufacturer, has itself faced — and continues to face — serious financial troubles, even though the government has provided tax credits that reduce the effective price of Tesla cars. Since 2010 when the company went public through the third quarter of 2016, Tesla posted a profit in only two quarters. The numbers for the fourth quarter of 2016, which must be reported by February 15, don't look much better. Analysts expect another negative quarter. Even more concerning, there is also a question of liquidity. Tesla claimed to have $3.2 billion in cash-on-hand at the start of the fourth quarter, but as much as half of that could have been consumed by accounts payable and unsecured refundable cash assets like car deposits and buyback agreements.
There are other problems too. Besides dealing with chronic unprofitability, Tesla must now assume the liabilities of SolarCity, which had more than $3 billion of debt at the time of Tesla's bailout and its own negative cash-flow steam. Facing the possibility of running out of cash, Musk did what he announced he would not do when he said on a third-quarter investors call that the fourth quarter would be so "great" he would not need to raise new capital. In December, using two existing credit lines at Deutsche Bank, he secured another $500 million in debt. And in January 2017 SolarCity announced plans to raise $145 million in consumer debt through a bond offering.
It didn't help when the fourth quarter ended with Tesla not meeting its announced production goals for the year. The 83,922 vehicles the company produced fell 3,300 short of what was expected. This prompted Bank of America/Merrill Lynch to write a stinging indictment: "Model S has been in production for four years, so we believe explanations about production issues now seem to be wearing thin. Model S volumes are simply declining. Furthermore, the promotional statements about ramping up total production volume 64 percent to 83,922 in 2016 seem to be masking the fact that Tesla's total volume is less than one third of what a typical single auto plant produces annually…. At some point soon, we believe volume needs to reach high-quality critical mass, generating consistent real profits and cash flow that can fund the company's future plans."
Given the precarious state of Musk's business empire, it is apparent why Musk has climbed on the Trump train. Musk may want short-term perks from the government like solar tax credits. But if Musk's companies remain unprofitable — and from all indications they will — and he can no longer secure capital, Musk may need to turn to Trump and the federal government for more substantial financial support. So don't expect Musk to break with Trump any time soon. Unfortunately for Musk, this may end up destroying his relationship with progressives, who, up until now, have been his most devoted supporters.
BEFORE YOU GO