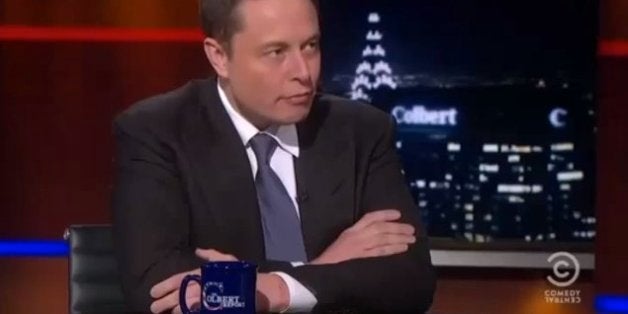 Four years ago, Stephen Colbert doubted that Tesla Motors CEO Elon Musk could make an electric car people would buy.
Now the comedian drives a Tesla Model S.
On Thursday's episode of "The Colbert Report," Musk spoke about the next steps for Tesla Motors, an electric auto company based in Palo Alto, California, and celebrated a recent successful test of the world's first fully reusable rocket, designed and launched by SpaceX, his space travel company.
Full video of the interview:
"What I love about you is you saw the future, as a kid I imagine, and you said, 'Yeah, let's make that happen,'" Colbert said.
But Colbert wasn't always so supportive. In 2010, Tesla's sole vehicle was the Roadster, a $100,000 race car. When a slightly younger and thinner Musk said he wanted to make a cheaper vehicle, Colbert scoffed: "You're trying to get it down to what, $99,000?"
Here's how Musk is doing with each of the promises he made during his 2010 appearance on "The Colbert Report":
■ 2010: "We have a sedan in development, which is about half the price [of the Roadster]."

■ 2014: The roughly $71,000 sedan, Tesla's Model S, is ranked one of the best cars in the world. Colbert drives one.
■ 2010: "The third-generation vehicle will be maybe half again as low as that -- maybe under $30,000. That's really the target in the long term -- to make mass-market electric cars."

■ 2014: Earlier this month, Musk revealed new details of the Model 3, slated to start selling in 2017, which he expects will cost around $35,000.
■ 2010: "We do hope to be carrying people to the [International Space Station] in perhaps as soon as three to four years. We want to carry NASA astronauts and we also want to carry private citizens to space."

But first, as Colbert noted at the time, Musk would have to find a way to "bring them back down" -- namely by creating a rocket that could land.

■ 2014: Earlier this month, the Falcon 9 rocket, designed and built by SpaceX, launched six satellites. When the Falcon 9 returned to Earth on Tuesday, it performed a successful soft landing. So while Musk's three-to-four-year timeline was a bit too ambitious, the company has made a major step toward its goal.
To Colbert's dismay, Musk said on Thursday that he wasn't "sure about jetpacks." But he did predict that the future of commercial air travel lies with electric-powered supersonic jets that will lift off and land vertically, like helicopters. Unimpressed, Colbert asked: "So what's the next thing? What are you going to blow my mind with?"
"Well," Musk said, calmly folding his hands. "What do you wish there was?"
For reference, you can watch the full 2010 interview here:
Popular in the Community