Business magnate, innovator, champion of clean energy, revolutionary bringing humankind further into the deepness of space--Elon Musk is deserving of many titles. Yet, when the billionaire entrepreneur takes the stage, his frequent ums and ahs and his overall awkwardness have shown he's not quite the charismatic leader you'd expect at the forefront of Tesla Motors, SpaceX, SolarCity, Paypal, and more.
But do Musk's on-stage theatrics really matter? At the time of writing this article, Tesla Motor Inc. stock was at $213.38 a share (up from around $40 a share in April 2013), making the total market share of Tesla around $27.6 billion. The launch of the Tesla Model X literally took the world by storm, and it was covered by news media worldwide. Wired magazine called it "futuristic without being weird," "holy sh*t fast," and, most endearing, "family car cool."
Elon Musk may not be the Tony Stark of charisma, but his marketing expertise certainly places him alongside the likes of Don Draper. It's a finesse of the marketplace comparable to Steve Jobs, and Musk's unconventional wisdom of brand awareness, hype, and product confidence has landed him another title: Silicon Valley's best marketer.
So, what does this mean for you and your business? As Elon Musk has shown, the golden tongue of marketing is a relic, but the need for a brilliant marketing plan garnished with dashes of diligence and innovation is just as important, if not more so, in today's media concentrated world.
Here's three strategies taken straight from the pages of Musk's international marketing success. You may not have the Model X, but with the right marketing plan, your product might as well be one.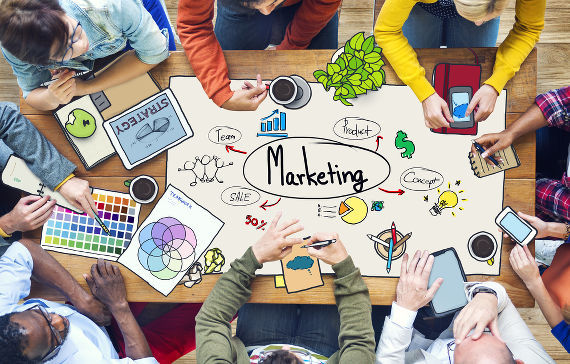 Tip #1: Make your brand stand out like a sore thumb.
Like how Nirvana is synonymous with grunge music, hearing the word "Elon Musk" brings up images of innovation (Tesla), clean energy (SolarCity), and space travel (SpaceX). The only thing like the Tesla Model X is the Tesla Model S, and everything else is an imitator.
When designing the Model X, Musk was very aware of the competition, such as the BMW X5 and the Porsche Cayenne; he knew what they were, and he knew what they weren't. It's for these reasons why Model X's quarter-mile run is at 11.7 seconds and its 0-60 mph tops 3.2 seconds, both of which are on par with the best sports cars out of Italy, Germany, and Britain.
To make yourself stand out, you need to know your competition (to actually stand out from them). Ask yourself: Are they using videos on their websites? How does your competition and their brands appear in interviews? How often are they hitting the blogosphere? Do they podcast? As Sun Tzu once said, "Know your enemy."
Look at Mint, for example. Personal finance was already crowded when Mint entered the scene, and in the beginning, the company moseyed about and remained fairly unknown. Seeing how few competitors were publishing content on personal finance, Mint took the initiative and committed to hundreds of high-quality content pieces and attention-grabbing infographics. Mint was then later sold to Intuit for a whopping $170 million, and it holds its place as the standard for personal finance.
Tip #2: Don't be a recluse, get social.
Elon Musk doesn't need to be a great public speaker to get his message out to the masses. With 2.82 million followers on Twitter, Musk can boost international interest and hype in 140 characters or less. But if you look through Musk's Twitter profile, you'd find much more than self-promotion. The man's pretty social and, at times, he stands pretty tall with a sentence or two. In February 2015, the New York Times wrote a negative review of the Tesla Model S, and Musk was instantly up in arms, attacking his critics.
He wasn't just promoting his product, he was sticking up for it like a good pal, and people admired that.
But as Musk drops hints, builds suspense, and turns millions of potential customers into product evangelists on Twitter, you still won't find his face and words on every available marketing channel. Compared to Musk's 2.82 million Twitter followers, the ~15,000 likes on the Elon Musk Community Page on Facebook doesn't seem to represent a man who's Tweets can affect millions in Tesla's market value.
What does this mean for your marketing plan? Out of all the social media platforms available at your fingertips, you need to determine which carries your core audience. Establish your reach through the one or two platforms your ideal audience will see and follow.
A great example of using social media effectively is Nordstrom's presence on Instagram. As a retailer of upscale fashion, Instagram is the best channel to show images curtailed for their fashion-centric audience. Nordstrom customers love to share its photos, and you can see substantial brand consistency that keeps customers coming back to them, excitedly awaiting the next post.
Tip #3: Let your content do the talking.
Behind every great marketing plan there's a detailed content strategy. Your content will attract new customers, satisfy current followers, and build relationships throughout the market. Mention Tesla in a party or a forum, and you're bound to attract heaps of enthusiasts (and naysayers) who form an active part of Tesla's community.
An impassioned following, like most things Musk touches, did not happen by accident. User forums and community were a key part of the Tesla online experience right from the beginning. Tesla encourages as much interaction as possible, with the company as well as other community members, all of which provides rich foundations of content.
Therefore, if you are at the beginning stages of growing your business, you need to determine and categorize your customers. Ask yourself, "Who am I addressing with this article? What do I plan to achieve by publishing this piece of content?"
For example, REI has mastered content outreach by curtailing content to reach its audience of active, outdoorsy folk. Curious about stand up paddleboarding? Google "stand up paddleboarding" and REI Expert Advice is there to give you an answer. REI isn't just selling paddle boards, it's providing great information to its community as well as non-customer, outdoor enthusiasts curious about the activity.
In other words, publish useful, interesting content that people will share and talk about, and publish often. Don't stick to one content publishing method either. Mix things up so that your brand reaches blog readers, YouTube or Vimeo watchers, social media scrollers, and so forth. And always, always, always respond to comments and forums. The age of the CEO in his/her high castle is long gone; interaction is arguably the best marketing tool you have.
Elon Musk and Tesla have cornered their niches, they've turned customers into evangelists, and most importantly, they provide online users with a positive experience based around useful content instead of zealous sales pitches around every corner. With these three strategies, along with innovations particular to your brand, you can form a community while keeping your brand's followers at the edge of their seats for the next big reveal, exclusive deal, or captivating social media post.