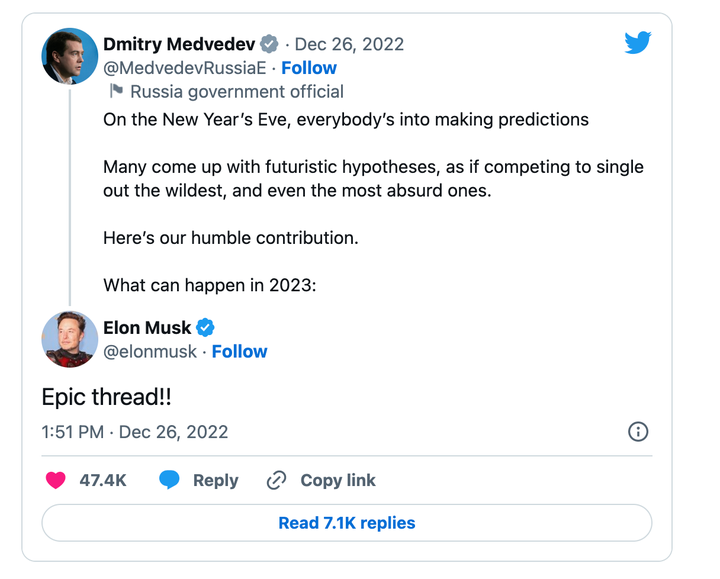 Roughly four hours later — after Musk was swamped by criticism — he mocked Medvedev for the "most absurd predictions I've ever heard."
In any case, Musk's comment helped rocket attention to Medvedev's posts, which some Russian commentators insisted was Medvedev's plan all along, The Daily Beast reported.
It's not the first time Musk has revealed a soft spot for Russia.
Ukrainian President Volodymyr Zelensky posted a sarcastic Twitter poll in response, asking "which Elon Musk do you like more?" One who supports Ukraine" or "One who supports Russia."
Anti-Putin political activist and world chess champ Garry Kasparov, also bashed Musk's plan.
"This is moral idiocy, repetition of Kremlin propaganda, a betrayal of Ukrainian courage and sacrifice, and puts a few minutes browsing Crimea on Wikipedia over the current horrific reality of Putin's bloody war," Kasparov said on Twitter.
Russian expert Fiona Hill, who served on the National Security Council in the Trump Administration — and testified at Donald Trump's first impeachment trial — told Politico in an interview later that Musk was clearly "transmitting a message" for Putin with his plan.
Popular in the Community