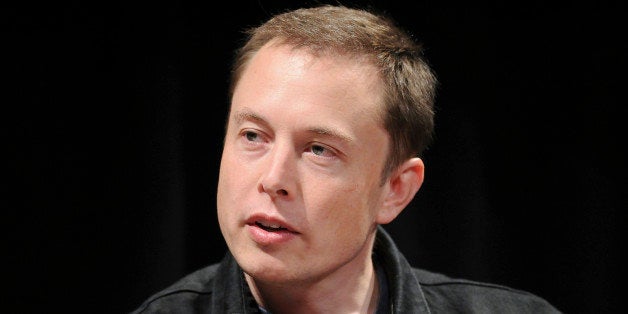 Elon Musk wants to bring the Internet to space.
The billionaire CEO of Tesla Motors and SpaceX (who, mind you, also serves as chairman of SolarCity and is now working on the Hyperloop, a super-fast tubular transport system) launched a new project Friday aimed at building a satellite system to bring high-speed Internet to the whole planet. He announced the initiative at the ribbon-cutting of SpaceX's new office in Seattle.
The new venture will be a branch of the private space travel company. The company plans to put hundreds of satellites into orbit around the Earth -- circling the planet at about 750 miles above the surface, far closer than the typical communications satellites that soar at altitudes of 22,000 miles. The goal is to speed up data flows and deliver high-speed Internet to the more than 3 billion people who still have shoddy access to the Web, according to Bloomberg Businessweek's Ashlee Vance, whose biography of Musk is due out in May.
"Our focus is on creating a global communications system that would be larger than anything that has been talked about to date," Musk told Vance.
SpaceX did not respond to a request from The Huffington Post for comment on Saturday morning. Friday's event was closed to media, though attendees tweeted photos and excerpts of Musk's speech.
It's unclear when the initiative will be completed, though Musk said it will take at least five years to roll out the first generation of satellites. The project could take up to 15 years to reach full capacity. But as with most of Musk's endeavors, the ultimate ambitions are far loftier. Musk is laying the groundwork for the first interplanetary Internet.
Earlier this month, Musk said he aimed to unveil preliminary plans later this year for a colony on Mars. The network of satellites girdling Earth, providing high-speed Internet from Cleveland to Kampala, would eventually connect to the human outpost on the red planet, too.
"It will be important for Mars to have a global communications network as well," Musk said. "I think this needs to be done, and I don't see anyone else doing it."
The project will cost between $10 billion and $15 billion, Musk said. But the revenues generated from the service will help fund the colonization of Mars.
To be sure, these are longterm plans. The company must first perfect its rockets, which will enable cheaper travel to and from the planet's surface. SpaceX launched a supply ship to the International Space Station last Saturday, but the rocket -- meant to be the world's first reusable projectile -- crash-landed on a floating seaborne platform.
A Vine video shows last week's sloppy landing.
Popular in the Community