Elon Musk went on a bizarre rant against a British diver involved in last week's Thai cave rescue after the diver mocked the billionaire tech entrepreneur's proposed plan to help with the mission.
Vern Unsworth told CNN on Saturday that Musk's idea to use a kid-sized submarine to transport the 12 boys out of the cave where they were trapped was "just a PR stunt."
"He can stick his submarine where it hurts," said Unsworth, who had a "pivotal" role in the rescue by helping authorities pinpoint the boys' location, according to CNN. "It just had absolutely no chance of working. He had no conception of what the cave passage was like."
The 47-year-old Tesla and SpaceX CEO didn't take the criticism too kindly, lashing out at Unsworth in a series of now-deleted tweets Sunday in which he baselessly accused the diver of being a pedophile.
"Never saw this British expat guy who lives in Thailand (sus) at any point when we were in the caves," Musk tweeted, later adding: "Sorry pedo guy, you really did ask for it."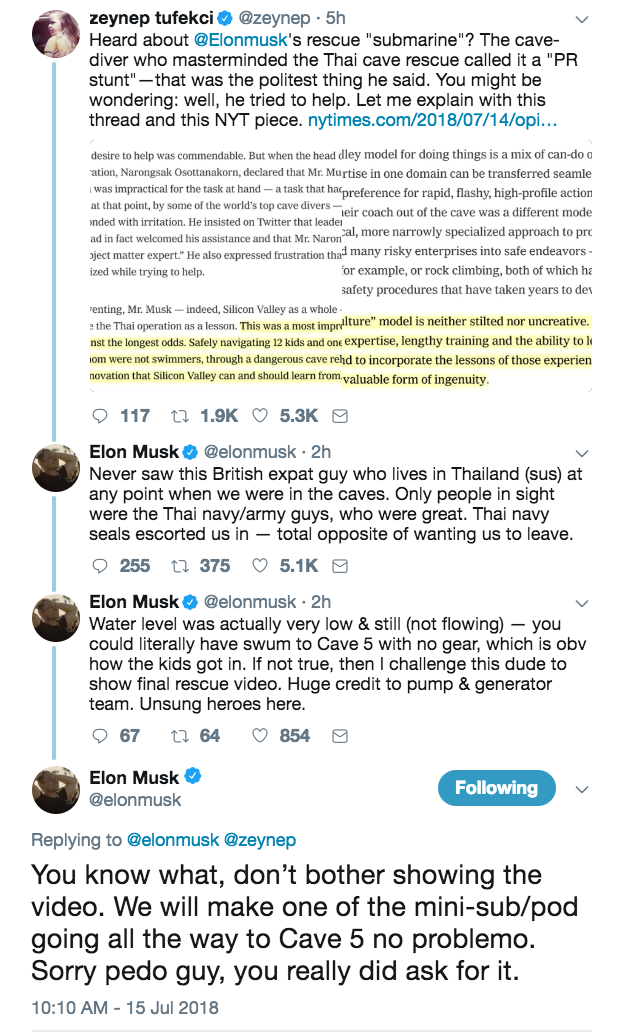 Musk later doubled down on his unfounded accusation against Unsworth.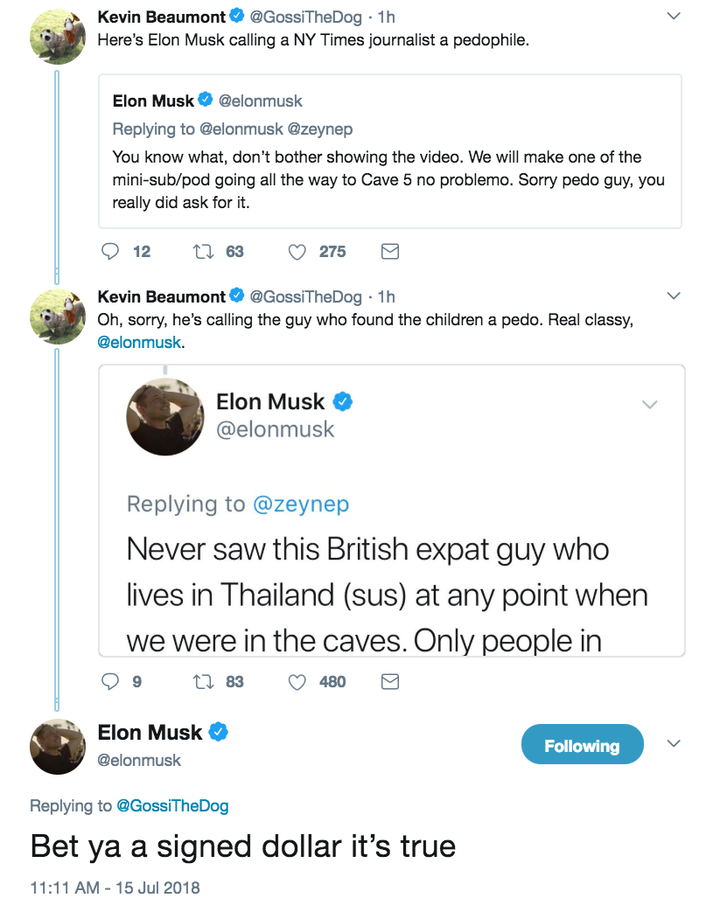 Twitter users swiftly condemned Musk's allegation, calling the remarks "outrageous" and "unhinged."
Hours later, Musk deleted his tweets about Unsworth without an explanation.
Representatives for both Tesla and SpaceX did not immediately respond to requests for comment. HuffPost was unable to reach Unsworth for comment.
Unsworth said he plans to take legal action against Musk in response to the tweets, according to AFP.
"He's just a PR stunt merchant ― that's all he is," Unsworth told the outlet.
Thai officials rejected Musk's submarine, ultimately adopting a complicated course of action involving underwater stretchers and water pumps to successfully rescue all 12 of the boys and their soccer coach.
"I assure you that the equipment [Musk] brought to help us is not practical for our mission," Narongsak Osottanakorn, head of the Thai search operation, told The New York Times last week. "Even though the equipment has state of the art technology, it does not fit our mission in the cave."
This article has been updated to note that Musk has deleted his tweets and include Unsworth's comments to AFP.
Popular in the Community