Elope (ɪˈləʊp)
verb; run away secretly in order to get married.
Over the past few years, I've noticed a growing trend in the number of couples not interested in the big white wedding and everything that goes with it (including the cost, planning pressures and family expectations). There are also many brides and grooms who are simply less than thrilled about the idea of being the centre of attention on their special day. But what are the alternatives?
Meet Zara and Darron, a gorgeous young couple from Broken Hill, who eloped recently at the Dairyman's Cottage in the Barossa Valley.
"We've never been into the idea of a big, fancy wedding. We are trying to live a more simple life and we feel our wedding should be about the two of us and our love, so the idea of eloping suit[ed] us perfectly."
Their short and sweet ceremony between the vines marked the 6th anniversary of their engagement and was attended by only their two witnesses and photographer, Mike Hemus (beautiful photos throughout). It was peaceful, moving and perfect.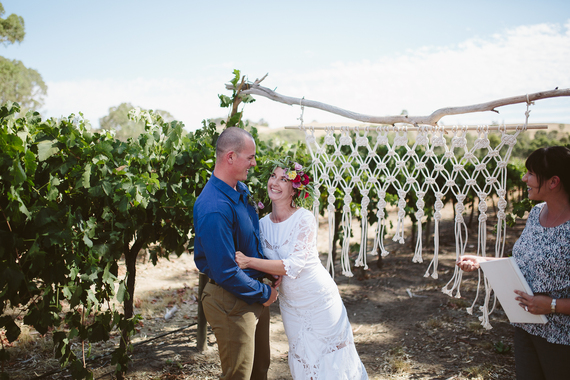 So, you're thinking that eloping might be the solution you're looking for, huh?
This is when you need to get a little introspective to get the most from your experience.
First up, you need to pick the time of day when you shine
Are you a morning person or can you barely communicate more than one syllable before 1pm? Do you love the golden hour just before sunset, or do you only come alive at midnight?
And THEN, I want you to think about your shared passions

Are you a muso/foodie/comedy club enthusiast/cyclist/swimmer/travel-bug-victim/crocheting aficionado/footy fan?
Work out what you LOVE and (literally) take it from there. Choosing a public place can make it a little more difficult to conduct a ceremony uninterrupted, but that's when you need to look at off-peak times, plan your ceremony to happen before opening hours, or just bite the bullet and get up onto stage!
The beauty of eloping is that you can do it anywhere. In Australia, as long as the legal requirements per are met, per The Marriage Act 1961, then you're good to go! For the U.S. you will need to check www.usmarriagelaws.com to find your state's requirements, waiting periods (0-6 days) and fees for a marriage licence.
So, if A Little White Wedding Chapel in Las Vegas is calling your name, run with it! Or if you'd prefer to have your ceremony at your favourite restaurant 15 minutes before it opens and have your family come in for dinner to celebrate with you afterwards, then book it in, my friend!
There are dozens of other places that I can think of that would be awesome to say 'i do' in/at. How about:
on the beach at sunrise. Just a couple of witnesses, your dog and a photographer, with strong coffee, croissants and champagne on a picnic rug for afterwards
hand in hand with your fiancé on the newly poured slab of the house that you're building together
at a rooftop bar at sunset on New Years Eve
sailing the Whitsunday Islands
in a rented house on holiday beside the fireplace
at your favourite childhood place (think roller rink, movie theatre, games centre, swimming pool)
Next week we will go a little deeper with Eloping is the new black Part 2 - before and after. All about the smartest ways to communicate with your family and friends (so as not to alienate everyone you have ever met).