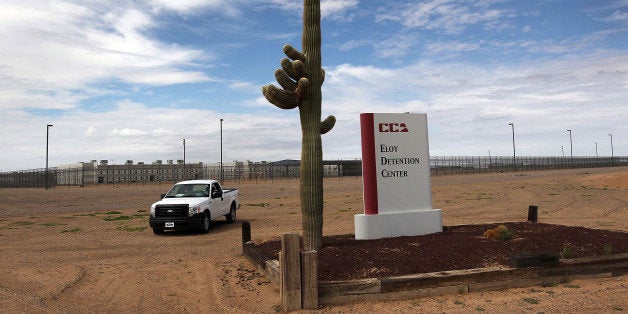 A group of 200 immigrant detainees launched a hunger strike at Eloy Detention Center outside Phoenix Saturday morning to protest a detainee's death last month and call attention to conditions at the facility, said immigrant rights activists and detainees' families.
Last month's death of José de Jesús Deniz-Sahagún, a Mexican national who died in custody at Eloy, prompted the protest. Immigration and Customs Enforcement officials issued a statement at the time saying that Deniz-Sahagún was found dead in his cell and did not show signs of injury, but detainees who joined the strike Saturday said guards beat him and locked him up in solitary confinement before he died.
Detainees also claim a second man died in custody, but ICE has refused to acknowledge the death, activists said.
ICE did not immediately respond to a request for comment about the protest or the allegations.
Hunger strikers stand in the outdoor area of Eloy detention center chanting in a video taken by Puente.
Deniz-Sahagún's death has emerged as a rallying cry for detainees, who say they are forced to work at the center for $1 per day and sometimes do not receive needed medical treatment.
"They're outraged because they're the ones who heard him scream for mercy," Francisca Porcha, the director of organizing with the Phoenix-based human rights group Puente, told The Huffington Post. "It was the straw that broke the camel's back."
Among those refusing food in protest is Sandra Ojeda's husband, a migrant from Mexico who was detained at Eloy May 6. Ojeda said her husband could hear Deniz-Sahagún yelling before he died.
"They want an investigation," Ojeda told HuffPost. "Not just my husband, but all the detainees in Eloy are scared that something could happen to them too... Psychologically, this weighs very heavily on them, and on their families outside."
Several detainees wrote letters in Spanish saying that two men had died rather than one and that Deniz-Sahagún was "brutally beaten" and placed for days in solitary confinement before his death. One letter speculates that Deniz-Sahagún committed suicide after being placed in solitary confinement.
Detainees did not sign the letters, activists said, for fear of retribution.
"His death is a mystery," one letter read. "We demand an investigation."
In another letter, a detainee said she suffers from schizophrenia and hasn't been able to acquire the medicine she's used to treat it for the last eight years.
Detainees are also pressured to work shifts of several hours for virtually no compensation, said Porcha, who visits Eloy routinely to put family members in touch with loved ones in detention. The work routines at immigrant detention centers are generally considered voluntary and compensated far below minimum wage. Detainees often use the tiny sums they make working such jobs to pay for phone cards to call their families.
Corrections Corporation of America, the private company that runs the Eloy detention center as a for-profit enterprise, did not immediately respond to a request for comment.
"What kind of hypocrisy is this where the United States is picking up people for working without documents, but it's perfectly legal to work for a private corporation for $1 a day?" Porcha said.
Before You Go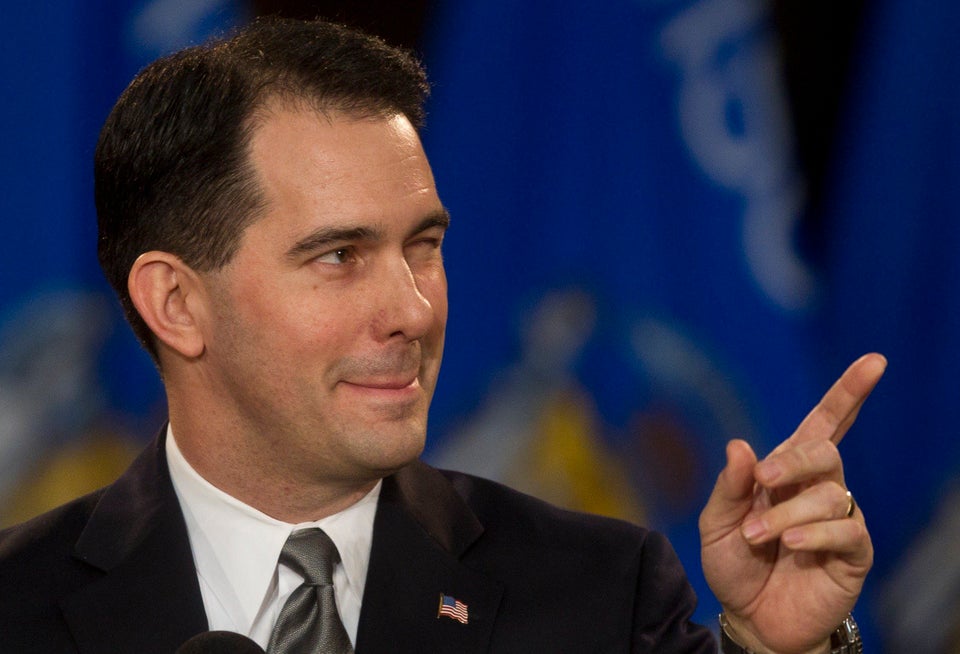 Scott Walker Pointing Fingers
Popular in the Community