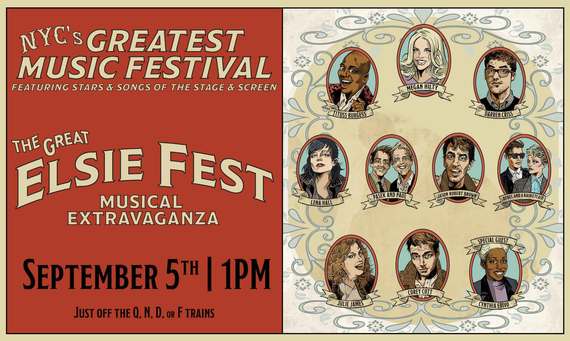 Elsie Fest Promotional Art
It's been a year since Glee and Broadway alum Darren Criss launched Elsie Fest, a unique one-day event intended to take the theater experience outdoors, and connect theatergoers with the hugely successful culture of music festivals; a Coachella of Broadway. Now Criss and the team behind Elsie Fest are preparing for year two, set for Labor Day, with a new location and expanded line-up. Criss and one of those performers, TV and film star turned singer, Evan Rachel Wood (with bandmate Zach Villa) shared what fans have to look forward to this year, as Criss also revealed the Elsie Fest team's approach to making 2016 even more successful than last year.
Monday's lineup will include performances by Megan Hilty, Lena Hall, Tituss Burgess, Corey Cott, Cynthia Erivo, Rebel and a Basketcase (Evan Rachel Wood and Zach Villa), Caleb and Gaten (of Stranger Things fame), songwriting duo Pasek and Paul, among others, including Criss.
See below for an interview with Rebel and a Basketcase, Evan Rachel Wood and Zach Villa.
"I am equally as apprehensive as I was last year, simply because [something] I am excited about is the thing that also makes me nervous, which is having a new venue to figure out," Criss explained about the festival's move from JBL Live at Pier 97 on the West Side Highway to the Ford Amphitheater on Brooklyn's Coney Island. "It does present a new set of challenges because we've never done it there and nothing like this has been done before," he shared.
Criss and the Elsie Fest team are taking some major risks this year, scheduling the festival on Labor Day (when many people traditionally leave the city to enjoy the last days of summer) and moving it to Coney Island, a more than hour-long train ride from Broadway's hub in Times Square.
"We took a gamble. I will admit it," Criss revealed. "We picked Labor Day and you can go two ways about this: you think New Yorkers are out of town, they're not going to go. On the other hand, you can say, 'Oh this will be a great way to give people something to do on Labor Day...' Labor Day is also a good time to be able to book talent that we want to have who are on TV or in theater," as it marks the rare occasion of being a day off from work for many fans, as well as performers.
Darren Criss Performing "Teenage Dream" at Elsie Fest 2015
Criss told me last year that his goal with Elsie Fest is to take "the passion of fans and bring them and others together in a contemporary, pop-culture driven way" during a time of "transformation" for musical theater.
By reinforcing this commitment, Criss continues to prove himself beyond his own talent as a performer and the TV heartthrob singing sensation turned Broadway star. He's convened a team joining the vanguards who are revolutionizing entertainment, creating a modern experience that combines pop culture with the tradition of theater.
"At first, I was a little hesitant. We looked at a lot of different venues. Coney Island seemed to be too far away from Manhattan, but then I thought, it is such a great destination and I do like the sense of departure in order to get to a festival," Criss explained. "A lot of festivals, people go to Randall's Island, they go to the Coachella Valley -- they get out of their day-to-day routine."
"I took the train and as soon as I got off I was like, 'Oh, man this is awesome.' I don't come here nearly enough," Criss added. "That feeling when I got off the subway and started walking along the boardwalk, even before I got to the venue, I was like, 'Oh, this feeling is exactly [the feeling] I want to be giving people before they even see the show.'"
Of course, that feeling and the enticement driving audiences to Elsie Fest is first and foremost fueled by the lineup of stars scheduled this year. "Any one of them I'd be so thrilled to have... Some are more interesting to me and maybe not to other people," Criss explained about this incredible mix of talent and his goal of curating an eclectic set of performances. "It does really run the gamut," he added saying that his hope is simply "to get people who want to come to a festival on the same page as how my brain connects the dots."
"I don't want it to just be a 'Broadway festival,'" he continued. "I wanted to celebrate people in pop culture who enjoy performing live... I really like the idea of this being an opportunity for both audience members and performers to turn what they do on their heads."
"This is the best it's going to be, this year. Next year, it's going to be bigger and better. Then the next year is going to be even bigger and better," he remarked. "Stay tuned."
Evan Rachel Wood & Zach Villa as Rebel and a Basketcase:
Joining the Elsie Fest line up this year, synth-inspired pop duo, "Rebel and a Basketcase" exemplify Criss' intention to encourage these stars to perform outside of the genres for which they're best-known. Formed earlier this year by film and TV star, and one of the millennial generation's most versatile actresses, Evan Rachel Wood (Thirteen, Across the Universe, HBO's upcoming sci-fi drama Westworld) and actor and musician Zach Villa (Here Lies Love, FOX's Bordertown), Elsie Fest offers the duo an opportunity to perform their brand new songs for thousands of their most likely of fans. It also gives Wood a venue to showcase her latest venture and extension of her illustrious career: as a musician.
Fans previously got a taste for Wood's singing chops in the Beatles-inspired film, "Across the Universe," but in Rebel and a Basketcase she's doing it in her own style, created with Villa.
The two met while performing in a John Hughes-themed cabaret show last year, which inspired their band name (a reference to Judd Nelson and Ally Sheedy's characters in The Breakfast Club; Villa the "Rebel," Wood the "Basketcase"), and since pairing up, they've released a handful of singles including "Oh Yeah," and "Lightning Look."
Rebel and a Basketcase, "Oh Yeah"
"I'm really excited. Darren and I worked together on a 'Funny or Die' video years ago, and I've been dying to do Elsie Fest, But it didn't quite work out [last year]. I think it's because I was supposed to do it with Rebel and a Basketcase," Wood said.
"It's definitely going to be the biggest show we've done so far... What a cool opportunity to be a part of," Villa added.
"I think Evan and I are both odd examples of crossover artists... As artists, we have so many different dimensions, and that's what Elsie Fest is all about -- trying to connect different audiences and different mediums," he continued.
"A lot of how I started singing and got into music was through musical theater," Wood shared, who is an extension of her family's acting legacy as the daughter of two fellow performers. "I think it's so ingrained in me that there's just no escaping it."
"It's ironic that we met doing theater," Villa chimed in. "Which is another reason why I think Elsie Fest is appropriate."
Newer to the music scene, Wood and Villa's endeavor will likely still be a surprise for many fans at Elsie Fest, especially those who know Wood from her work on screen, but not yet as a full-fledged musician. "I like being a jack of all trades," she said, adding that her goal isn't to be seen as an actress or musician, "just an artist." "I feel like I have a lot of creative endeavors. It's something I care about and feel like it's a huge part of me, and acting was just the foot in the door. It's a big part of who I am and has a special place in my heart, but I think music was definitely my first love," she shared candidly, reflecting her roots in musical theater.
"I started acting and singing at the same time, and acting was the thing that took off first, but I've had a yearning for music," she revealed. "I feel like I communicate best through it and feel the most alive and myself when I'm doing it. Acting is wonderful and I hope I do it for the rest of my life, but you are -- unless you're writing or directing something yourself -- bringing somebody else's vision to life," she added. "This [Rebel and a Basketcase] feels more like a heightened reality of who I really am and what I want to say and my personality. You just get to stretch your wings and be your full self."
Inspired by their meeting at the Hughes-inspired show, as contemporary as Rebel and a Basketcase's sound may be, there are undertones offering a throwback to the 80s, and the times of Hughes' most iconic films.
But about how they created their sound, Wood said, "I don't think we picked the genre, I think that's just all of our influences together and our style created this new vibe."
"I forget the exact quote, but it's something like, "If you aim to emulate a certain artist or idol, you'll never do it because you're not them. You'll never succeed. In the attempt, you come up with who you are, what your own style is," he continued. "We couldn't help but make this music and somehow that sounds like glitter, rainbows, and unicorns."
Next for the duo after Elsie Fest? "The EP is just a taste," Villa promised. "We've got release dates for a bunch of new material... we have a few more songs coming out very, very soon, then followed up by a full record."
"I think we're really on the precipice of our musical career, and it's just so exciting that so much is happening so quickly and it's so new," he said. "I just want people to be able to get to know us more because we're getting to know ourselves more, and we are realizing we have these messages of positivity and empowerment in our music... and that is becoming a predominant mission for us."
Steve Schonberg is the editor-in-chief of www.centerontheaisle.com and is seen regularly on NBC's "Weekend Today in New York."
REAL LIFE. REAL NEWS. REAL VOICES.
Help us tell more of the stories that matter from voices that too often remain unheard.