The Eccentricities of a Nightingale, now onstage at A Noise Within Theatre in Glendale, is not quite a romance and not quite a tragedy -- more a mystery of the human heart. Director Dámaso Rodriguez has captured the elusive beauty of this Tennessee Willliams' classic -- a rewrite of the more famous Summer and Smoke. ANW offers a finely-wrought production featuring fine performances and a wonderfully fey atmosphere.
When we first meet Alma Winemiller, we find it hard to believe she is the Nightingale in the title of any play. No, we think, this must be a side character, someone played by a comic actress -- and we wait a little impatiently for the real protagonist to arrive. Surely, no one so hysterical and over-talkative, someone who wears her heart so obviously on her sleeve and waves her hands so wildly could be the central focus of an entire evening.
Oh, we may think, what a long evening it will be.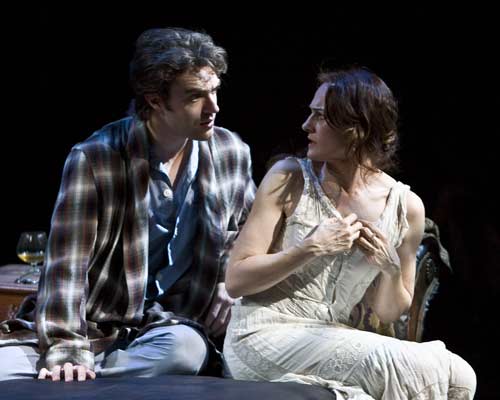 Jason Dechert and Deborah Puette. Photo by Craig Schwartz.
But lo, little by little, by the genius of Williams, this daughter of a small-town Southern minister -- a woman who sings with a third-rate voice, entertains no laudable ambitions, and has no terribly original thoughts -- begins to take on a certain heroism. Nothing grand, mind; her circumstances permit nothing grand. To this point, her life has consisted solely of trying to distract her mentally ill mother (who she controls, yes, by offering her slices of fruitcake) and trying to please her weak and conventional father, who does little to protect her from the mockery of the townspeople. Under such conditions, anyone's personality would suffer a little torque.
Anyone would become, as her father fears, an "eccentric."
Deborah Puette rightly takes the role at face value, and does not try to pretty up Alma for us. This is not a play about a repressed talent in a stifling atmosphere -- as we would like it to be. No, it is a play about the survival of the human spirit under even the worst circumstances. It is a play about eking out what tiny joy one can, without expecting that joy to blossom into an actual life. Puette captures the beauty and the tragedy of that decision in an exceptional performance.
The fragile Alma has but one fading hope -- to land John, the young man next door, a wealthy and confident fellow now fresh out of medical school. It is, of course, a fruitless hope. He is far stronger and far more sophisticated, and his controlling mother has effectively steered him clear of Alma all these many years. Okay, if this were Hollywood, such a love would not remain hopeless -- but because it's Williams, well, we know our Nightingale won't be singing any sweet arias at the end.
The relationship which does develop between Alma and John cannot be entirely explained. John, superbly played by Jason Dechert, finds himself drawn to Alma perhaps as a rebellion against his mother, perhaps as a rebellion against his pre-planned life, perhaps out of pure lust, or perhaps because he senses something, something... well, Williams never lets us fully into John's mind. Dechert renders John as outwardly strong and impatient, if not quite strong and impatient enough to escape his mother. He is as irritated with Alma as he is irritated with the whole world -- but inside, he is clearly weak. And when he takes Alma to a cheap motel for a one night stand, it is a little out of pity, a little out of self-interest, and yes, a little out of love -- not love for her, of course, but for something lost within himself.
At one point, John explains Einstein's recently released theory of relativity, in which space is not infinite, but curved. "So all the universe is a prison," replies Alma, and we see her beginning to plot her escape into an entirely different kind of life.
Tennessee Williams, who suffered as a gay man in a homophobic world, once reportedly said that Alma was based on himself.
As John's ambitious "tiger mother," Christopher Callen is appropriately unlikable -- we hate her even as we think, "Surely we would do the same in her position." When she towels off her grown son's hair or (for heaven's sake) his wet feet, we groan, but she is not entirely the villain. Well played.
The director has chosen to make Alma's father, Minister Winemiller, not a controlling and conventional minister, but a confused nobody, completely unable to cope with the madness of his wife or the oddities of his daughter. This may or may not be the correct directorial decision, but the performance by Mitchell Edwards seems oddly unengaged -- not quite the right counterbalance to his highly-strung daughter.
Jill Hill, on the other hand, is a totally satisfying madwoman, obsessed with a terrible incident from the past (what would a Williams play be without a terrible incident in the past?) and offering a terrifying vision of Alma's future. If the arc of her life does not change, we know that Alma too will become... a fruitcake.
The scenic design by Joel Daavid is a nice abstract of the gothic South. On most nights, a projector creates scene titles and B-roll for "Glorious Hill, Mississippi" -- but on the night of this review, the equipment was out of commission. It was unneeded. The superb cast, director, and crew created all the atmosphere required.
Friday, April 22, 8pm
Saturday, May 7, 2pm
Saturday, May 7, 8pm
Sunday, May 8, 2pm
Sunday, May 22, 2pm
Sunday, May 22, 7pm
Thursday, May 26, 8pm
Friday, May 27, 8pm
Saturday, May 28, 8pm
WHERE:
A Noise Within
234 South Brand Blvd.
Glendale, CA 91204
TICKET PRICES:
$46 (Friday and Saturday evenings, Sunday matinees);
$42 (Wednesday, Thursday and Sunday evenings, Saturday matinees);
$32 (previews).
Group rates and special rates for school groups available
Calling all HuffPost superfans!
Sign up for membership to become a founding member and help shape HuffPost's next chapter