Santa's elves are known for making the toys, but it looks like the boss gave them an extra task this year.
Last week, a group of "elves," all dressed up in their holiday best, rappelled down 10 stories, scaling across windows at Riley Hospital for Children in Indianapolis, IN. According to WISHTV8, the daredevils, who were actually sent by American National Skyline Inc., went floor-to-floor, greeting kids who waited patiently in the playrooms.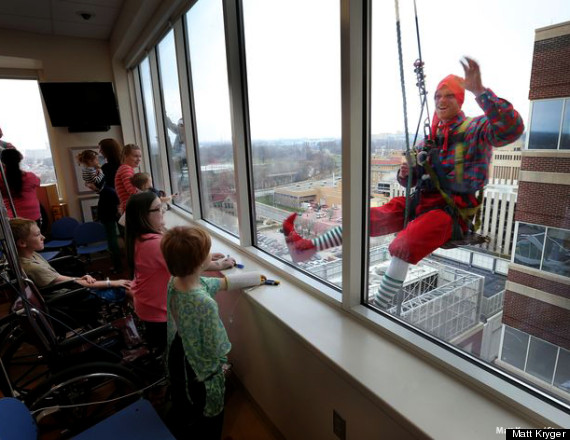 "Many of our patients can't be home for the holidays," said Melissa Sexton, the special events coordinator at Riley at IU, in a press release. "Our goal is to bring children every ounce of normalcy possible while hospitalized."
Lindsay Lyon, a representative from the hospital, told The Huffington Post in an email that even Santa made a guest appearance and handed out a toy to each child.
But even with lots of toys, some kids couldn't get enough of the elves -- or their window "stunt".
Although Santa's next appearance isn't due until Christmas Eve, he and his crew seem to have left a very lasting impression. Mission accomplished.