Three elves delivered a newly adopted puppy to four lucky kids last Friday.
We love every single thing about this
Of course, pulling off this kind of holiday miracle takes a lot of preparation, so the shelter wanted to do a sort of preview run.
Jessica Biser and her husband, Duane, proved just the right human guinea pigs when they came in earlier in the week. They were ready to take in a new puppy as a surprise for their kids James, Kaitlynn, Allison and Madeline, and also for their recently adopted dog, Hercules, who'd seemed a little lonely.
"When we found out the kids didn't know they were getting a puppy, we knew we had found our test subjects," says shelter spokeswoman Kristen Auerbach.
"They asked if I wanted the elf delivery while I was filling out the adoption paperwork for our puppy," Biser says. "I immediately thought it was a great idea and shortly thereafter I knew this was going to be a Christmas our children, and us, would never forget."
As you can see, it all went extremely well.
PHOTO GALLERY
Elves Deliver Puppy To Lucky Family
"It was hard to say who was the most excited -- the elves, the kids or Jackson himself, who was wagging his tail furiously," says Auerbach.
"They were floored. Speechless," says Biser. "My daughter couldn't believe one of Santa's elves delivered a puppy."
At least one of the children was a bit confused by the whole thing.
"We kind of forgot to explain why three grown-ups were at their house wearing elf suits and taking pictures, so at the end, the older girl said to me, 'Are you an elf sent by Santa?'" explains Auerbach.
"My other favorite moment was when we were busy talking with the parents and we all looked over to see the son, hugging the puppy," she says. "His eyes were closed and I think in that moment, he was probably the happiest kid in the world. We all had to hold our happy tears in."
It's gone great since then, too. The kids all adore the doggie, now named Zeus -- and little Zeus loves them all right back.
Same goes for Hercules, who, Biser says "loves having a little brother to play with."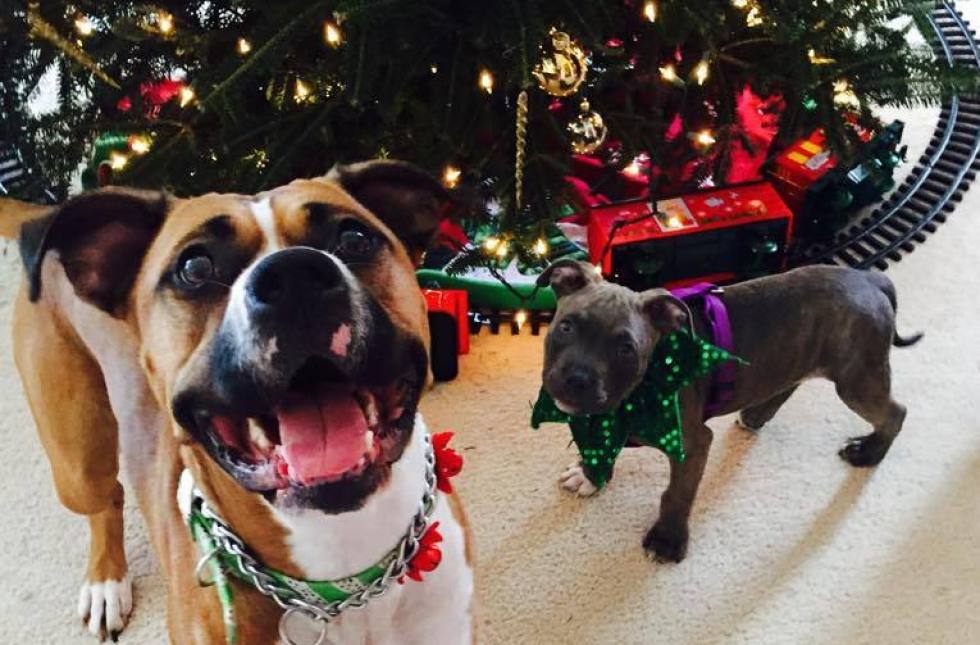 Hercules and Zeus are getting along famously. Yay dogs! Photo credit: Jessica Biser
Considering the family's fantastic reaction, Auerbach is feeling really jazzed in the weeks before the elf deliveries go full-scale. She's sure the delightful enterprise will be a huge success.
"It's a bit nerve-wracking at this point because we're not sure how many deliveries we'll be doing, since most of the adoptions will happen the few days prior to Christmas Eve," Auerbach says. "We have 25 elves standing by, with more waiting to volunteer, so we'll just have to see!"
Elf delivery is available to anyone in Fairfax County, Virginia -- and possibly out of the county, depending on the elves' willingness to drive -- who adopts a pet on Dec. 19, 20 or 23.
Email FCPDPetResources@fairfaxcounty.gov to see if an elf can travel out to your neck of the woods.
And get in touch at arin.greenwood@huffingtonpost.com if you have an animal story to share!
Calling all HuffPost superfans!
Sign up for membership to become a founding member and help shape HuffPost's next chapter
BEFORE YOU GO
PHOTO GALLERY
These Shelter Dogs Need Homes!