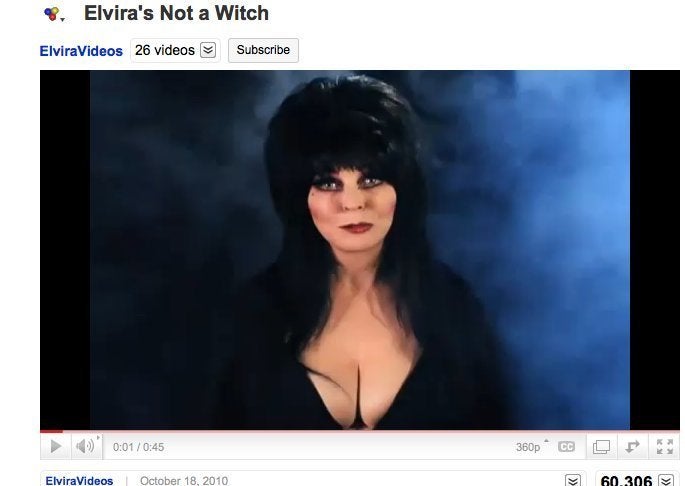 Thirty years ago, actress Cassandra Peterson literally landed the role of her life. While she's had turns in Federico Fellini's Roma, Tim Burton's Pee-wee's Big Adventure and even a brief guest spot in last week's episode of Last Man Standing, Peterson will probably always been known as horror movie hostess, Elvira, Mistress of the Dark, helping insomniacs suffer through mediocre horror films with her sultry looks and bawdy wisecracks.
Since then, she's starred in two feature films, inspired a huge line of products, including a wine, and popular Halloween costume that you're guaranteed to see someone wearing this Halloween.
At 60, she's practically become the Santa Claus of the 31 of October, so it was surprising to get a one-on-one conversation with Peterson in costume last Thursday. It's sort of like meeting St. Nick before he flies away with the toys. She was meeting fans at The Beast, an enormous and tightly run haunted house in the West Bottoms of Kansas City. The people who host Nightwatch Radio asked me to join them, so it was impossible to say no.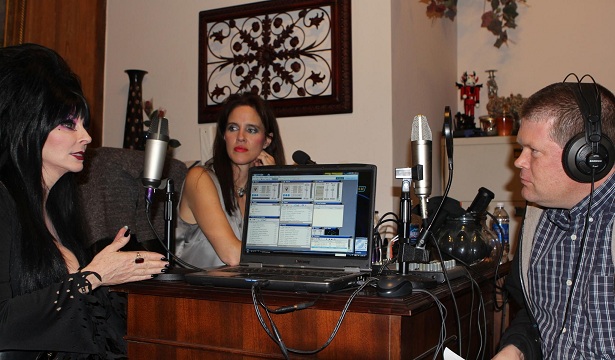 Cassandra Peterson, Amber Bequeaith of The Beast and Dan Lybarger (photo courtesy of Anna Perry Photography, used with permission)
After all she's a local hero. She was born in rural Kansas. Manhattan, the home of Kansas State University, was the closest city with a hospital. It might have been an omen that she would become the queen of horror because the town where she grew up became sort of a ghost town.
Even though I had done a telephone interview with her back in June for the DVDs of the most recent season of Elvira's Movie Macabre (a couple of quotes used here come from the portions that the Kansas City Star didn't publish then), I felt somewhat nervous because I grew up with her unique commentary. That might explain the rather serious look on my face in this photo.
Thanks for taking the extra time to be here. I know you've had a really stressful day.
It hasn't been so stressful. I had a fun day. It's just a long day.
Even though you are the Queen of Halloween, you grew up in a town that doesn't exist the way it used to. Is that correct?
[Laughs.] That is correct. It was Randolph, Kan. And it's under Tuttle Creek Dam now. It was sad. We were evacuated when I was a kid because they were going to flood the valley. And so our whole town just went bye-bye. And I had my grandmother and grandfather, my aunts and my uncles, and everybody who had lived there for decades. It was all gone. It was a bummer. Yeah, I know. It was kind of sad.
Movie horror hosting is actually coming back.
It is. I'm happy to see that happening.
Why do you think that's happening?
I think that's happening because the market is opening up for individuals to get into it and do their own thing instead of big studios or corporations running it. The market is getting smaller and smaller.
I think it's because of the Internet. It's like what happened to music a while ago. The big music companies are no longer really happening. Things are being split up. They're not making any money because of the Internet, so artists are being able to write their own music and put it out on their own records. It gives the individual a chance to go out and market their own thing in a smaller market, on their own without having to get a job from a studio or something. It actually opens up opportunities for people.
At the same time, what you were doing in the last season of Elvira's Movie Macabre was different because you were dubbing over some of the voices of the movie characters. (In Hercules and the Captive Women, a masseuse asks Herc if he expects a "happy ending." When he seems indifferent to the offer, she wonders out loud if he's been to San Francisco.)
I love doing that! That was so much fun.
What made you decide to take that different approach?
Well, just that I was able to do it. In the first show, the budget was so low, and the time frame was so quick, there wasn't an opportunity to do some of the fun things that I wanted to do. And this time, because I financed it and I wrote it with my writing partner [Ted Biaselli] and we had no standards and practices breathing down our neck, we did things that we wanted to do and have [other] actors on, which was great.
For one thing, you had a more interesting theme this year ("What Can I Do") by the Black Belles. How did you get involved with the Black Belles?
Jack White, from the Raconteurs and the White Stripes, did that for me. Jack has become a friend of the last three years. I called him up and said, "Could you help me out with a theme song?" and he said, "Yeah." He put this group together, the Black Belles, and they did this song, and they used it as my theme. It was amazing.
I really lucked out, let me tell you, because I couldn't not afford to hire Jack White to produce the song for me. He gave me a gigantic break, or I would never have had that.
This is kind of a bittersweet moment because in a recent tweet you said that this would be the last time you'd appear in the Midwest in costume.
We'll see about that, but you know, but I am not appearing at horror conventions dressed as Elvira anymore. That's just to sit there and sign autographs. It's just too uncomfortable. After a while, I'm going, "You don't see William Shatner in his little Star Trek suit," or, "You don't see the Wookie [Peter Mayhew] wearing his suit over there." And I'm going, "Why am I wearing this?"
A lot of the fans say they would love to see me as myself. And I say, "Sounds good to me."
I have seen you undisguised in the extras on the DVD during the shooting of the title sequence. What's fascinating is you're running the show, but you're not getting in anybody's way.
Thank you. Well, I hire really great people, and I want to get my money's worth, but I do like to be there to orchestrate the whole thing.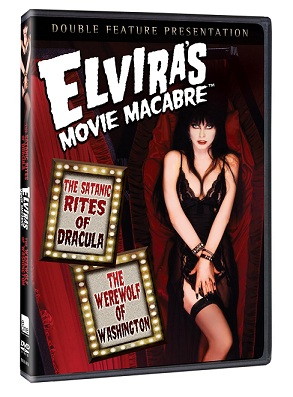 You are a graduate of the improv troupe, the Groundlings. Were you surprised that fellow Groundlings Maya Rudolph and Kristen Wiig have been so successful recently?
I think it's fantastic. Will Ferrell came out of there. The Groudlings has had successful comedians since the day they started: Paul Reubens, who's Pee-wee Herman, and Phil Hartman, who was on Saturday Night Live, of course, and Laraine Newman, who was one of the first women ever to be on Saturday Night Live. They just keep coming out of there like crazy, you know. The fact that they're still pumping them out is just amazing. If you're ever in L.A., anyone, you need to go see the Goundling Theatre on Melrose. It's brilliant.
You had one thing that a lot of the other people who auditioned for the horror host gig in 1981 didn't have.
And I also had a great pair of legs.
I was a Groundling, and I had a background in comedy. I know it helped me land the part because I improvised the script. The script they gave me was horrible, so I think it landed me the job because I was saying something that was interesting to hear.
One interesting trend with horror films is that as we speak, Paranormal Activity 3 is the number-one move in the nation.
That is mind-boggling. I've seen [Paranormal Activity] 1. I haven't seen 2 or 3 yet.
There are two intriguing factors in those films that aren't normally associated with horror: One, the violence levels in those films is almost non-existent.
I love that. I love that.
Two, they appeal more to women. In the recent box office scores on this, the audience was 54-percent female.
Really? There you go. Women like to be scared, but they don't like the blood and the gore, and especially movies that have violence and torture involving women. Women don't want to see that, I can tell you for damn sure right now.
But they like to be scared, so they go to a movie like that or The Blair Witch Project and be scared but not see anything that is violent towards women. So, I understand that sort of thing. I loved [the first film]. There's a lot of stuff I don't go see, but I loved that.
Even though you've only featured public domain movies on Movie Macabre this season, you don't feature slasher stuff.
I am very, very anti-slasher. Yeah, some of my movies are very gruesome and gross, and in The Werewolf of Washington, the werewolf [Dean Stockwell, looking more like Benji than a child of the night] rips this woman's throat out. But that's a fantasy character. It's not a crazy guy with a knife.
When you interject fantasy into horror, that is hor-ror. That is not the 6-o'clock news. I don't care about blood and gore. I watch blood and gore all day. To me, [fantasy] is much more frightening. You use your imagination more, and so many other things when it has a fantasy element involved.
To me, the scariest movie ever made to this day is The Exorcist. It still scares the living hell out of me, and it's because of the fantasy element. It's the exorcism. It's the Devil. It's not a guy breaking into your house trying to torture you or cut your whatever off. Those kinds of movies don't do it for me, and I don't call them horror. There's certain group out there that enjoy those kinds of movies, but please don't call them horror.
When you were first recruited for this role, you idea of this role was based on how Sharon Tate looked in Fearless Vampire Killers. For those who haven't seen the film, what would you have looked like, and would it have been easier than the current getup?
My friend drew a picture of it. I would have been in a long, kind of pink diaphanous, tattered gown, with long, red, wavy hair. I have red hair, and it used to be much longer. Then I would have been very pale, with pale lips with big, dark circles around my eyes, more like a dead girl or a ghost. Still sexy, but a whole different thing.
That's the look we came up with first that we gave the station. They looked at it for a second and said, "No, you have to have a black dress. You have to have black hair. My friend drew a picture, and he had a really nice twist on it. Otherwise, I would have been Morticia Addams or something. Or Vampira.
Popular in the Community