Marriage is scary, but it's really spooky when a horror icon like Elvira performs the wedding ceremony.
The Mistress of the Dark has done many things in a career spanning more than three decades, but performing a wedding wasn't one of them.
"I've been asked many times to officiate at fans' weddings, but they don't realize how much time it takes me to get in this costume," Cassandra Peterson, the actress who created the Elvira character, told HuffPost.
That changed this past weekend, when Elvira married horror model LeeAnna Vamp to her love, Cameron Lee Vamp, with the help of Knott's Berry Farm, an amusement park in Buena Park, California.
Elvira annually hosts a horror event called "Knott's Scary Farm" and the Vamps decided having the icon marry them would be a terrifying way to begin their life together.
The vows were a mix of the macabre and the traditional.
"Dearly beloved, we are gathered here to die, er, day ... to the bring these two mortal souls together in a most unholy union -- and, remember, forever is a mighty long time," she said.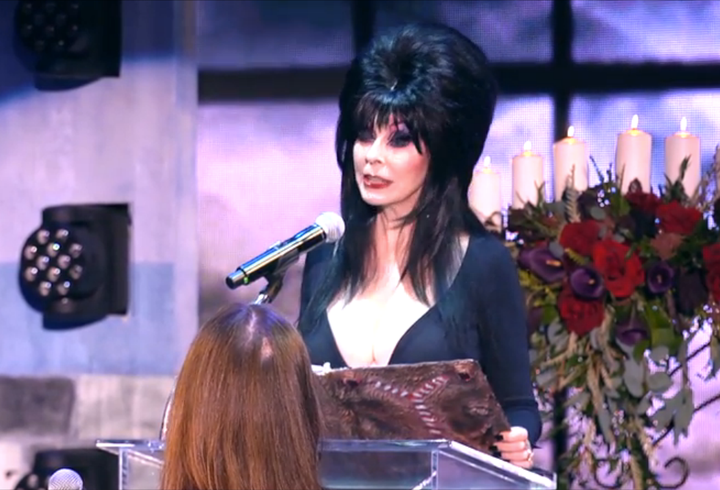 "A lot of it was for entertainment," Peterson told HuffPost. "But there were a few lines about loving each other and staying together where I got a bit 'verklempt.'
"They did ask my advice about marriage and I told them, 'Don't do it!' However, they both have the same knuckle tattoos so I think they're a match made in heaven."
The groom seemed to experience some wedding day jitters -- especially after Elvira chastised him for chewing gum during the ceremony.
"I caught that near the end of the ceremony," Peterson said. "He took it out of his mouth and put it on the podium, which is kind of gross."
That wasn't the only snafu.
The blushing bride, who works as a macabre model, told Elvira and the crowd, "We also put the wrong rings on each other's fingers."
Those little details aside, Peterson said having Elvira officiate the wedding guarantees "one helluva good wedding album."
The couple will honeymoon in Vienna next month. LeeAnna Vamp is current at the New York City Comic-Con where she is autographing cosplay calendars, according to her Twitter page.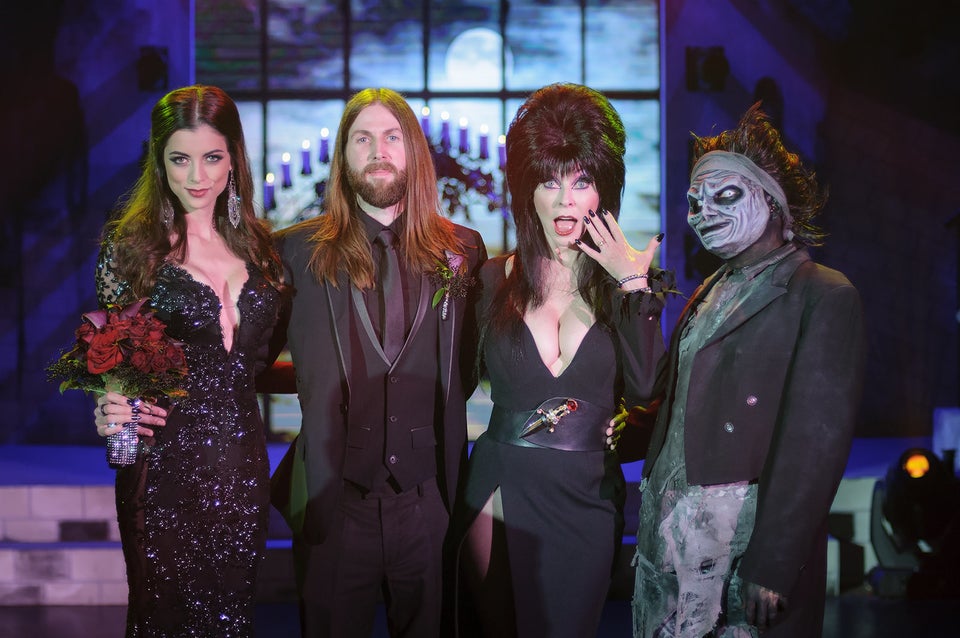 Wacky Weddings and Proposals
Related
Popular in the Community