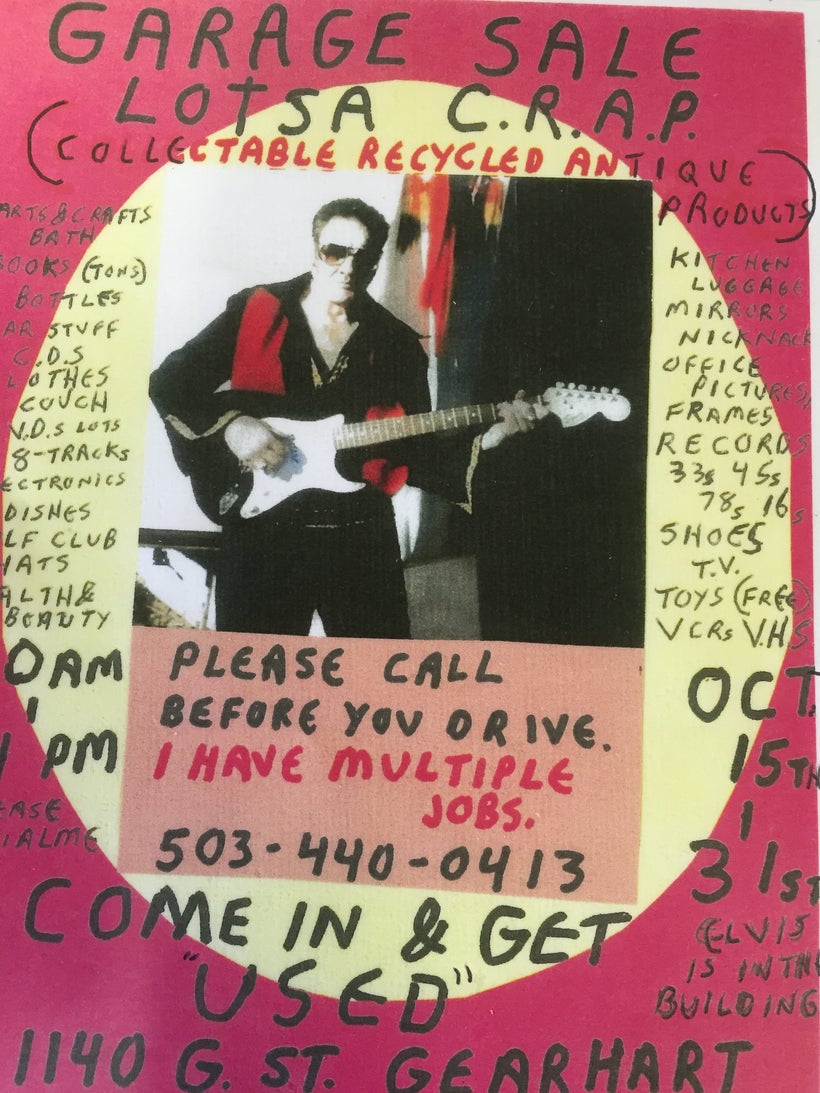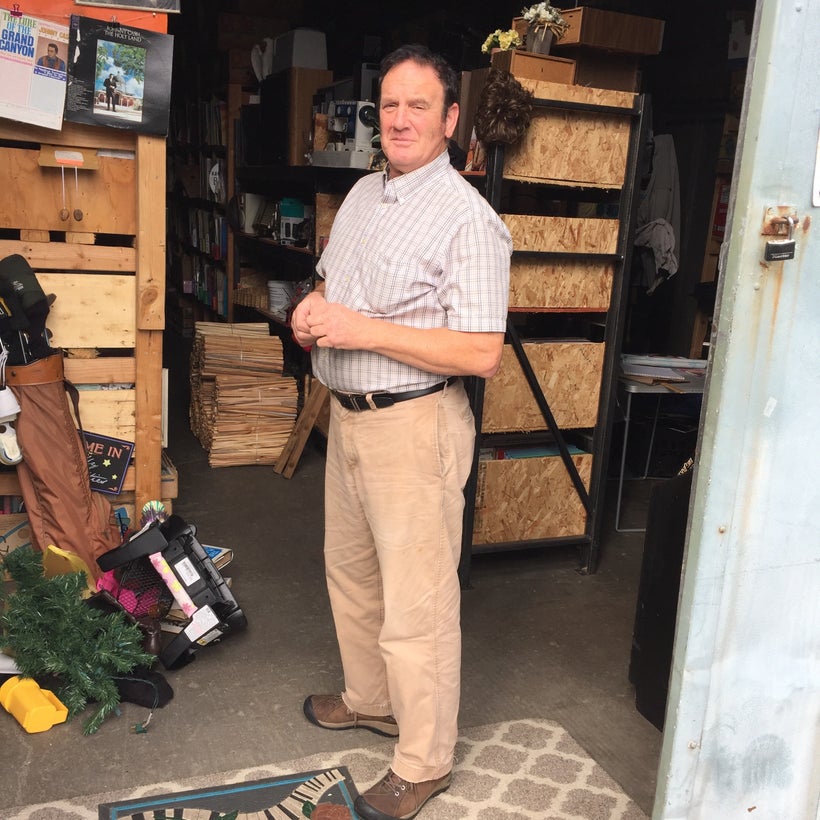 GEARHART — What happens to an Elvis impersonator when he hangs up the suit? Gearhart's Richard Moore rarely dons the garb of the Great One these days. Instead he oversees Play It Again, featuring "LPs, eight-tracks, 33s, 45s, 78s, shoes, TV, toys, VCRs, VHS tape, luggage, golf club hats, electronics and dishes," in no particular order.
Born in Roseburg, Moore moved to Clatsop County in 1991.
He's been at 1140 G St. in Gearhart since January, after 21 moves in 20 years, including six months at a warehouse in Warrenton. "I do have a few fans," he said on a sunny Friday in front of his G Street hangar.
How many records does he store?
"I quit counting at 300,000," Moore said. "There are between 80-90,000 in this building. All genres. You have to have something for everybody."
A former Elvis impersonator, the Great One is what first inspired Moore. "This is what got me started. The first time I saw a television in 1957, it was Elvis. I thought, that's going to be my job."
Elvis inspired Moore to take music lessons. "I studied banjo, fiddle, guitar, and 60 years later, I still can't play a guitar, banjo or fiddle," Moore said.
Raised in Medford, Moore, 66, spent a third of his life in the Marine Corps until resettling on the North Coast. He still maintains warehouses in Roseburg, Rogue River, Prineville, Albany and "all along The Dalles."
"That's why I have to work — to pay rent on stuff I don't have here yet," he said. "My goal is to sell just as many of these records as I can."
Should one be inclined to ask, what are some of the treasures to be found in this multilevel LP spaceship?
"I've got the Beatles' 'Yesterday and Today' — a mint one is $35,000," he said. "Not here, it rains in this building. The one I've got is about $700 or $800. The grandchildren are going to have to be very hungry first."
"I got a hug from a little old lady because I had Serendipity Singers," he said. "You're not going to go to the store to buy Serendipity Singers on anything."
If we asked you for "The Eggplant that Ate Chicago" would you have it?
"I could produce that too," Moore said. "You have to tickle everybody."
It's not just LPs in the enterprise, ­described on one of his creatively designed sales cards as "Collectable Recycled Antique Products," a rubric that includes golf club hats, electronics, shoes, picture frames and kitchen electronics.
"I've got many thousands of eight-tracks," Moore said. "Most of them are anything you want to give me. The only time I sell a big bunch is when somebody's got a vintage car they're going to keep original."
Moore owns about 4,000 Elvis records but, he admitted, "They're not really that valuable because there are umpteen thousand of them out there."
As for his audience, they're getting younger every day. Five-year-olds ask for their favorite Elvis tunes. "I sell more Johnny Cash to the 16-year-olds than I do to the old farts," he added.
Moore will be hosting a yard sale from Oct. 15-31 — with a special guest, "the ayatollah of rock-and-rollah."
REAL LIFE. REAL NEWS. REAL VOICES.
Help us tell more of the stories that matter from voices that too often remain unheard.
This post was published on the now-closed HuffPost Contributor platform. Contributors control their own work and posted freely to our site. If you need to flag this entry as abusive,
send us an email
.