An Elvis impersonator, two DRAG Queens, and a pregnant woman walk into a bar...
What sounds like a set up for a typical joke is actually part of the character breakdown for a world premier production by the Denver Center Theatre Company. The Legend of Georgia McBride by Matthew Lopez is a raucous comedy filled with music, snappy zingers, and a unique brand of glamour. Originally a commission at The Old Globe this new play was presented as a staged reading at the Colorado New Play Summit in 2013. The reading was such a hit with audiences it was an easy pick for a full production this season.
The central character, Casey, is an irrepressible young man whose passion for his young wife is matched by his passion for his artistic outlet as an Elvis impersonator. The couple is struggling financially in a small Flordia panhandle town, but they are happy and in love. When Casey learns his wife is expecting and his gig at the local bar is being replaced by a DRAG show he must adapt to survive. This story takes the audience on a bawdy, rhinestoned, laugh-filled ride, with just the right amount of heartwarming moments.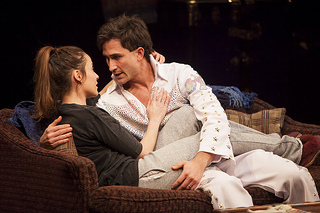 Jamie Ann Romero and Ben Huber in the Denver Center Theatre Company's world premiere production of The Legend of Georgia McBride. Photo by Jennifer M Koskinen.
Director Mike Donahue has given his small cast a fantastic world in which to tell this story. We are allowed to see the world of the play, and the backstage world of this company. It adds up to clever problem solving that reveals the the show behind the show of the hard worling crew, but never distrupts the story.
The four member cast creates at least twice that number of characters with gusto. Ben Huber, Matt McGrath, Nick Mills, and Jamie Ann Romero each deliver star performances. If this play followed the path of The Whale from Denver Center Theatre Company and transferred to off- Broadway, this could certainnly be the cast.
The Denver Center Theatre Company has created this production as much as an event as an evening at the theater. The moment the audience decends the staris at the Ricketson Theatre they are greeted by staff in tropical shirts, party lights over head, and a frozen margarita machine behind the bar. After the final bows in the theater, the audience has a 'nightcap' waiting in Club Denver just off the lobby with a local DRAG performer. The Legend of Georgia McBride is a fun evening I can eagerly recommend.
During my interview with Matthew Lopez at the 2013 Colordo New Play Summit, the young playwright said he "wanted DRAG to save an unlikely candidate"... "ultimately what this wanted to be was a very sweet story about a boy in a dress and a girl who loves him". On playwrighting he added,
"I believe that the act of storytelling is, 'Here I made this for you'. Even if it's a story that's a little hard to embrace, maybe a truth that people are resistant to. "The Ultimate goal I think of storytelling is, 'Here I made this for you' , for your enjoyment, for your education, for you to peruse, to take home and think about."
Mr. Lopez may be best known for his civil war drama, The Whipping Man. (currently play ing in Denver at Curious Theatre Company) He is also a staff writer on Aaron Sorkin's HBO series The Newsroom.
The Legend of Georgia McBride plays
Jan 10, 2014-Feb 23, 2014
The Ricketson Theatre
Calling all HuffPost superfans!
Sign up for membership to become a founding member and help shape HuffPost's next chapter