Since he was a child, Elvis Duran wanted to be on the radio.
"I had a little radio and I listened to music in my bedroom when I was supposed to be sleeping," Duran told HuffPost Entertainment. "I was probably 6 or 7 years old and I loved the DJs who would come on and talk about the artists and the songs they were singing and they gave away prizes. I was like, 'This is a cool job!' I loved how they used theater of the mind, and colorful words to describe things -- I thought that was so me," he continued. "So as I say to people, I was seduced by radio at a very early age. Before 10 years old, I knew exactly what I wanted to do."
For the past two decades, Duran has fulfilled that childhood dream: He's the host of Z100's beloved radio program, "Elvis Duran and The Morning Show" (formerly "Elvis Duran and the Z Morning Zoo"), which originates from New York, but airs in over 70 markets, including Philadelphia, Miami, Cleveland, St. Louis and Austin. With more than seven million listeners per week, Duran hosts the No. 1 nationally syndicated and Top-40 radio show in the country.
Over the last 20 years, Duran has interviewed almost every artist in the music industry. As listeners know, he's always interested in the day's trending topics, the Daily Sleaze (a gossip segment) and, of course, phone taps. Duran turns 50 on Aug. 5, and he celebrated the milestone by giving HuffPost Entertainment a run-down of his career thus far.
You're turning 50! Tell me about this milestone and how you're feeling.
I'm feeling great about it. A lot of people freak out when they start turning these benchmark numbers and I think that's so silly because there's nothing you can do about it. Hello! But I think it's great because I'm starting to really notice life from a different set of eyes. I'm much more mindful of who's around me, where I'm going, what I'm doing and what I'm smelling and eating. I think it's a wonderful thing turning 50. I think everyone should do it at least once.
What are you looking to accomplish in the coming years?
I'm definitely not even thinking of retiring. Look, it would be great to be on a beach and doing nothing for a while, but what we do, our passions, are who we are -- and this is what I love and going to work every day and working with my favorite friends ... I can't imagine not doing this. But as far as new options, I think there aren't any! I mean this is it. Oh, shit, this is it! Maybe I'll start waking up later and doing something later in the day, but other than that, I can't really see myself doing anything else. I love it so much, I can't imagine.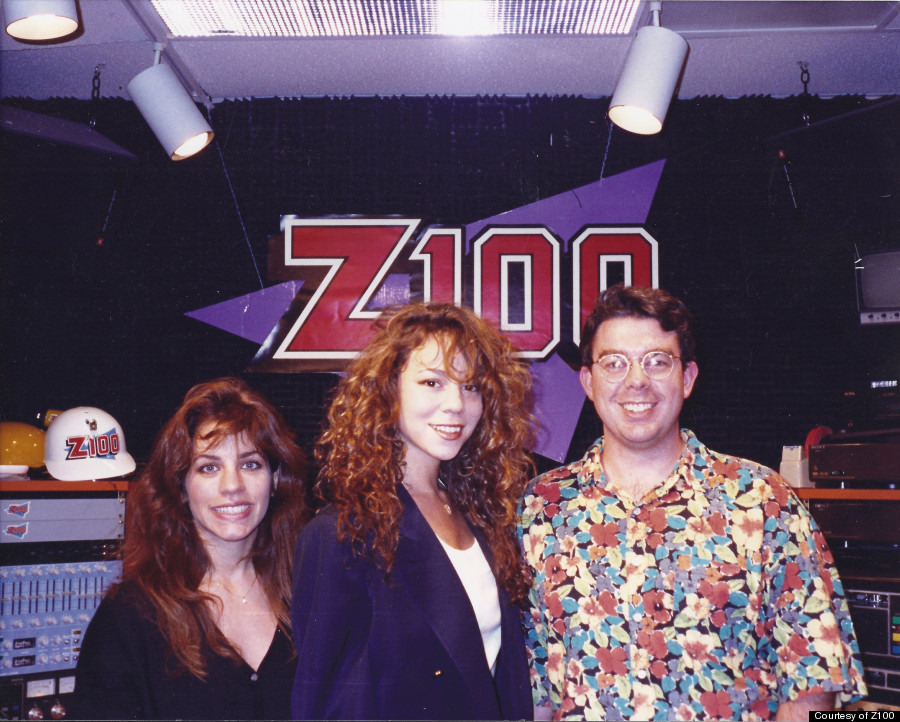 Elvis with Mariah Carey in 1990.
How did you begin your career? Did you major in radio or broadcasting in college?
I actually got a job at a little local radio station in suburban Dallas before I was in college. I was in high school -- I was 14 years old, actually, very young. And then when I went to college, I studied some radio courses and I was already doing major market radio in Dallas on the weekends and all of the professors were just saying the wrong things and I didn't know what they were talking about. So I actually flunked out of Radio 101 because I was doing it and I didn't agree with what they were saying. So, I just started doing it. That's the best way to get into it.
Do you have a favorite interning experience?
I never interned. The first job I ever had was a very low-paying job, and the guy running the radio station was so poor, he couldn't pay us sometimes -- so it's almost like an internship, right? The little station I worked for had no listeners whatsoever, so it was a great training ground for someone at 14 years old. To prove my point, I went on the air and offered $50 to the fifth caller, and no one called! I knew then I was destined for greatness.
What's the best advice you got along the way?
Be yourself. It's very simple, but if you want to be a communicator in your business, my business or any business, never underestimate who's listening to you, because they know if you're full of crap or not. People are very smart. So if you're yourself, they may not like what you're saying, but they should at least appreciate that it's coming from a very honest place. Honesty and being yourself, I think that's the best advice I ever got.
Speaking of being yourself, you publicly came out in 2010, but you told HuffPost last year that you never were closeted on the air, you just chose not to make a big deal about it. Still, did anything change after that moment? Or were you exactly the same person?
I don't think I'm a different person, but as far as on the show, it really was a lesson of my own advice, and that was to be yourself and be honest. Being able to talk about my private life, my personal life, was very freeing. It was just a great experience. And I was always the host of the party and I encouraged everyone else on the show to give everything and talk about your private life, because people want to hear it so they can relate, and I never really gave myself a chance to do that. And I wasn't hiding from being gay. It's just ... I never wanted it to be the "Elvis is Gay" show, and I was afraid it would become that. I didn't want that to be my whole self. And it turns out, I was wrong the whole time, it never took over. I'm still me, no matter if I'm gay or straight or whatever. But it did give me license to be more free and to tell it like it is. I learned something from that, I really did.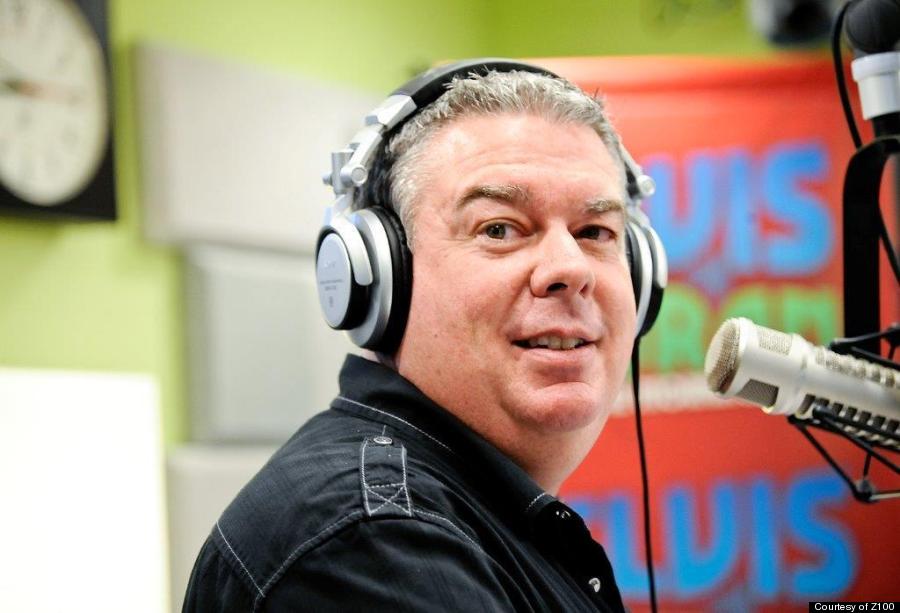 Elvis in studio on August 12, 2013.
I think you are extremely inspiring and definitely a voice of our generation. How does it make you feel to know there are millions of people listening to you every morning?
It makes me feel great. At the end of the day, this is a business and there are some people sitting in a room somewhere making a lot of money from our shows [laughs]. But you know what? Our success in our circle comes from getting in there and having fun every day. It's crazy that they actually pay us to come in here and have fun. But it makes me feel good when we meet people on the street or on the phones or on social media that are actually responding to what we're saying -- it's good to get that recognition.
You started on "The Morning Show" in 1996, almost 20 years ago. Sum up the experience working for Z100.
It's great, because I used to do afternoons in a room by myself playing songs in a row and all that stuff. And I never got to stop the music and talk to people and interact with people. They really want you to "keep the music going! Stop talking!" And that's not me! You can tell while you're talking to me, I like to talk [laughs]. But, on "The Morning Show," we're allowed to bring our friends on with us and have conversations with them and get people on the phone and learn about the lives of people around the world. I love that, that's my favorite part. Being able to interact and respond to people, I get such a high from it. As long as you're listening to what people are saying, there's so much to learn.
Who's the first artist you ever interviewed?
I know I interviewed some artists that I can't even remember because either I was stoned or they don't have careers anymore. But, I remember interviewing Tina Turner way back in the day and I remember Jon Bon Jovi a long time ago, back before they were anything. I don't remember what we talked about, because like I said, I think we were having cocktails! [laughs] That hasn't changed.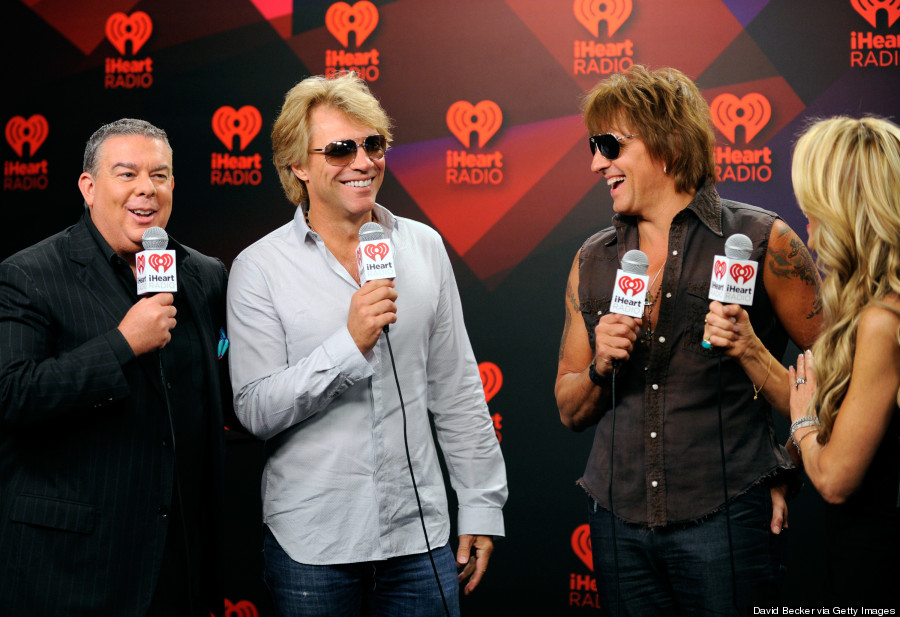 Elvis with Jon Bon Jovi and Richie Sambora on September 21, 2012.
Do you have an embarrassing story from when you interviewed anyone?
I think every time I meet anyone, I embarrass myself to a certain degree. I could tell you, we've interviewed almost everyone. There's a few we haven't gotten to, but from the '80s and '90s, all of music's biggest stars, we've interviewed, and also a lot of movie and TV stars, and I still get more impressed by regular people who do big things -- raise money for people and help others. I get more of a thrill out of that. If you told me Justin Timberlake was coming in tomorrow, I would be very excited about it, but just as excited to interview someone who just raised a ton of money for a family who lost their house. After years, the celebrities aren't celebrities anymore. It's kind of weird, do you understand what I'm saying?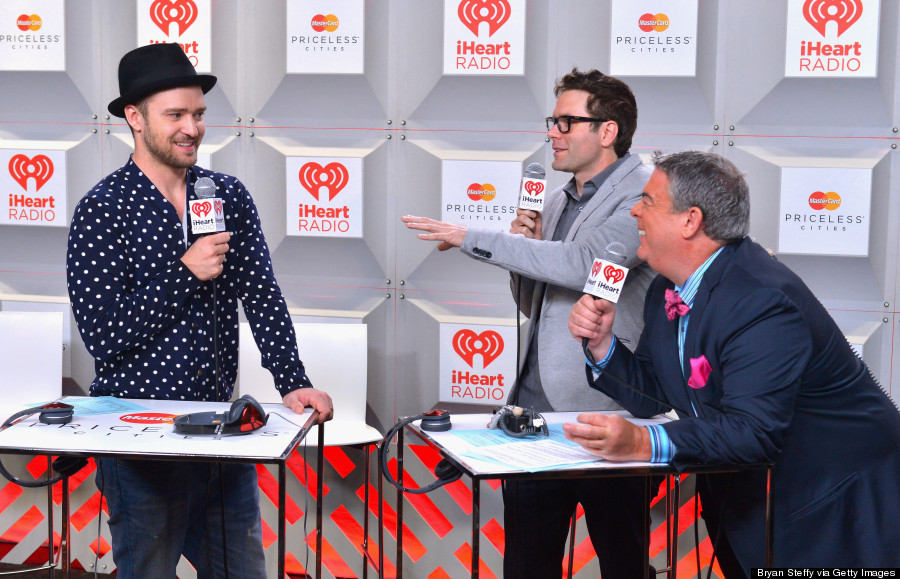 Elvis with Justin Timberlake and Bobby Bones on September 21, 2013.
I totally get that. When you meet them in person and you're chatting, you honestly can't believe it was such a big deal, because they're sort of normal! But like, to me, you're a celebrity, I love you and grew up listening to you.
I'm not a celebrity! That's so weird you said that.
To some of us, you are! For example, my mom was freaking out that I was talking to you today.
Ugh, I love your mom. What's your mom's name?
Mary.
You tell Mary that Elvis said hi! You know what it is? Here's the difference between a celebrity and a radio person: [A DJ] is someone you listen to every morning, or hopefully, and are a part of your life, just like your toothbrush or your car. A celebrity, to me, is someone you see once and a while and they have the best life of all time and they always look glamorous, you know? We're just normal Joes who come in every day and tell fart jokes. [laughs] But, I'm glad you listen, and you tell Mary I said hi.
Oh, I will! Who's your favorite artist you've ever met or interviewed?
We've had so many fantastic interviews and artists. You know, Gaga always comes to mind because she's always been so great for us. Enrique Iglesias always is great. It's neat when people you interview aren't afraid to open up and talk about things from the heart and the soul. And we've had so many of them -- I don't even know where to start. I'm at a loss for words.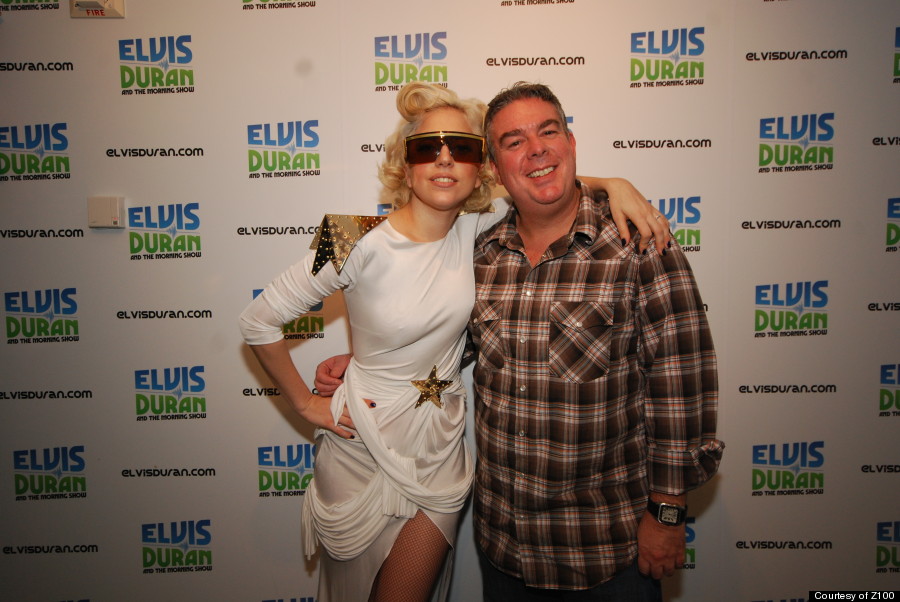 Elvis with Lady Gaga on October 27, 2009.
In your opinion right now, who is the artist of the moment or who is going to explode?
We had Jessie J on and she's been a superstar in every country in the world except for the U.S. This is her third album coming out and she never really clicked here for some reason. Her single "Bang Bang" came out and it's No. 1 on iTunes, and everyone is saying, you know what, she's about to come into her own here in the U.S. Charli XCX is doing great, Iggy Izalea, of course, Sam Smith. But there's a lot of great music out there right now and it's an exciting time to be doing what we're doing. To be able to talk to them one-on-one about where their music comes from and to be able to get into their heads and into their hearts, what a great career! How much fun is that? It's great to get to know people.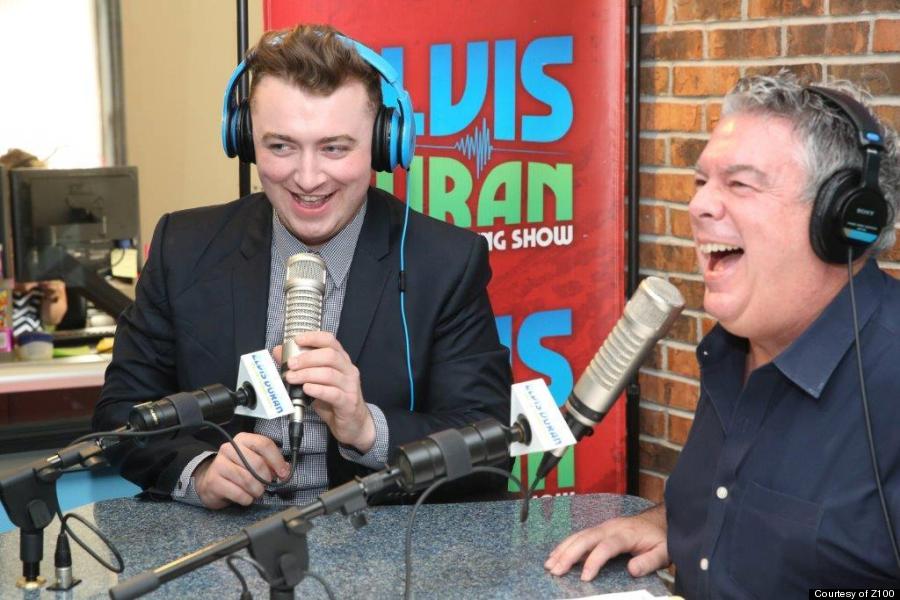 Elvis with Sam Smith on June 17, 2014.
How often are you recognized? Do people know your face or just your voice?
Because of social media and a little bit of TV, yeah, I'm recognized a little bit. The voice, definitely. You know what I get a lot of? I get someone saying, "Gosh, you look familiar, but I can't figure it out." And I'll just go, "No, I don't think we've met before, but I don't know." [laughs] I don't know how real celebrities deal with it, because I know down the street from my house, there are hotels the paparazzi are always hanging outside of and waiting for whatever celebrity is coming or going, and I can't imagine what that's like, so again, that's a celebrity. I don't think I'd want that at all.
Did you ever oversleep and miss an airing of the show?
One time, I overslept and I was about five minutes late. That's it!
Wow, one time in how many years?!
I mean, I've called in sick, but I'll let them know the day before ... when I start to pretend to be sick. [laughs]
What do you think is the hardest thing about your job?
Waking up before 10. [laughs] No, we have so much fun from 6 to 10 a.m. and then sometimes after 10 o'clock we have to get to work and we have to organize and do those things that people in the business do, which I find so icky. Luckily, I'm surrounded by some of the people that do a lot of that, so I get to have fun, but other than that, I can't think of anything about my job that's all that awful. I'd like to sleep in, but what are you going to do, you know?
Lastly, I want to give you the chance to talk to your fans and say whatever is on your mind as you celebrate this big milestone.
Oh my God, you're putting me on the spot, Leigh! What do I say? [pause] Thanks for the opportunity to come on and do what I love every day. I know that that's kind of simple, but it's true. Without listeners, we wouldn't be here, so there you go! It'll all come crashing down one day, but until then, we're going to have a lot of fun.
Happy Birthday, Elvis Duran!
Listen to some birthday messages to Elvis from some of his biggest celebrity fans: