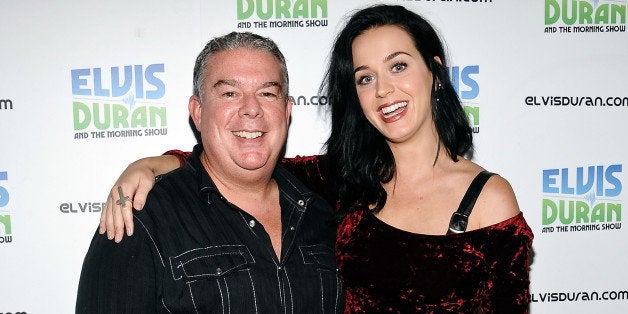 Elvis Duran has been an unstoppable powerhouse in the media and entertainment industries for more than 30 years. He currently hosts the most listened to Top 40 morning show in the United States, consistently ranking #1 across a diverse multitude of demographics and top markets. His radio program, "Elvis Duran and the Morning Show," is broadcast on over 75 stations across the country and features interviews with top celebrities like Justin Bieber, Kanye West, Lady Gaga and Katy Perry.
Over the years, Duran has earned a number of awards for his personal and realistic approach to talk radio, including "Best Morning Show" by New York's Achievement in Radio Awards, "Personality of the Year" by the Radio Music Awards, "Best Personality" by Radio & Records, a "Best Top 40 Disc Jockey" nomination by Billboard Magazine Radio, and "Best Major Market Top 40 Air Personality" by Billboard/Airplay Monitor.
Having publicly come out in 2010, Duran is also heavily engaged in philanthropic efforts, particularly those affecting the Lesbian, Gay, Bisexual and Transgender (LGBT) community and LGBT youth.
We caught up with Duran after his morning radio show last week to talk about his efforts and engagement with LGBT individuals and GLAAD, his own personal coming out story, his efforts to evolve alongside talk radio, and the future trajectory of this form of media.
The Huffington Post: You came out on-air in September of 2010. The way you chose to do it was fairly understated and in response to a caller on the show. I thought it was really interesting that you didn't make a big ordeal out of it. Why did you choose this way to come out?
Elvis Duran: Well, it's interesting that you have a date for it -- I didn't know there was a particular date that that happened! I've never been truly closeted on the air, it's just something I never really made a big deal out of because I never felt like I wanted to push an agenda or push it any further than I felt comfortable with. I've always been very comfortable with me and the people I work with and my family have always been very plugged into who I am with my personal life. But, you know our show is definitely about being open and honest and offering our listeners a look into our lives so they can understand where we're coming from. The show's been evolving in that direction over the past five or ten years, so I think it came up in the room and I addressed the situation you're discussing and it popped out! So I didn't really officially come out; I've never really been in. I never really wanted this to be the "Elvis Duran Is Gay" show –- I'm a gay guy who's doing a radio show.
You've been such a prominent figure in media for 30-plus years and I was curious about why after all that time it finally came up. That kind of puts it into perspective.
I think the bottom line is that our show has been evolving into more of a talk-based show where there is more room for personal opinion and talk about our personal lives. So it just naturally fit it. The great thing about it was that there was an underwhelming response. It was just no big deal! Our audience was, "Oh, okay great. What else?" I like that -- I think that's really important for anyone that's having a struggle with wanting to share their identity or come out. They most likely, depending on their family situation, hopefully will be met with the same underwhelming response. "Oh! You're gay? Great! What's for lunch?"
Do you think that celebrities or people of prominence have a responsibility or an obligation to come out?
I guess the best way I can put it is, depending on what made that person the celebrity. For instance, we do a show based on reality, not compared to reality TV or something like that, but we like to talk about real-life issues and things that go on in people's lives. I think it's good for our audience to know where each of our show members are coming from, from a personal standpoint. But, do celebrities owe it to their audience to come out? I don't think so. It depends on how honest they want to be with their audience. But if I find out today that some actor or actress is gay, I don't become offended that they didn't tell me. Not at all! But if an actor or actress was proving their point of dating someone of the opposite sex and saying gay people have no right to get married and then we find out that they are gay, well, yeah then I have a major problem with it.
This evolution of your show that you've been referencing to more of a talk-based format, would you say that parallels with listeners getting to know the individual hosts better and having a more personal connection with them? What would you say the show is evolving from?
Well, first of all our show used to play more music per hour. The show technically has changed over the years. We used to play six, seven songs an hour and now we're lucky if we fit three in. And we do that because we have to have a potty break [laughs]. The reason why is we know that our audience wants more of a talk and idea, informative show than a music show. If people want music in the morning there are plenty of places to go get it. They don't turn to us for that. So, with that said, with more talk comes more need to be real and open and talk about where we're coming from. I guess it boils down to a song count per hour has changed for our show over the years. And thank God, because it's really opened the door for us to communicate about many ideas, more than just gay, straight. It's also relationships, relationships with each other, relationships with money and food and body image -- all sorts of stuff, it's great.
GLAAD provided me with a statement about the work that you've done with them. Part of it reads, "He consistently incorporates anti-bullying and pro-LGBT messages into his shows in an entertaining way that resonates with LGBT listeners while also engaging allies." Can you talk about how you aim to incorporate anti-bullying or pro-LGBT messages into your show and if you face any difficulty or resistance when attempting to do so?
Well, first of all, zero resistance. You bringing this up is the first time I've ever stopped to think about it: "Has there been resistance?" And no, absolutely not. This really goes back to the cornerstone of our show: Even though we do get sarcastically funny sometimes when it comes to everyone from every walk of life, our show has always been sort of a safe haven for women and gay people. We do pick on guys a lot from a woman's point of view. Men versus women, it all started with that. But it's always done tongue-in-cheek and in a fun way. Being that I'm sort of the producer of the content of our show, I've always been very sensitive to my female friends and what offends them versus what doesn't. Radio for so many years has been a guys club. You have guys walking into a room every morning to host a show that is supposed to be aimed at women and they start talking about nothing but golf and Playboy (back in the day). It's always been a man's club and I always thought that was so stupid. If we want to attract women there was a mile-wide hole for shows that are appealing to women. Now I'm not saying go on the air and talk about bras and skirts -- just a show that's safe from a woman's point of view. And I've always incorporated that into a gay person's life and point of view as well. I think it's important for us to rethink how we use radio. Radio is kind of slow to evolve, and so is TV now that I think about it. They're all kind of slow to evolve. But our show, not at all.
When you say rethink how we use radio, what are some of the ways you think we need to rethink it? How do you think radio needs to evolve in order to keep up with the changing social and political landscape?
Well, sort of what we've been talking about is that it used to be radio was the only way to hear something in the morning while you're driving to work or sitting at your desk or getting ready -- you can't really focus on anything else. Now, there are dozens of different ways to be entertained in the morning. You can get music here, you can get entertainment there off the web or on your phone or wherever. I think if someone wants to listen to music in the morning there are millions of places to go. But if someone wants to be engaged while they're sitting by themselves in their car in traffic with conversation that makes them think or cry or laugh (hopefully laugh) that's what we do. And that's how radio is evolving. Radio isn't just a jukebox for music anymore because you can get music anywhere. Our idea is to make sure radio in our show represents real people doing real things in their real lives. It's not always fun but we try to make it fun and lighthearted.
Are there specific steps or tools that you've tried to utilize to make that transformation happen?
It's being open and honest, it really is. That's what it boils down to. It's funny, it's been so slow for the gay conversation to evolve on radio and radio talk. You can find it in little splinter shows, little bitty shows where they have the small audiences. Our show really and truly, in my opinion, is the first radio show in the country that has millions of people listening every day and the gay conversation and the gay life, even though it's just a small part of our show, is very, very prevalent and definitely a part of who we are and what we talk about. And what it's safe to talk about on our show. And I love that!
The Imperial Court of New York awarded you with the 2013 Imperial Diamond Award. Can you talk to me a bit about that experience -- how it impacted you or what it meant to you as prominent LGBT figure in media?
Well, for anyone to recognize you as actually putting effort in and getting results out of helping organizations either raise money or get their agenda out there -- that's great! The Night of A Thousand Gowns is what you're talking about [laughs]. It's always a fun party! To be recognized by them was great and every year they do honor several organizations that I truly believe in. And to be associated with GLAAD -- I'm very proud of that association. I really think there are many great organizations out there getting the word out about LGBT youth and bullying, but GLAAD has this way of making sure the stories about gay people are sent out and heard and not covered up, and I like that. I think GLAAD is so important for our community and I love them.
You've also worked with a number of other organizations that centralize around helping LGBT youth, like the Robin Hood Foundation and Rosie's Theater Kids. I wanted to see if you could talk to me a little bit about what you've done with these groups and how it's impacted you and the work that they're doing.
Well, Robin Hood is such a massive organization here in New York City. We have an opportunity to help people who are here trying to live their dream and they just can't because this is a very expensive city. There are a lot of people here. Where else can you go where you're on one block and you have multi-billionaires living there and the next block you have homeless people begging for money. Robin Hood does such a great job of identifying organizations that help New Yorkers, and plus I'm always impressed that they don't take any money for administrative fees. All of the money goes right in the pockets of these organizations that they study. As far as Rosie's Theater Kids, Rosie O'Donnell, a good friend of mine, really had it right when she identified a new, exciting way to get into the minds and hearts of kids who are raised in at-risk neighborhoods and at-risk families. You know, get them interested in the arts! There's no place like New York City when it comes to theater and the arts. These kids who might have just dropped out of school to become whatever, now have focus and have a passion for the arts thanks to Rosie's Theater Kids. They're moving on to college scholarship money we raised for them and things like that. I think those are two great examples of how New Yorkers can help out, Robin Hood and Rosie's Theater Kids.
Are there other organizations or initiatives that you're looking into that center around helping LGBT youth in New York?
Globally, too. The Trevor Project I'm totally into… God, I don't even know where to start. There's so many I'm interested in and I will definitely donate to. I find that with limited time in the course of a day, as I'm sure you can relate, there's so many you wish you could spend more time with. I'm always looking for more organizations to spend more time with.
You chaired GLAAD's summer event in 2012. In that same statement that I referenced before, GLAAD said that they were looking forward to working with you on new initiatives this year and the years to come. So, what's next for Elvis Duran? What do you have planned, not just in relation to GLAAD but also your next move?
In relation to GLAAD, it started out as kind of a fun thing and now it's turning into a national movement in that Spirit Day, which is coming on October 17. Something as simple as wearing a purple shirt for the day -- it's about your support of LGBT youth and anti-bullying. And now it's become a big thing that's covered by the press! This year we're going to blow it out and make it as big as possible. So make sure you wear your purple! As far as where else we're going with other organizations, I'm always on the hunt, always going to fundraisers and meeting new people who are coming up with exciting new ways to advance not only LGBT youth and their future but all of us. We could all use advancing.
You can listen to "Elvis Duran and the Morning Show" weekdays from 6 a.m. - 10 a.m. on radio networks across the country.
Calling all HuffPost superfans!
Sign up for membership to become a founding member and help shape HuffPost's next chapter