To this day, no picture has ever captured the spirit of rock 'n' roll better than the young Elvis Presley wielding his guitar like a gunslinger's .45.
Let's just not forget that the man who actually played the guitar on all those songs immortalized by the young Elvis was Scotty Moore.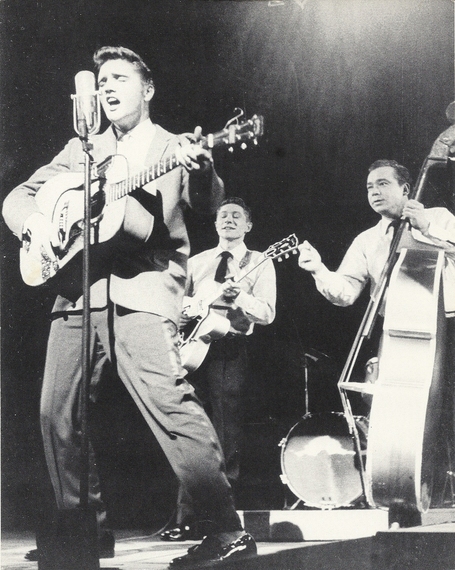 Moore died Tuesday at his home in Nashville, age 84, after several years in declining health.
He was the last survivor of the four people - Elvis, Scotty, standup bass player Bill Black and Sun Records owner Sam Phillips - who, on a blistering hot July night in 1954, found the sound that 18 months later would catapult rock 'n' roll into America's shocked and unnerved living rooms.
They didn't invent rock 'n' roll. They just found a way to synthesize its components into the seeds of the cultural phenomenon that Elvis would become in early 1956.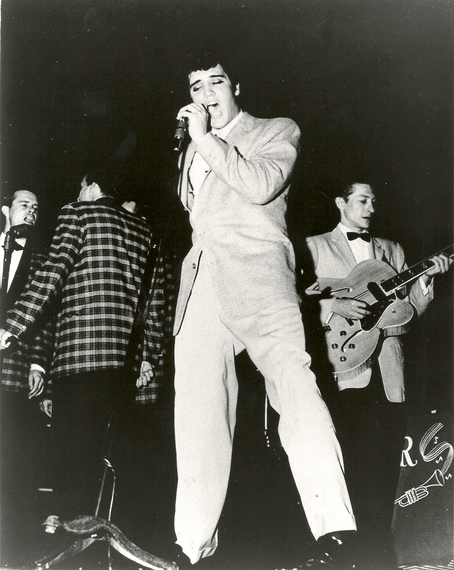 Moore played guitar on the five records Elvis cut for Sun. Each had a fairly intense R&B tune like "That's All Right Mama" or "Mystery Train" on one side and, so Phillips could cover more bases, a lighter country-style tune on the other. Those included "I'm Left, You're Right, She's Gone" and the ethereal "You're a Heartbreaker."
Moore's guitar style wasn't flashy on either side, just note-perfect. "I don't like long guitar solos," he said in 1997. "I wanted to find something that fit the song."
He was really good at that.
"I'd sit for hours listening to Elvis records trying to figure out how Scotty did it," Keith Richards said years later. "With 'You're Right, I'm Left, She's Gone,' I don't think I ever did. I'm not even sure I want to know."
Making it all the more remarkable, Elvis and Scotty was an arranged marriage. Phillips thought there was potential in Elvis, so he asked Moore and Black, who had a country band called the Starlite Wranglers, to see if they could help the kid find a distinctive sound.
They came to the Sun studio on July 5, 1954, and legend has it they were getting nowhere until they took a break and starting fooling with unplanned R&B riffs.
That's it, Phillips is said to have cried, and soon he was releasing Elvis records and sending The Blue Moon Boys out to tour.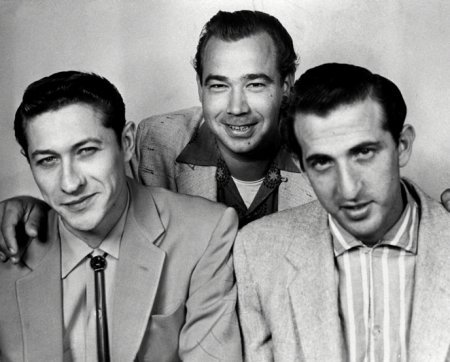 In late 1955, Phillips sold Elvis's contract to RCA. Scotty and Bill, now joined by drummer D.J. Fontana (above), went along for a ride none of them expected.
"We never thought of our music as national until we got to RCA," said Moore.
That changed quickly, and Moore's guitar became a crucial part of the early Elvis phenomenon, on records like "Heartbreak Hotel," "Don't Be Cruel" and "Hound Dog."
Moore said Elvis was easy to work with: "He left it up to the musicians. He only rarely made a suggestion. He'd say, 'Let's try it.' "
But Elvis was not a musical novice.
"When he was on stage," said Moore, "he never missed a beat. Remember, in those days we didn't have a big sound system. You were lucky to have two microphones. So when it got so loud at the shows, you couldn't hear anything on the stage. Bill and I couldn't hear his vocal. But we always knew where he'd be."

The team stayed together, through dozens of hit records and four movies, until Presley went into the Army.
When he came out, his manager Col. Tom Parker steered him in a new direction, toward a series of shaky movies with uneven music. Moore and Black were not invited for most of it.
When Elvis filmed his famous 1968 "Comeback Special," however, a TV show designed to take him back to his rock 'n' roll roots, Moore returned. (Black had died in 1965.)
Acclaim for the show was near-unanimous, and Elvis was among those who reportedly loved hearing Moore play the likes of "Trying to Get To You" and "One Night."
They never worked together again.
"I think Elvis would have brought me back," Moore said in 1997. "But Col. Parker didn't want that. Remember that once Elvis became a star, everything was done for him. He didn't make his own food, he didn't pay his own taxes. He did what people told him to do."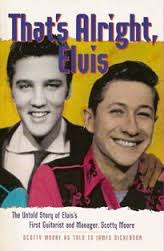 Moore said he had "never felt bitter," though in his autobiography he wrote that he would like to have had a personal conversation with Presley about how it all played out.
He also noted in 1997 that while he, Black and Presley spent a lot of time on the road and in studios together, they weren't old personal pals.
"We were a couple of years older," Moore said. "I was married. After a show, Bill and I wanted to go to bed. Elvis was young and had all that energy. He wanted to play touch football. He wanted to stay out all night.
"So he had his own friends, people he knew from Memphis, who he'd pal around with. They became like his family."
Moore continued to work in the music business, producing and engineering for artists that included Ringo Starr, Richards, Ron Wood and Jeff Beck. He played live dates and recorded a couple of albums.
The Elvis music "wasn't half bad," Moore said with a laugh in 1997. "But some of it was just being in the right place at the right time. Elvis was going to become a superstar some day. Without Col. Parker it might have taken a little longer."
Had Sam Phillips not arranged that shotgun marriage in the summer of 1954, Moore mused, he and his Gibson Super 400 "might have gone into jazz."
As it was, the Blue Moon Boys went into the Rock and Roll Hall of Fame, class of 2000, the first "sidemen" to be inducted.
Musically, though, Scotty Moore stood subordinate to no one.
Calling all HuffPost superfans!
Sign up for membership to become a founding member and help shape HuffPost's next chapter