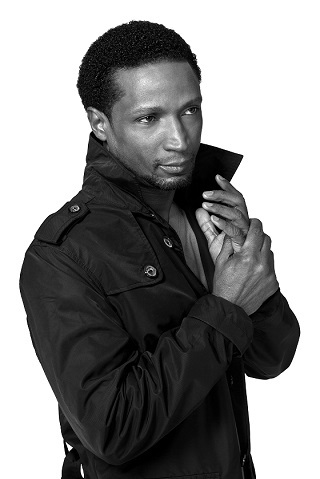 Elvis Nolasco stars in the new ABC series American Crime written by John Ridley (12 Years a Slave). You'll recognize Elvis from his numerous roles in five Spike Lee films including the recently released Da Sweet Blood of Jesus. Elvis' Twitter: @EONolasco . Photo by Elise Gannett.
It was easy for me to come up with questions to interview the multi-talented and ever so handsome Elvis Nolasco. There's just something about the way he carries himself that makes me want to [censored]! Eeeps! But so true!
You HAVE to check Elvis out in his new show American Crime which airs in the coveted Thursday night slot after Scandal.
Let's see what this guy Elvis Nolasco has to say.
In American Crime, you play an addict named Carter Nix. What type of research did you do for this role?
Well, having grown up in New York City's neighborhoods, it was not a far-fetched or stretch to witness addiction on different levels. To have been able to witness the behaviors, struggles and destruction was something I was able to draw from. YouTube was very helpful in doing research on the effects and behaviors of addiction.
Do you still know how to breakdance? What about poppin'? What's your favorite move?
This is a good question. It's never the same case when it comes to remembering how to still ride a bike. Break dancing can do a lot of wear and tear on the body, something I've experienced throughout the years. However, I still got some moves, I'm still swift and limber. As a New Yorker I will never turn away from a battle. My favorite move would have to be classic footwork and windmill.
What's your workout and food routine?
I love to run and hike, cardio is of major importance to me. I also enjoy hitting the weights and calisthenics every now and them for muscle building and strength. I enjoy eating egg whites and oatmeal for breakfast, lots of fruits and vegetables, salads, salmon, steak, grilled chicken and turkey. However, if my mom is around I'm definitely having me some liver and white rice (my favorite dish). My two good friends have been instrumental in helping me train and workout properly (Kamar De Los Reyes & Ben Velazquez at The New York SportsLab).
Tell us about the @SpikeLee Sneaker Jam. What did you do there? How'd you get an audition for the Spike Lee film Da Sweet Blood of Jesus?
Spike Lee's NBA Sneaker Jam? Just went out to have a good time, pow wow with all the 40 Acres and A Mule Team. Da Sweet Blood Of Jesus is a different and uniquely told love story about people who are addicted to blood, it's a re-imagination of Bill Gunns 70's hit Ganga and Hess. I was in L.A. when I first received a phone call about my availability to come on board for Da Sweet Blood Of Jesus and the details of the project. I answered that call by saying one, yes I'm available and two I like the project very much. The second call I received, the voice on the other line (will remain anonymous) said "Pack Your Bags".
What's it like playing opposite of such a hot actress Caitlin Gerard in American Crime? Tell us about the first time you met her. @CaitlinGerard
As you just described her, not only is she hot but Caitlin is also a very talented actress. I knew from the moment I tested with her, I felt that the chemistry and understanding of the characters was on point, Caitlin brings it and it's such a joy to have taken this journey with her. When I was given notice that I was cast as Carter Nix, based on what had happened in that audition room (chemistry) I had a gut feeling that Caitlin Gerard would be Carter's Aubry Taylor.
What type of after school activities did you do as a kid?
Lots of them...theater, baseball, street two hand touch football, lots of roller-skating and ice skating at Laskers Rink Central Park, swimming, acrobats and break dancing. As you can see physicality was a major part of me growing up, and still is.
You recently wrote a short film called Invisible Wounds and will also direct. What type of research / schooling did you do to learn how to direct? Please let us know more about the production side of Invisible Wounds.
To be able to watch and listen to Spike Lee and John Ridley like a hawk, I ask questions and take notes. I've been fortunate to be around some amazing directors, D.P.s and various levels of productions throughout the years, so I've pick up some quality information along the way. I've directed theatre and I've worked as a teaching artist for many years, all these experiences combined have given me the confidence and knowledge in moving forward in directing my first short Invisible Wounds. It's very early in the process, however I wrote the story with my good friend and fellow break dancer Luis Dalmasy. It's a story very relevant to today's and yesterday's war veteran issues. Issues like adjusting to civilian life and for many of them the dependence of prescription medication to deal with life on life's terms. My younger brother (Yanko) is a former military man who served our country in the Iraq war, he in turn is my personal adviser on the project. I'm reaching out to investors and or crowd funding to fund the project.
Do you find yourself being stereotyped into roles?
Stereotyping? Good question. I could honestly say that early on in my career that was something that I was able to recognize and therefore mid-way through this journey I chose to stick to theater for a while (which is my foundation). I've always considered myself and my art to come from a very diverse place, so it has always been of the utmost importance to stretch my art and personal growth so that I'm not placed in that box...(stereotypes).
You're a true New Yorker. Share a story from your childhood about growing up in the city and how it's affected your life today.
While in J.H.S. Joan Of Arc, growing up in the midst of the break dancing, graffiti and rap music explosion. On lunch breaks, myself and founding members of the renowned graffiti group I.B.M (Incredible Bombing Masters), Dino Morales (POKE) & George Morillo (SEN ONE). One day we were standing on the corner of 91th street and Broadway. While standing on this corner one by one my friends started to disappear, to my ignorance, I didn't realize that they were all going down these steps that lead us to the old abandoned 91th street station where we discovered a graffiti artists' paradise. This very old station was the canvas to throw up your piece and it then would be displayed for all the One train riders to view as the train would cruise from 96th street to 86th street stations. Something only a New Yorker would know about. As a Native New Yorker growing up in such a fast paced city, I've learned to be fearless, courageous, to interact with people from diverse backgrounds and know that "No one opens the door for a Native New Yorker"...(wise words from the group Odyssey). I do strongly feel that these experiences have a strong effect on me, my character and the truth.
Anything else you'd like to say?
At this point In my life and career, I'm just filled with gratitude. Promoting Da Sweet Blood Of Jesus and American Crime at the moment is where my focus is at. On February 21st I was invited to participate in a celebration of the life and times of Malcolm X at The Shabazz Center (Washington Heights), this date marks the 50th anniversary of Malcolm's assassination . As part of the event I was asked to read Malcolm X's last letter; It's truly an honor to be invited. Shout-out to the cast and crew of American Crime & Da Sweet Blood Of Jesus. Shout-out to my fam and peeps in Washington Heights.
REAL LIFE. REAL NEWS. REAL VOICES.
Help us tell more of the stories that matter from voices that too often remain unheard.