Scroll down to find out how to recreate Elvis Presley's hair.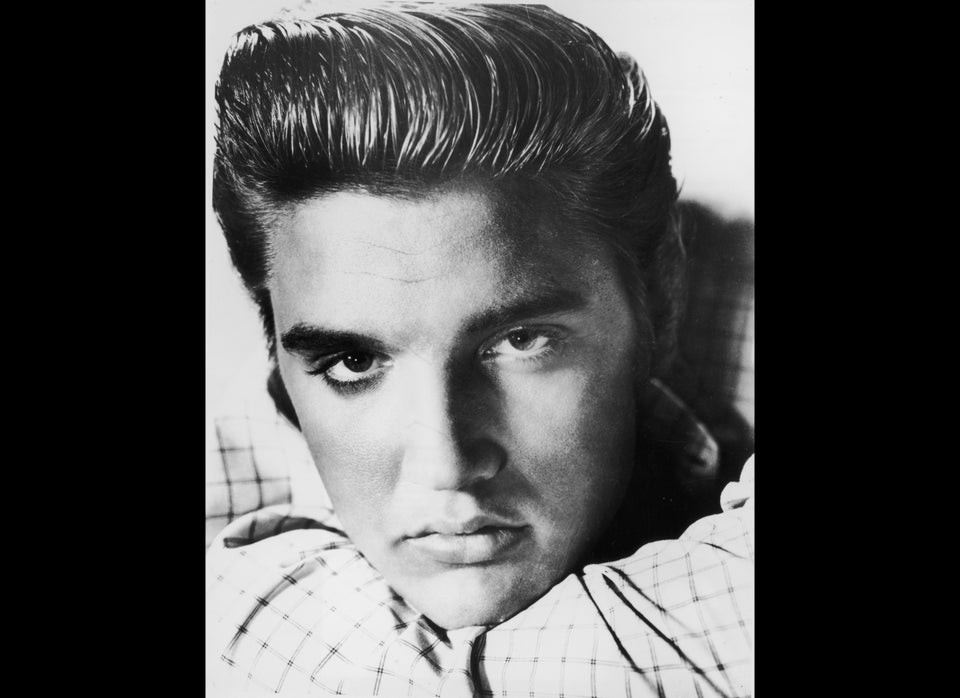 Elvis Preseley And 27 Other Celebrity Pompadours
Elvis Presley may forever be remembered for rock and roll hits like "Hound Dog" and "Jailhouse Rock" and pelvis thrusts that gave young girls heart palpitations, but his pompadour is just as timeless.
"I love the vintage feel of a pomp. It's a throwback to the '50s and '60s, but has enough modern twists to keep us going vertical," says Janine Jarman, owner of Hairroin Salon and West Coast spokesperson for Sebastian Professional. "This timeless style is quite flattering on anyone -- it's balanced, gives the illusion of added height, and is a tried-and-true way to wear your hair off of your face. Best of all, it looks fabulous on camera!"
The key styling step to mastering this look: blow-drying. Jarman stresses that many women make the mistake of relying on gel or grease to create volume.
She adds, "It's very hard to push the front hairline into retro shapes like the pompadour with just products. It needs to be blow-dryed in! Also, don't go too big with your hair or it just becomes laughable and is no longer cool."
Read on for Jarman's five steps on how to pomp it up:
1. Prep wet hair with Sebastian Texturizer to achieve grip while building a buoyant foundation for shape.
2. Use a blow dryer with a directional nozzle to concentrate the air flow and a Denman classic styling brush. Blow dry the hair in two parts: the front section towards the face and the back towards the nape. This creates the C-shaped curves. You can also tease the base for added height and hold.
3. Once hair is dry, apply Sebastian Gel Forte to sculpt and hold the pomp in place. This is a soft flexible gel that doesn't flake or feel stiff, great for creating a softer Johnny Depp look. Use Sebastian Liquid Steele for an unbreakable hold and a sleeker, more finished style a la James Dean.
4. To give the pomp a more modern feel, let a few bits fall to the side. You can also take the pomp to the side rather than all the way back to mix it up.
5. Finish with Sebastian Shaper Zero Gravity for a softer set or Sebastian Shaper Fierce for a stronger hold.
What do you think of Elvis Presley's iconic hair? Tell us your thoughts in the comments section and click here for pro tips on perfecting Farrah Fawcett's feathered waves.
Related