 What if you fell upon a piece of Elvis Presley history? After all, he was just a mere mortal, right? Well, to millions around the world he is as much as a magical being as he ever was when he first began his career as a musician and actor in the '50s.
Elvis Aaron Presley was born a twin in 1935. According to Elvis' official website, "His twin brother, Jessie Garon, was stillborn, leaving Elvis to grow up as an only child.... In 1954, Elvis began his singing career with the legendary Sun Records label in Memphis. In late 1955, his recording contract was sold to RCA Victor. By 1956, he was an international sensation."
Recording artist, label owner and producer Shelly Liebowitz, (his interview is here) tells me, "I have been contacted to sell an amazing letter from Elvis Presley to President Nixon. It was handwritten aboard an American Airlines flight on AA Stationary introducing himself to the president -- it is five pages long and the signature has been authenticated."
In this letter, Elvis talks about his concern for our country and asks the president if he would have time to meet him. It's quite a piece of history if I must say so myself. My own father, Dr. Hans Holzer, in 1999 wrote Elvis Speaks From The Beyond by Random House Publishers about a New Jersey housewife's story of reporting "speaking" with Elvis on the 'other side' named Dorothy Sherry. In the book Elvis comes through and tells Dorothy, "Please make people aware of The Other Side, that we are not dead. Life goes on. There are many over here who want to communicate, but people don't understand... death is not the end!"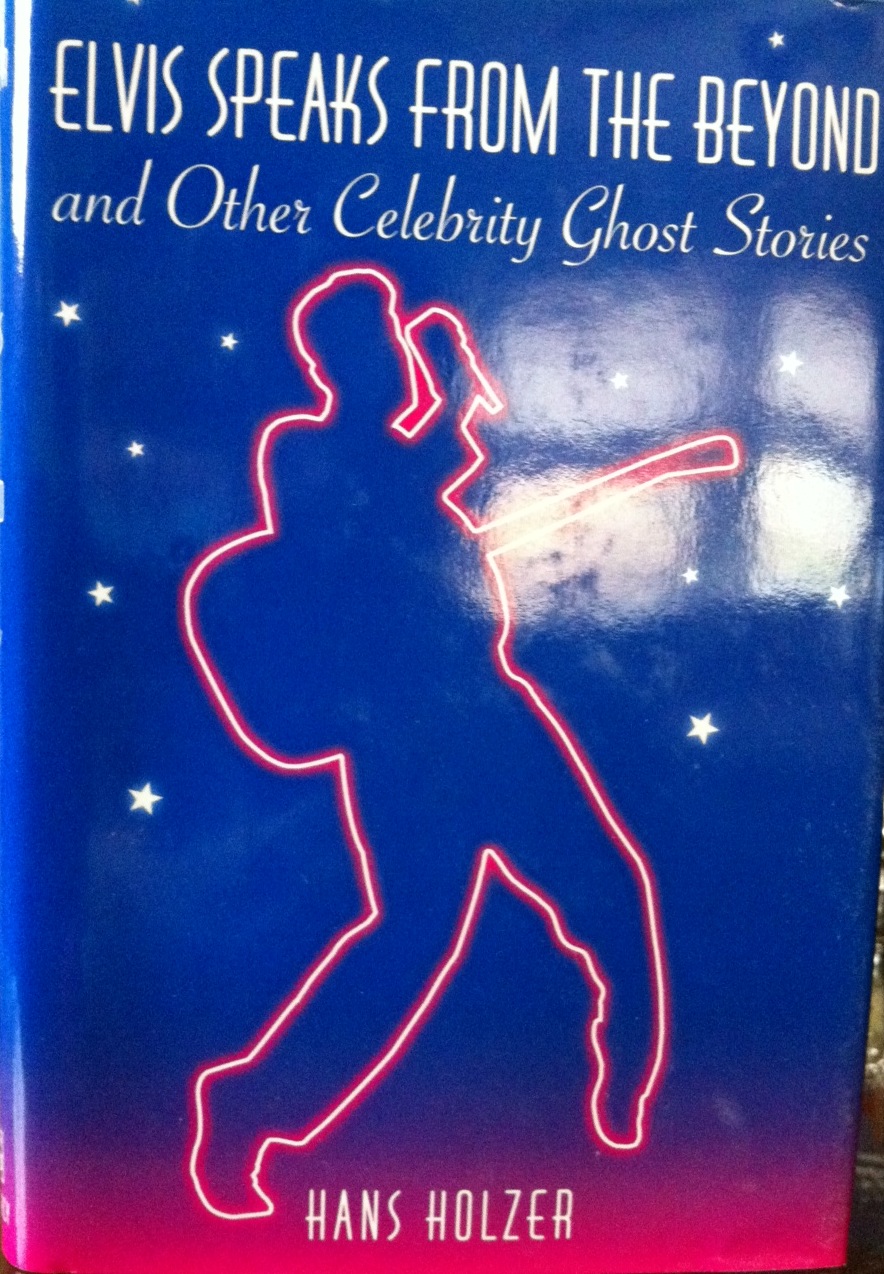 Image courtesy of the author

Shelly explains:
"A partner of mine was approached by an attorney who has a client who is in possession of these letters written by Elvis. The letter and the signature have been authenticated. These letters are an important piece of history as Elvis talks about his concern for our country because of hippies and drugs. In the handwritten letter, that he wrote mid-flight on American Airlines stationary, he is introducing himself to the president through then-Senator George Murphy. On the fax cover page, Elvis lists all of his contact phone numbers where he will be staying at the Washington Hotel under the name Jon Burrows. It is common knowledge that Elvis visited Nixon in the White House, showing up unannounced."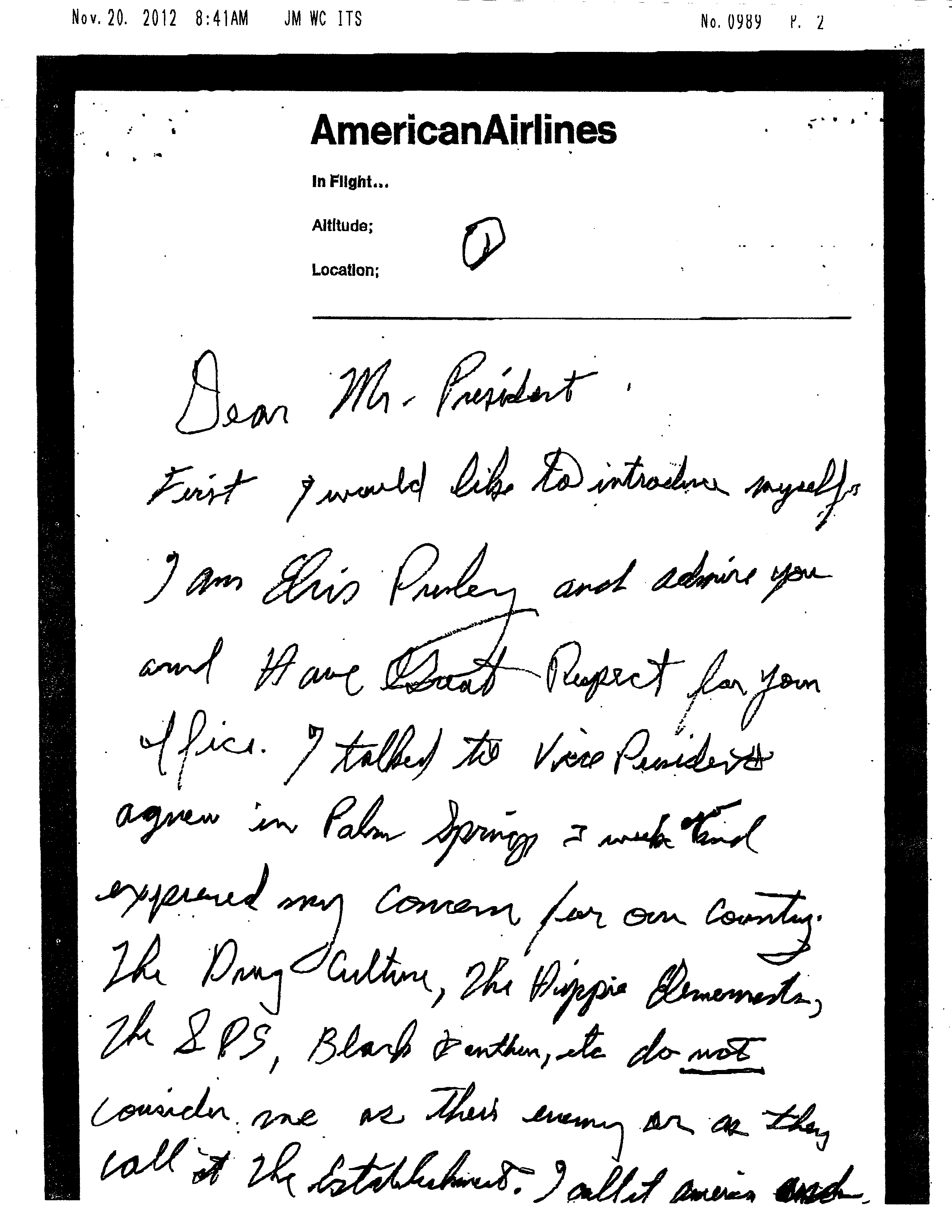 Photo Courtesy, Shelly Liebowitz: American Airlines Letter
"This is very rare and amazing as no one ever knew that this letter existed. This letter will be of interest to both historians and Elvis fans and collectors. I am currently speaking with several high net-worth collectors of Elvis memorabilia who have expressed interest in this remarkable five-page letter. We will decide over the next weeks to either put a price on it and sell it directly to one of these collectors or to put it up for auction."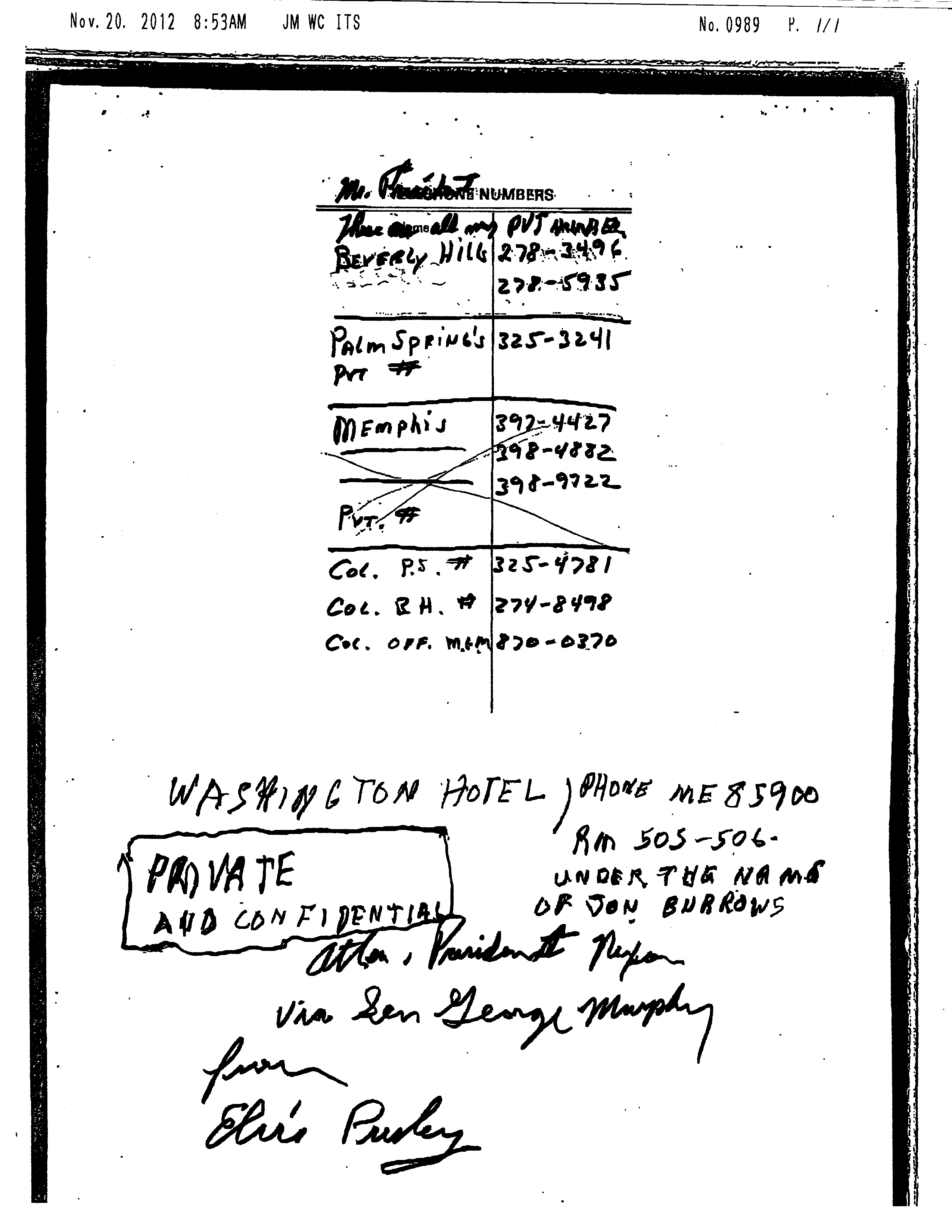 Photo Courtesy, Shelly Liebowitz: Note with personal details.
Shelly reflects to me how he recalls back in the days before the fold-down tray table, having the tray attached to the arm rests. "I can't imagine writing a letter that way."
With today's technology and all the changes, some things can remain the same if you allow yourself to be an oldie but goodie. Just maybe with a more refined way minus the robots and gadgets.
"Truth is like the sun. You can shut it out for a time, but it ain't goin' away." -- Elvis Presley
This post has been updated since its original publication.