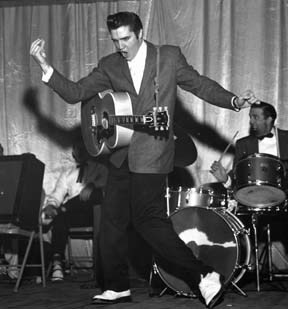 Teenagers in the 1950s and '60s turned Elvis Presley into an icon. His shaking hips and curled lips sent rock 'n' roll shockwaves reverberating around the world and challenged prevailing notions about sex, race and class. As we celebrate what would have been his 75th birthday on January 8th, we should take note of the impact he had on the culture.
He emerged from his impoverished childhood in Tupelo, Mississippi to become America's pop culture superstar in the wake of the US Supreme Court's decision in Brown v. Board of Education on May 5, 1954 which rocked the South. His controversial singing style, mixing blues, country (at the time called "hillbilly"), and black and white gospel music with a sexually charged stage presence, made Presley "Public Enemy Number One" for those who felt threatened by the tsunami of the changes that were occurring.
"Everything is tied together with the Brown decision, public school, desegregation, rock and roll music, Elvis Presley. I think that illustrates the fear in the South that blacks and whites are going to come together," said Michael Bertrand, Ph.D., Professor, Tennessee State University.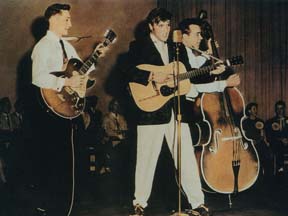 Presley unwittingly became the poster boy for the first round of the culture wars.
"Without meaning to, and really without understanding it, he's a point of conflict because it's not just the mingling of blues and rock, it's also his reliance on a music that is in the minds of some really sinful," said John Seigenthaler, the retired founding editorial director of USA Today, who covered him as a young reporter for The Tennessean.
He was a target of preachers and segregationists such as Asa Carter who headed the White Citizens Councils. Carter had been using his Birmingham, Alabama radio show since 1954 to talk about how the Jews and blacks were bringing down the South. In early 1956, he targeted the growing popularity of the music made popular by Elvis. Carter's views about music were captured in a short film.
"The obscenity and vulgarity of the rock and roll music is obviously a means by which the white man and his children can be driven to the level of the n****s. This is obviously n****r music," said Carter.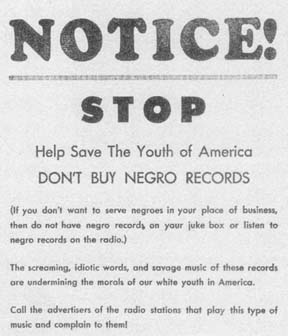 One of his followers, Kenneth Adams, who owned a gas station featuring a "We serve white customers only" signboard, also had a starring role in a short film announcing the Council's plan to clean up jukeboxes.
"We've set up a 20 man committee to do away with this vulgar, animalistic n*****r rock and roll bop. Our committee will check with restaurant owners and the cafes to see what bebop records is on their machine and them ask 'em to do away with 'em," said a defiant Adams.
Adam's committee began to target record stores and branched out to other states beyond Alabama. Stan Lewis, the owner of a record store in Shreveport, Louisiana recalled the impact the Council had when it rolled into a town.
"I came to work one morning and the Council had put stickers on my door and my parking meter because I was selling R & B records and that scared me to death. They put one of my friends in Carolina out of business because of selling the same type music I was selling. That's scary," said Lewis.
The White Citizens Councils were very dangerous. It was an effort to put a clean face on evil -- an effort to mask it by calling it 'White Citizens.'
"It was a glorified Klan. It was a Klan without the sheets," said Seigenthaler.
Just how dangerous became clear when a black motorist drove into Adams's gas station with a flat tire. Adams became so angry that, when the driver got out of his car to ask him to help change his tire, Adams took out a gun and pistol whipped him. He beat him nearly to death.
"He's arrested, but then the judge is going to find that he's going to basically fine him a small amount claming that the black motorist should not have stopped there because he had that big signboard out that said, 'We serve white customers only'," said Bertrand.
People worried that Elvis was at risk.
"I think it would have been more dangerous for him (Elvis) if the children hadn't gravitated to him with such enthusiasm, I mean they were mesmerized by him, enthralled by him," said Seigenthaler.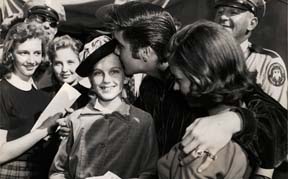 While preachers, parents and the Council warned about the evils of Elvis, the kids couldn't get enough.

"In the paper and everything the preachers called it devil's music. Of course that made it even more enticing to all of us," recalled Gloria Reasons.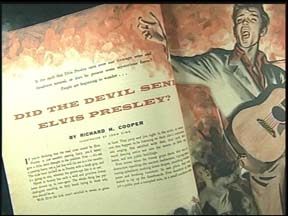 She and her friends listened to Elvis clandestinely on their AM radios and dreamed about seeing him live. Which they did after convincing her mother to drive seven teenage girls from Alamo, Tennessee, 128 miles south to Tupelo to see him perform at a concert in September of 1956. They left at 4:00 AM in order to get there for the concert. Their mother dropped them off and took a nap at a motel. The girls somehow were able to push themselves forward and snag front row seats. They were mesmerized, snapping photos and staring wide-eyed at the "wiggling" singer. They didn't even notice that they were getting burns from the stage lights.
"I think if you talked about it in the '50s we wouldn't have said the word sex aloud, but I think that's what Elvis was, you know, I think it was just a raw sexual urge that he projected that just turned on all the young girls," said Royce Harris, one of Gloria's friends who attended the concert.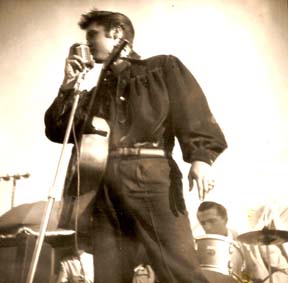 One of their friends, Judy Hopper, was so entranced that she squeezed up onto the stage to plant a kiss on Elvis. Somewhat bemused, he smiled, gave her a kiss and watched as she was escorted off the stage.

"He was just like a keg of dynamite, he was just explosive. I think every girl that ever looked at him thought, you know, would have wanted to go out with him," said Harris.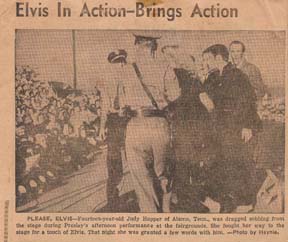 The Alamo girls floated home with mom at the wheel of the family station wagon, and all was fine until the next day, when the local papers carried the photo of Judy's escapade on stage. They all agreed the subsequent grounding was worth it.
It started to become clear that things were changing when Elvis came back home to Memphis for a July 4th concert for the Cynthia Milk Fund in Memphis at the Russwood baseball park. The crowd of 14,000 people at his benefit dwarfed the audience that Senator Eastland drew for a segregationist rally held across town that same night.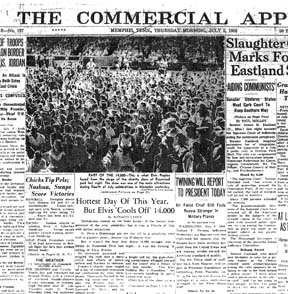 "The young kids, particularly teenagers, they're thinking about race in a different way. This is not to say that they are thinking about it in the same way that, or in a way that we would hope they had thought about it. That maybe they go down and crusade for Civil Rights. But they're thinking about it in a different way. They're thinking about it in a way that their grandparents would not have understood," said Bertrand.
As teenagers bought his records and swelled the crowds at his performances, the then-new medium of television came calling. Elvis would find out that it wasn't just people in the South who thought he was from the wrong side of the tracks.
Steve Allen, who was in a ratings war with Ed Sullivan, offered him $5,500 to appear on his prime time, NBC show on July 1, 1956. Allen asked him to perform in a skit mocking country singers and then sing to a Bassett Hound.
"I think he was just trying to put him down. Well, if you are going to do that why hire him to do your show? Because the ratings would just go sky high for all those guys and Steve knew it," said drummer, D. J. Fontana who performed with Elvis at the time. "He didn't like Steve until the day he died for pulling that off on him," said Fontana.
Steve Allen considered himself to be one of the tastemakers in this country.
"Obviously this was tasteless, so he was making fun of it," said Bertrand.
Steve Allen's rival, Ed Sullivan, had passed on Elvis but after seeing the ratings bump that he delivered for Allen, he signed him for three shows. When Ed Sullivan gave his nod of approval on his Sunday night show, saying he's, "thoroughly all right," the band thought they were finally home free.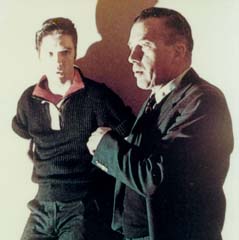 "When you did the Ed Sullivan Show back then, that was as far as you could go, that was the highest," said Fontana.
Controversy still surrounded Elvis, but powerful commentators such as Washington journalist Drew Pearson and others started to say that Elvis was "OK." He went on to record 151 albums, singles and extended-play records that went gold, platinum or multi-platinum, star in 31 feature films, break all attendance records in Las Vegas, be nominated for 14 Grammy Awards (winning 3) and be the subject of over 608 books. And it hasn't stopped. He earned over $55-million last year, even though he's been dead for more that 32 years. Graceland, his home in Memphis, attracts over 600,000 visitors a year from all over the world. Many make the 75-mile trip south to Tupelo to see his birthplace. Yet some still dismiss him and his fans.
"Elvis may have become successful, but he never left that working class background. You don't do that in American culture, the whole thing is about moving up, getting out, succeeding culturally, not just economically. For many people Elvis never did that. He never did. That's a strike, against him," said Bertrand.
Don't say Elvis didn't succeed to the thousands of people who are expected to make the trek to Graceland and Tupelo for the many events planned this year to celebrate his birthday. They'll just ignore you while swaying to the music of the King of Rock 'n' Roll.
Elvis returned their affection when he finished his Tupelo concert in 1956 with "Love Me Tender:"
Love me tender,
Love me long,
Take me to your heart.
For it's there that I belong,
And we'll never part.
Love me tender,
Love me dear,
Tell me you are mine.
I'll be yours through all the years,
Till the end of time.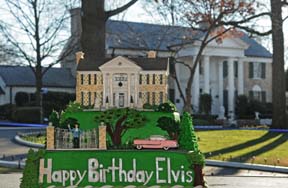 Little did he know that his fans would be with him too -- Happy Birthday Elvis.
Popular in the Community