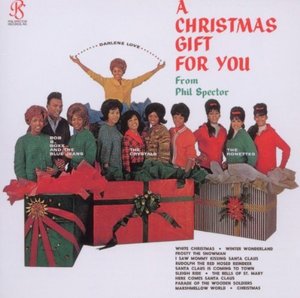 A Conversation with Phil Spector & The Crystals' La La Brooks
Mike Ragogna: Why do you think A Christmas Gift For You has become one of the most cherished holiday albums of all time?
Phil Spector: Because I turned Christmas songs into real music. This album made what was just once a year songs into year round songs. I really wanted to show that Christmas songs were really beautiful songs written for anytime of the year, and could be sung by anybody anytime of the year. I wanted to make masterpiece songs and prove a point that Christmas music was great music. I made each song like a hit record. I was not just making music that would be here today and gone tomorrow. I truly believed this about every record I made. That it was going to be elevator music and department store music. That I was going to be the Irving Berlin of tomorrow and I had to think of the future. That I was not just making music for today but for tomorrow. Philles Records' moto was "tomorrows music today." It was on each record jacket.

La La Brooks: I think Phil loved Christmas. It was a special holiday for him. The music on the album was so commercial that it will last for all time. He made the arrangements very "hip." He put an upbeat spin on some of the more traditional songs. This is the album which Mariah Carey copied when she did her Christmas album. Tommy Matola loved A Christmas Gift for You. A lot of those songs were for an older generation; Phil recorded his for all generations.
MR: What are your memories about recording the music, what was it like in the studio with the artists and all the musicians?
PS: During the making of the album, it was 100 degrees outside and we were trying to make it feel like it was 20 degrees. The experience working with the artists and musicians was fabulous. It was a ton of work but I just remember everyone having fun and such a great time. And we weren't just working on the Christmas album. We were doing a ton of radio and TV shows up North as well as two other tracks--"I wonder" and "A fine fine boy." During the recording process, I was trying to forget what Bing Crosby, Ella Fitzgerald and Nat King Cole previously did and how traditional Christmas songs had been like. I wanted to make upbeat songs that had never been done this way before. It was a real risk for me because you never knew if the public was going to accept them or not or even catch on.
LB: It was great recording the music because the instrumentation was so good. With all those great musicians playing, it felt like it was Christmas in the studio. Phil was very crafty; he was a genius in producing this album and everything else I did with him. More than anything else, it was his genius which made the album such a success. Even when other artists from other labels began recording Christmas songs at that time, it was because of Phil's album. His was really the first rock 'n' roll Christmas album. Lots of other rock 'n' roll artists began releasing these albums. Phil was the pioneer. Those other albums were not as good. Maybe a couple of good cuts on each of those records, but not a complete album of quality material. Years later, when I first heard Mariah Carey's Christmas album, I knew she had copied Phil's album. The sad thing is that the new generation will never know where it came from.
MR: How did you decide what songs to record?
PS: I picked out my favorite songs. And I didn't just want to pick your basic standards. I chose "The Bells of St. Mary" because I heard Clyde McPhatter and The Drifters version on the back of his "White Christmas" record. Clyde was one of my favorite singers. I chose Bobby Sheen--Bob B. Soxx and the Blue Jeans--because I felt that he sounded just like Clyde. "Parade of the Wooden Soldiers" was a classical tune from 1897, which I knew I could completely change the song and make an upbeat, progressive version. I chose "Marshmallow World," originally not a Christmas song either, because I just loved the lyric. Carl Sigman co-wrote "Marshmallow World" and said that my version was his favorite. It was even used in his autobiography. I didn't want to just record Christmas songs. I wanted to record songs and make songs of the season. I wanted one original hit song on the album and that was "Christmas (Baby Please Come Home)" by Darlene Love. With "Santa Claus is Coming to Town," I completely changed almost the entire song, especially the bridge, because I wanted it to copy "Da Doo Ron Ron." From that day forward, everyone copied my version rather than the original--Bruce Springsteen, Michael Jackson, etc.
LB: When it came to the music, Phil had full control over that. He was so savvy with music that whatever songs he chose for you to sing felt right. But I made none of the decisions. I was too young to even think about choosing songs for myself.
MR: What was it like hearing your song on the radio or on someone else's record player for the first time?
PS: It was "To Know Him Is To Love Him" in 1958. I was only 17 years old. It was all so very exciting. I remember when Art Laboe played it at Scrivener's Drive-In on Labrea and Sunset on KRLA. My song went to #1 in LA. I would go into Wallach's Music City on Sunset and Vine everyday to check the record sales.
LB: As a teenager, it was not so real for me until I kept hearing it on the radio. Then I thought, "This is my song!" But then it started to sink in. I was mainly concerned about calling my girlfriends so we could go jump rope. We used to challenge each other in jump-rope. It really started to become real for me when I had to leave my friends to go on the road. Then I would think about it.

MR: Do you find yourself playing this album for enjoyment around the holidays?
PS: Not at first. Once JFK was assassinated, the entire country was completely somber. No one was celebrating anything. There really was not a Christmas that year. Years later, I definitely did. It is still one of my favorite albums.
LB: Sure! As soon as the Christmas season comes around, I can't wait to grab it!
MR: Can you believe it's been 50 years?
PS: No. It seems like I was in the studio just yesterday. Like me and George Harrison were together shooting my new cover photos for the re-release on Apple Records. I was wearing the Santa Claus outfit with the back to mono button on my beard and a Santa hat. George told me this was his favorite album.
LB: No, I can't believe it's been 50 years--sometimes I have to pinch myself. It feels like yesterday.
MR: La La, what's your favorite track?
LB: My favorite song on the album that I did is "Santa Clause Is Coming to Town." People like Bruce Springsteen and others have based their versions on mine.
MR: How do you think A Christmas Gift For You will be looked at 50 more years from now?
PS: The same. Sounds like it was made yesterday. Everything today sounds mechanical.
LB: I think it will have a greater impact. It's like wine--it gets better with age. People will still be listening to it; I'm sure of that!
MR: What advice do you have for new artists?
PS: Amy Winehouse said it best: "Try to get your records to sound like Phil Spector."
LB: Don't let show business fool you. Understand that it's a job that's not like other jobs and you can really be taken advantage of. It can make you change because of all the glitter. You have to stay grounded and know that all that glitters is not gold. And be aware that when your time is over, to know when to exit the stage gracefully. Never let show business make you lose your self-respect.

Phil Spector Answers Transcribed by Rachelle Spector
GET HAPPY WITH PINK MARTINI
Pink Martini's Thomas Lauderdale on the mini-documentary exclusive...
"I like the concept. I like the idea of getting happy especially in these bleak times because things are pretty bleak all around the world. Things are bleak in America, things are bleak in Greece, things are bleak in Spain, things are bleak in Afghanistan. I thought, the last thing the world needs is a restatement of the obvious. So the idea was to find optimism despite the bleakness. Where is hope? Let's find hope we can embrace in these dark times. That was the goal.
"As it turned out the songs that I gravitated towards were not exactly cheery or exuberant. I mean they're uplifting...but in a devastating sort of way. This past January I totally panicked because the album, which was due to be released in April, just didn't add up to Get Happy. I thought: I don't want the whole thing to be ironic. I do want it to be genuinely uplifting, and to provide authentic rays of happiness.
"It's taken a while and I'm still not quite sure that we've arrived at the happiest 'get happy' place. That said, I think that this album is deep in thought, it is contemplative and it is beautiful. It's much older, especially compared with the innocence of Sympathique. With Sympathique nobody was paying any attention. I was barely paying attention. I was just making an album that I wanted to play on my stereo. I never thought that it would sell anywhere beyond Portland, Oregon. For the first five years, we didn't travel. We stayed in town, we played every wedding in town. Those were scrappy years. Get Happy is definitely not scrappy. It's the product of years of growth, and this time we were definitely paying attention."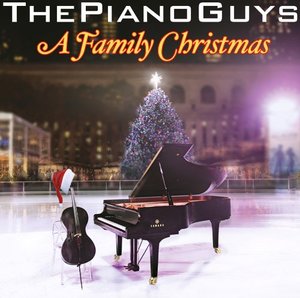 A Conversation with The Piano Guys
Mike Ragogna: The title of your latest album is A Family Christmas. What personal and musical memories do you have associated with Christmas?
Steven Sharp Nelson: Most of my favorite memories of Christmas revolve around music. I am blessed to be in a musical family. Every Christmas when we gather, everyone brings an instrument or two and we have a big Christmas "jam" session. We start with fun tunes like "Sleigh Ride"--heavy on the sleigh bells--then invariably morph into a more reverent repertoire typically crowned by an introspective chorus of "Silent Night." It's amazing how music can cement personal relationships, especially in family. I love my family dearly. And music simply sweetens that sentiment.
MR: How was this Christmas album created?
Al van der Beek: We love Christmas and we love Christmas music, so it was a very natural process for us to create our very first Christmas album. We started off by searching through Jon & Steve's back-catalog--pre-TPG--and found some timeless classics. We then decided if those songs were good as-is or if they needed a little more TPG spin on them. The end result is a collection of original tunes and some of our favorite songs, including a 32-finger, 8-thumbed version of "Angels We Have Heard on High" done in the similar style as our cover of One Direction's "What Makes You Beautiful." We're hoping that it will become an instant Christmas classic for years to come.
MR: Regardless of if they're on the album or not, what are your favorite Christmas songs and why?
Paul Anderson: Our selection and preference for Christmas songs is based less upon popularity and more on musicality, which causes us to gravitate towards the lesser known carols. As long as the music speaks to us, a Christmas tune will be a strong contender no matter how obscure.
MR: What are you all doing for Christmas this year?
Jon Schmidt: Since all of the kids will be together for possibly the last time before the oldest move out of the nest we are having a very small Christmas and using the money for a family vacation.
AVDB: Since we have young children, Christmas is a very magical time of year. It is very low-key and we spend all of our time together as a family--singing, laughing and eating way too much food!
SSN: A Christmas Jam Session with the entire family, it ends up being a decent sized orchestra when everyone brings their instruments! We also do a very special reenactment of the Nativity in which all the young kids in the family--including my 4--act out the parts. It's always a little haphazard, but also very touching.
PA: I will be relaxing at home enjoying some much needed family time, so whatever they want to do, I'll be doing.
MR: How The Grinch Stole Christmas or A Charlie Brown Christmas?
SSN, AVDB, PA and JS: We're all GRINCH all the way!
MR: [laughs] What's the creative process when you get together?

SSN: One of the most enjoyable parts of what we do is in our collaboration with each other. We all have different backgrounds, skill sets, and proclivities, but we are united by a common purpose: to get people to feel something when they watch our videos and listen to our music. Whether that's merely an irrepressible smile, uplifting laughter, a recall of a special memory, gratitude for the beauty of the Earth, or even feeling God's love, we all want to create something that touches people and incites positive emotions. We also are just kids at heart. We have 16 kids between us and we think they have such a natural knack for unfettered happiness that we like to look to them for inspiration when life gets über-complicated or we are tempted to take ourselves too seriously. There is, however, one thing we like to take seriously. Our spirituality. Somewhere between the collaboration of all the talents God has given us, the "fun" side of not taking ourselves too seriously, and the drive to make a positive impact wherever we can reach hangs our "creative space." We meet, we pray, and then we do our best to create something unique, unexpected, fun, or moving. It's not something that works every day. If it doesn't, we try again the next day, and the next, until inspiration flows. Once we feel what we call a "chills up," we know we are on the right track and we just keep working with as much tenacity as we can muster until the job is done.
MR: By the way, how did everyone meet, how did The Piano Guys assemble?
SSN: It all started in a piano store in a little Southern Utah town called St. George. Paul Anderson, the store's owner, was looking for a new, unconventional way to market pianos. The name of the piano store? The Piano Guys.
Paul embarked upon a self-guided study of social marketing and started a YouTube channel and a Facebook page. He had seen videos "go viral" and was fascinated by this exponential phenomenon. He set out to engage potential customers with music videos that were entertaining and that showcased the pianos he had in his store, envisioning "viral videos" doing his marketing for him. Paul was an ambitious, talented risk taker and felt inspired that if he could find the right people to work with, he could create the number one music video channel in the world.
In walked Jon Schmidt. Literally. Jon had built a career in solo piano performance and had a concert in the St. George area. He asked Paul if he could practice on one of the store's pianos in preparation for his gig that night. Paul explained his idea to Jon and asked if he would be willing to be in a video promoting both the store and Jon's music. It was a win-win. Jon brought so much to the table. He had experienced the "music business" first hand. He had a gift for combining multiple genres of music in such an entertaining way that he had captivated and captured a broad, substantial fan base.
Enter Steven Sharp Nelson. When Steve was 15 years old, he met Jon when they had shared the stage at a concert in which they were both performing. Steve started joining Jon at more and more of his concerts. This rapidly grew into a great friendship and a complementary stage chemistry that had audiences in stitches and in tears in two songs or less. Steve was a multi-instrumentalist that had pioneered a new approach to the cello and to song writing. And his ADHD-fueled creative mind contained a queue of song and video ideas waiting to be produced.
Then came Al van der Beek. Al showed up on Steve's doorstep to help when Steve was moving in just down the street. Al had heard Steve was a musician and he invited his new neighbor to his home where he housed a decked-out studio. Steve and Al began writing tunes together and discovered a supernatural songwriting partnership. Al's studio and his engineering skills were to become the most important music-writing tool for The Piano Guys, except of course for Al himself, whose innate ability for songwriting had an essential sleek edge to it.
Our story is a miracle. We're just a bunch of ordinary "guys" playing classically influenced instrumental music in videos that showcase incredible locations. And we're doing well on YouTube? There are so many coincidences that the summation of each circumstance transcends "happenstance." We do not take credit for our successes. We cannot. To do so would defy reason. We thank God, our families, and the people who have supported us by sharing our videos, purchasing our music, and encouraging us through comments and messages. Our mission will always be to produce music videos that inspire, uplift, and make the world a better place. If we can make a positive impact in even one person's life, it has all been worth it to us.
MR: Sweet. What advice do you have for new artists?
JS: Don't put all your eggs in the music career basket. Pursue two careers simultaneously until the music takes off. Keep it authentic. Keep it fun.
MR: Where do you see The Piano Guys five years from now?
PA: We are having so much fun. We don't know why we would want to do anything different than what we are doing right now, writing music and filming videos in crazy locations!
"'Hearts' is a pessimistic song with an optimistic ending," says Sidney York's Krista Wodelet. "When I wrote it, I was pretty convinced that every relationship I had was doomed to fail, through no direct fault of anyone involved -- just a fundamental flaw in all human hearts -- so I fantasized about some parallel heart-less universe where those problems don't exist. I think it works out in the song. I don't know if it ever does in real life."
Popular in the Community