For several years I've been watching and supportive of the Environmental Media Association (EMA). The organization has always been a Supporter of the Green Living Guy and my efforts since 2009 and now it's taken a bigger step toward collaboration.
So let's talk about the EMA program I love called #Greenmyschool.
Around the same time, EMA launched its #Greenmyschool Program (formally titled, EMA School Garden Program), I was getting involved with the EMA Awards coverage and started looking further into the organization.
The #Green My School Program allows children across the country to benefit from shared urban school garden experiences and inspire students to take action on behalf of nature. Students who are able to leave the confines of a classroom for an outdoor, environmental experience learn more and test higher than other students. They also make healthier food choices in their own lives and have greater self-confidence and leadership skills.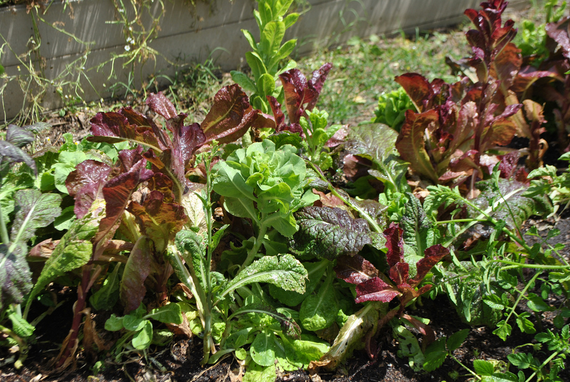 This is similar to the #Greenmyschool program component of Green Buildings and LEED Certification that focuses on green gardens. With the generous sponsors from Birds Eye, Gardein and Kellogg Garden Products who provided the 100 percent organic mulch, gardens to the seeds. Yes; I did ask about all organic and non GMO issues; plus I asked the correct questions. These are totally legit organically grown Gardens!
As the US Green Building Council wrote about their green schools program back in 2011 in Savanah, Georgia:
In kindergarten, students tend to a natural herb garden, moving on to a fruit orchard in first grade. Second-graders study monarch butterfly eggs, and third-graders take care of a full organic vegetable garden. The entire school supports composting of pre-consumer waste and participates in a "green hour" program allowing children to be outside every week for instruction time (in addition to recess).
Since the beginning, EMA supported 17 LA school gardens through funding and celebrity mentoring via EMA's Young Hollywood Board and Parent Board. This program is growing so Lance Bass told me that:
"Due to the enormous success of the Green My School program we will be expanding the number of schools by going back home to our own schools we grew up at. So on April 20th, I'll be launching the program at my school in Clinton, Mississippi."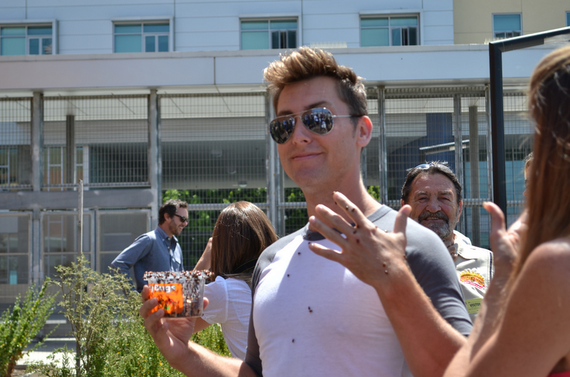 So stay tuned for more on this program folks! Yet it looks like 20 new schools nationwide!
On another note, Lance is an organic cucumber addict; meaning he loves it in his smoothies, food, cooking and overall appreciates all the extra water it provides to keep ones' body hydrated.
Recently, I also talked with both co-founders of the program the beautiful actress Amy Smart and the amazing Leader of the EMA, President, Debbie Levin.
As Debbie told me, "Amy and I actually "created/invented" the EMA Garden Program together over lunch one day 10 years ago! She is the best and most knowledgeable of our Board members on this subject, as well as an EMA Executive Officer."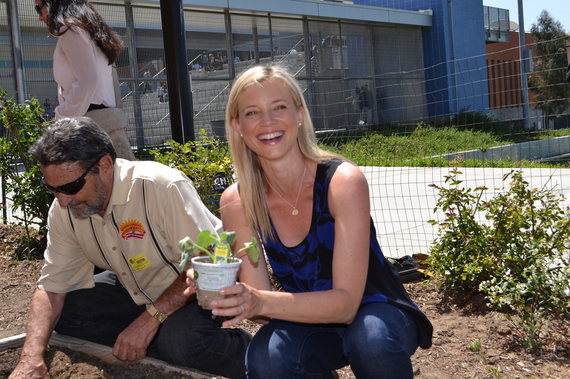 As Amy Smart noted with such passion and devotion:
"Debbie and I were having lunch one day and talking about how we, as EMA , can get involved on a local level and loved the idea of bringing gardens into the LA school systems. For the kids to have the opportunity to grow their food and have a truly hands on experience so important. It really helps them connect the dots and grasp the concept of our food system, on the cycles of life and how they all work. My personal favorite place to be is in a garden where fruits, veggies and flowers are growing. That energy is so alive, vital and thriving.... I can't get enough of it!"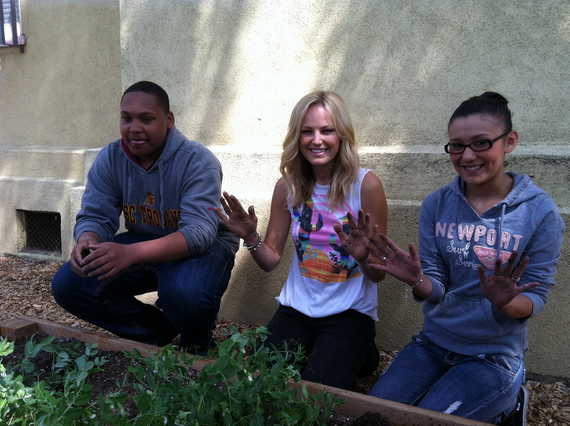 Malin Akerman (one of my favorites) has been a very visible member of the #GreenMySchool and a Board Member of the EMA.
I've been mentoring children at the 186th Street Elementary in Los Angeles with Lance for the last seven years as part of the EMA Garden Program. Together we've created self-sustainable gardens at the school thats not only a fun activity, but a tool that teaches students valuable lessons about taking care of the planet.

As a mother, I recognize the importance of educating children about the environment at an early age so that they have the tools and resources to save this environment for the future. I've even taken the program home and created an edible garden so that I can share the same experience with my son. Malin Akerman, EMA Board Member

SCHOOLS PARTICIPATING IN THE #GREENMYSCHOOL PROGRAM:
While I accidentally thought some of schools were in New York due to their names, Lance Bass was quite gracious in explaining that all the schools were in California. Thanks Lance!
However, we both agreed all of the schools discussed were inner city and it's quite appropriate. You see the idea of Organic local gardening deserves for this program needs to be in inner cities.
Food or organic healthy non GMO food is becoming an issue everywhere; either due to the lack of access to healthy choices or how healthy choices for menus in schools located in inner cities is an issue. Jamie Oliver did a show on it a few years ago with Ryan Seacrest Productions on ABC and showed the terrible food choices being given to children in inner cities. One of the greenest things is farm to table. This makes it possible for these schools.
186th Street Elementary School
Arts & Services for the Disabled
Brooklyn Early Education Center
Calvert Street Elementary School
Carson Senior High School
Carthay Center Elementary School
Cochran Middle School
Eliot Middle School
Helen Bernstein High School
Marvin Avenue Elementary School
Metropolitan High School
Nueva Esperanza Charter Academy
Queen Anne Elementary School
Saturn Street Elementary School
University High School
Venice Senior High School
Westminster Avenue Elementary School
I thought it appropriate to end with this quote from the US Green Building Council:
"We're calling on our colleagues within the education sector to read this National Action Plan, consider your role in educating for sustainability and join us to take action to ensure all students graduate empowered and enthusiastic about their future."
So thank you EMA for lending that hand and making a difference.
REAL LIFE. REAL NEWS. REAL VOICES.
Help us tell more of the stories that matter from voices that too often remain unheard.