One of Miami's best kept secrets is couture designer, Ema Savahl. This blonde beauty came to the sunny shores of South Beach 20 years ago from Europe and created her very own American dream. Ema has built her designer label from scratch with her signature look of hand-painted wearable art dresses. She designs and creates everything by hand in her 15,000 square foot workshop in Miami.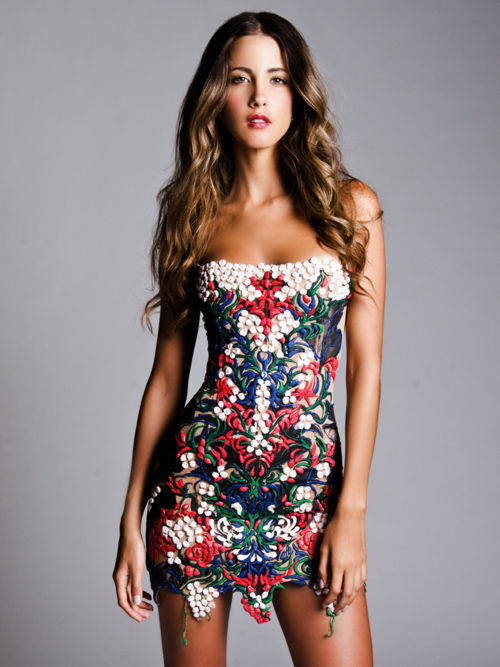 Ema Savahl hand-painted couture dress with tribal art
Celebrities like Katy Perry and Paula Abdul have found Ema Savahl and adorned her conversation-piece dresses. It has been a grass roots, organic approach without a huge PR machine behind her. Ema's endless dedication and hard work over many years and long hours have paid off. The Ema Savahl Couture pieces can be seen in boutiques worldwide that cater to stylish fashionistas around the globe.
After so many requests to create custom one-of-a-kind dresses for celebrities and personalities, Ema Savahl decided to open her own "Celebrity Custom Couture" Division. Now celebrities can send their stylists to this new division to get the perfect custom couture dress for upcoming Red Carpets, Gala Events, Music Videos, Awards Shows etc...
This division was formally kicked off when Ema Savahl was approached to create custom outfits for the recent Premios Juventud 2013 Awards Show televised worldwide by Univision Network for the opening act performed by Pitbull and Jennifer Lopez. They wanted to have some wow factor outfits for the dancers surrounding them. Ema was up for the challenge and created super sleek bodysuits in her signature style of skin-tight hand-painted pieces. She created 40 custom outfits for the dancers for Pitbull and Jennifer Lopez in a new artwork design she named "Mystique" in shades of blue, green and purple. She designed another 20 custom outfits in nude color with black for DJ Chino and Fito Blanko's performances. "I worked seven days straight around the clock to create everything on time," exclaimed Ema Savahl.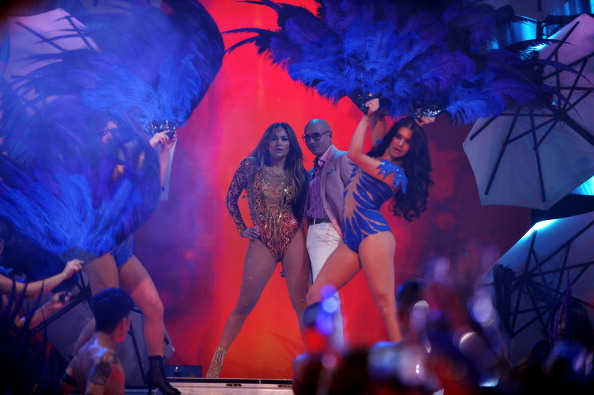 Jennifer Lopez & Pitbull with dancers on Premios Juventud Awards Show wearing Ema Savahl custom couture
As they say, the show must go on and on it did with Ema Savahl's spectacular couture opening the show. Lights, camera, action....WOW!!!! It just doesn't get any better for a designer than having worked for the superstars Jennifer Lopez and Pitbull. The show aired live July 18 from the Bank United Center in Miami. "Premios Juventud" (Youthfulness Awards) is an awards show for Spanish-speaking celebrities in the areas of film, music, sports, fashion, and pop culture with winners determined by online votes at univision.com.
But have no worries. If you are not preparing to step onstage for a live global telecast anytime soon, there is still an opportunity to get a "Custom Couture" dress by Ema Savahl. Perhaps, it will be your big day walking down the aisle in matrimony and you just don't want to look like the typical bride to be. You'd rather strut your stuff like a diva turning all heads in your very own wow factor gown.
Of course, ordering a "Celebrity Custom Couture" dress comes with a couture price tag and requires a bit of leadtime for the designer to create her magic for you. However, once you wear an Ema Savahl design, you fall in love with it, and unlike any other love, you will appreciate its uniqueness always! There is one caveat - Ema Savahl can't promise you will have the same endless love for your spouse. But heck, life's a gamble. Go for it and do it in style!
Hope Gainer of Hope International is a global marketer and imagemaker and has represented celebrities from all walks of life including film stars, music artists, world class athletes, supermodels, architects, designers and more. She is based in Miami with a global outreach and produces upscale events worldwide. She has also launched the careers of many international fashion designers.
www.ehopeinternational.com
www.ehopeinternational.com/HopeProfileSofiMagazine.pdf