"This new album represents a new generation of artists, a new generation of young people claiming the mantle of leadership. These are young people who want to be symbols of acceptance, symbols of inclusion, they want to entertain people around the messages that everyone deserves a chance, everyone belongs, and everyone deserves to be valued." - Tim Shriver, Chairman & CEO Special Olympics
Back in 1987, a unique idea regarding a charitable album became one of the more creative projects of the year. Produced by Jimmy Iovine and born from a desire to create a tribute album to his late father, its mission was to accumulate funds for the Special Olympics by selling a CD filled with Christmas songs donated by some of that era's most popular recording artists.
With a cast of characters assembled from various musical genres, A Very Special Christmas was released. It not only was a success in its funding of both domestic and international programs for children with intellectual disabilities, but the brand grew into six volumes between its debut and 2003, accumulating a roster of superstars that included U2, Smashing Pumpkins, No Doubt, Chris Cornell, Aretha Franklin, B.B. King, Stevie Wonder, Mary J. Blige, Bruce Springsteen, Run-D.M.C., Alison Moyet, Macy Gray, Wyclef Jean, Patti Smith, Madonna, Eric Clapton, Sheryl Crow, Tom Petty, Bon Jovi, Sting, Boyz II Men, The Pretenders, Bryan Adams, Dido, Dave Matthews, Whitney Houston, Bob Seger, John Mellencamp, Tracy Chapman, and many others.
Now, six years later, the newest installment of the series passes the torch to a younger stable of artists such as Miley Cyrus and Carrie Underwood, plus Colbie Caillat, Carter Twins, and Mitchel Musso who, along with series initiator Vicki Iovine and Special Olympics Chairman and CEO Timothy Shriver, shared their thoughts about their involvement with the Special Olympics organization and A Very Special Christmas 7.
Mike Ragogna: Tim, what is the mission of the Special Olympics organization?
Tim Shriver: I think our movement is a force for social change, it's a real civil rights movement in 180 countries around the world. In each of those countries, villages, cities, and towns, our job is to empower people with intellectual disabilities through sports to be successful and change the way people view them, to change the community's perception. We can't do that without resources, and we certainly can't do it without (resources) in the poorest communities in the world where there is the greatest need. So, if you look at the discrimination facing people with intellectual disabilities all over the world, it's particularly tough.
They're the last to get a malaria bed, they're the last to get a vaccine, the last to get an education, the last to get a job, the last to get health care, the last to join a youth organization. Our population is the most discriminated against in every community. Without the generosity of these artists who have contributed through this project, and without the corporate community of individuals who help us out each month and each year, those people would still be suffering the sting of rejection, still be sitting on the sidelines, and communities would still be subjecting their parents to shame and humiliation and injustice. I've seen this in pretty stark terms, but the reality is pretty stark. Where we're able to get resources, we can make a huge difference, and where we're not, the conditions are pretty grim.

MR: Who are the athletes participating in Special Olympics?
TS: Our focus is on intellectual disabilities, learning difficulties, what used to be called retardation. It's no longer referred to by those terms, but that's the old definition. People with autism, down syndrome, Williams syndrome, or other non-specific forms of learning disability. That's our population.
MR: Your late mother Eunice Shriver was one of its biggest proponents and participants.
TS: She was a very adamant supporter of this movement. Right up until she was 87 years old, she was coaching. She was in the pool teaching swimming, she was out watching soccer clinics in her own back yard, making sure basketball hoops were appropriately adjusted for height and distance. She was really a rebel, deeply committed to sports as a woman, and as a social change agent, saw sports as a kind of battering ram, if you will, into society's consciousness. Like other great innovators and entrepreneurs, she was into every little detail of what this movement was about and how to make the changes we were trying to make. This was not an honorary or a ceremonial thing, she wasn't a penthouse philanthropist just writing checks or something like that. For her, this was her life's work.
MR: When did you come on board?
TS: I grew up around the movement and these issues, but I joined the international office in 1996.
MR: It seems like Special Olympics always has been in the public eye, but how did it become so entrenched in our culture?
TS: What my parents and other pioneering sports and philanthropic leaders created in the seventies and eighties was a U.S. movement that was growing in the United States that finally had achieved maturity in many of the states, meaning they had year-round programs, summer and winter sports, they had the involvement of many thousands of athletes, and a series of outposts in different countries around the world where the program had been started. But they had not been able to get to that mature level of becoming a source for social change.
I think in the last ten or fifteen years, we've made a real effort to take seriously what it means to enculturate Special Olympics in every place from rural India to Rwanda, to develop the leadership in those countries that can understand the power of this movement and own it and bring it to life in those different contexts, and try to communicate back to all of our donors, athletes, families and volunteers that this is a civil rights movement. It's not about pity. It's about empowerment, it's about recognizing value, it's about changing whole communities, it's about catalyzing different ways of seeing health care, education, public policy, all those things.
So, we've tried to deepen the value proposition, we've tried to expand the footprint, and we've tried to communicate a new message of dignity and value and empowerment that has given our athletes a chance. The great thing about this movement is that the athletes themselves, when given the chance, have a real vision, and it's one of inclusion, openness, tolerance, friendship, teamwork, and it's not some mom or dad's or Tim Shriver's vision. It's their vision. My most enjoyable job is making sure that I listen well enough to the athletes and make sure that we follow their lead in how we set the agenda for this movement every day.
MR: What is it about this movement that touches you on a personal level?
TS: My family was involved for so long. I have five children, each of whom have coached and volunteered and played in what we call "unified sports" which is team sports--bowling and basketball in our family's case. But there's also unified golf, unified soccer, and several other sports. This has been a part of my family in every way. I've just been around it my whole life, and I've always found that I can get smarter and better at being a dad, better at being a colleague, better at being a friend if I spend more time around our athletes. They still have a lot of work to do on me, but I'm getting a better little by little.
MR: What is the relationship between Special Olympics and the A Very Special Christmas series?
TS: All of the proceeds from A Very Special Christmas albums benefit our athletes and families and communities around the world. It's totally designed to benefit the Special Olympics movement, to change lives through music. I like to say that rock 'n' roll and Special Olympics have one thing in common--they both celebrate people speaking from the heart. Why are great artists like Miley Cyrus, Colbie Caillat, The Carter Twins, Vanessa Hudgens, or Sean Kingston doing this for Special Olympics? I think they understand, on some level, that they have something in common with our athletes--that our athletes, like them, are artists in their own right. I think their from the heart message to the world is let your deepest, most powerful self come out. I think that's what rock 'n' roll and popular music have celebrated in many respects over the years, and I think what these great artists see in our athletes are peers, not just causes.
MR: Vicki, when did your involvement with A Very Special Christmas begin?
Vicki Iovine: I was working for the Special Olympics a couple of years before that, it was about 24 years ago. Jimmy (Iovine) and I had gotten married and we didn't have any kids yet, and I started volunteering at Special Olympics California answering phones, opening mail, and just trying to make myself useful around the office. It was for charity, no pay, and it was an incredible experience. Obviously, I was sharing that with my husband Jimmy, and he was getting to know the program and athletes, and he was very moved by it.
At about that time, Jimmy's father passed away at age 62, and he died at Christmas. It was so dark and heartbreaking. Christmas as we knew it wasn't ever gonna happen again because his dad was like Santa Claus--like a small, Italian Santa Claus. (laughs) Jimmy decided at that time that someday, he would do a tribute, a Christmas record by the biggest pop stars of the time. It would be original and traditional Christmas songs, and he would give all the proceeds to a non-profit. Well, I said, "How about Special Olympics?" I knew that for most of each dollar, the highest ratio of money went to the field, to the athletes and programs, and very little went to overhead like buildings, lights, salaries, and stuff like that. Jimmy agreed, he met the Sgt. And Eunice Shriver, and they hit it off like thunder. It was just so great, and we all became lifelong friends. So Jimmy started putting this record together, and we did it with Bobby Shriver and me.
MR: That first album was a very popular album at the time.
VI: It was extraordinary, and it really was a Jimmy Iovine production. You can't get superstars to agree to do something if they don't feel trust. They have to feel like they're going to be a part of a project that reflects them as they like to be seen, and they have to be part of a project that moves them. It has to be part of an artistic environment that makes them feel understood and shown in their best light. Nobody could do that better than Jimmy.
MR: What was the recording process like?
VI: He was driving around meeting people with recording trucks after their shows...I mean, we did that thing all over. We traveled everywhere.
MR: It sounds like a massive undertaking. About how long did it take to put the album together?
VI: It took us over a year. We also had to get all the publishing for free, and all the artists for free. Because the first album actually came out on vinyl, we got the vinyl donated for free. We got the Keith Herring art for free. Nothing was paid for...even distribution was free by A&M.
MR: Keith Herring's images became synonymous with the series. How did you get him to contribute his artwork?
VI: He had drawn this Madonna and child. He had a whole series called The Radiant Baby I think. Rich Frankel and Jeff Gold who worked at A&M had a relationship with him. He gave it to us not just once, but forever for free which is an amazing gesture.
MR: It was a natural for the album to come through A&M considering Jimmy's connection at the time.
VI: Jimmy was running the studios and had a production deal at A&M. But really what happened was A&M was still one of those companies that was run by musicians, you know, Herb Alpert and Jerry Moss. So, you could go to real people, not people who used to be in the commodities or vegetable businesses. You got to go to the artists and say, "Hey you guys, come see these athletes, come with us to talk to Sarge and Eunice, come with us into the program." Herb and Jerry and their wives did, and we became like a family. We remain so close, all of us, as a result of what we did all those years ago.
MR: A Very Special Christmas has been one of the most successful CD series' ever.
VI: Yes, I know! Jimmy's work with the records stopped at the second one, but there was really quite a franchise, and Bobby (Shriver) carried it on with the help of other people and Special Olympics.
MR: Many years have passed, and now it's up to a seventh volume.
VI: In the interim, Bobby became mayor of Santa Monica, I had four children, Jimmy created Interscope Records. So this record is particularly exciting for me because people who are appearing on it are almost all in their twenties.
MR: Yeah, it's also a uniquely young sounding album.
VI: It's a young album, but so were we! We were young and starting our lives. This is the time when kids have that passion and energy, and their hearts are still so open to other people with needs. This is what Sgt. Shriver understood about Vista and The Peace Corps--if young people, before they get their long-term career and their family commitment get that un-harnessed energy out, you can change the world.
MR: Do you see the results of everyone's hard work?
VI: I just flew in from Columbia, from South America last night. From the Christmas records, the vast majority of the money keeps the programs alive. We help in countries that are so impoverished that they could never depend on personal contributions like we do in America. One of the most astonishing things in Columbia is we have an incredible program going in Medejin. When you think of Medejin, what do you think of? Cocaine cartels, right? It's a city that is so much safer now and has this amazing Special Olympics organization that just grows and grows.
MR: Where else have you seen positive effects?
VI: I've been to Nepal to see Special Olympics, I've been to American Indian reservations, South America, Mexico, where programs were paid for entirely by the Christmas records, and programs wouldn't exist without them. And there's the Chinese program. When Sgt. Shriver first went there to suggest Special Olympics to them, it took him ten years, and that was when they officially didn't have any people with mental retardation. Now, they have this huge program, and they're able to match our funding.
MR: What are some of the benefits beyond having the Special Olympics themselves?
VI: The project brings other advantages to the athletes such as vision checking and teeth checking, and a lot of other non-governmental organizations help. Once we get the organization to reach the people with needs, then we can bring help to them. Through sports, achievement, challenge, and teamwork, these athletes' lives are so enriched. They now have lives.
MR: You must be very proud of the good that grew out of everyone's efforts.
VI: You know, it doesn't mean anything to me intellectually until I go to a place, like when you go to an open field in Nepal and see a track meet and field games, then you just weep. I couldn't believe I had the good fortune to be involved in something like that. It's such a blessing and things do tend to proliferate. And music is so universal that the athletes love listening to the Christmas records knowing they were made for them no matter what language they speak.
MR: What's the future for A Very Special Christmas?
VI: Well, I think it plays a very important in the transition of Special Olympics from having being a Eunice and Sgt. Shriver organization to being an organization that is worldwide, and run by a whole new young generation of people who understand that people with intellectual disabilities deserve all the chances that anyone else deserves, and that we are responsible for each other. So I'm so excited by getting these young people to become the new spokespersons for Special Olympics. Let them reinvent it, as long as they stick to the standards and integrity, let them rock and roll it!
MR: Colbie, Carters, and Mitchel. How did you choose the songs you contributed to A Very Special Christmas 7?
Colbie Caillat: "Have Yourself A Merry Little Christmas" is one of my favorite Christmas songs. It's happy and cheerful and hopeful, and I love singing it. So I had my guitar player mess around with it with me, I wanted to make it like it was a song that could be on my record as well, in my style, like a very acoustic, Southern California feel.
Josh Carter: We chose the track "Let It Snow!..." because we knew one of the guys at our booking agency's dad actually wrote the song. We decided to make our own version of it and make it cool because there are so many versions out there that all sound alike.
Zach Carter: We were given a list of potential songs that we could sing and "Let It Snow!.." wasn't even on there. So we decided, "You know what? We really like it." Although it's been done a lot, we were like, "Let's try and find a way that we can make it a Carter Twins version and make it completely our own." So that's what we tried to do.
Mitchel Musso: I was so excited when I heard I was recording "Jingle Bell Rock" cause it is super upbeat and it reminds me of the movie Home Alone.
MR: Zach, what brought you and your brother into the Special Olympics fold?
ZC: Our publicist was the publicist for Special Olympics, so she asked, "Hey, do you want to be a part of the A Very Special Christmas album?" We were like, "Oh my gosh, of course we would!" It just kind of blossomed from there. We got to go out to L.A. and play at the Shriver's house for this big Special Olympics party with Gwen Stefani and Colbie Caillat and Mitch Musto and a bunch of these people. It was just crazy.
MR: Colbie, what does A Very Special Christmas mean to you?
CC: You know what's awesome is that my mom bought all the albums when I was growing up, and that's what we'd listen to every Christmas, all of those albums. I remember the cover of the albums perfectly. Every year, we'd put them on, change them up. When I heard that I could be involved with this record, I was so excited, and my mom was too because she's been a part of supporting that for years now. So, when I found out that I could be a part of helping that cause and be on an amazing album, I was honored.

MR: What are your thoughts about the Special Olympics?
JC: We got involved with Special Olympics because we felt strongly about the organization and what it represented.
ZC: When we were in L.A., we got to meet some of the athletes. You know, you hear all these stories, you read about the kids, but you never actually get to meet them and see the faces behind the story. It's a heartwarming organization and we're so proud to be a part of it.
CC: It's amazing. It gives opportunities to intellectually disabled people to compete in these sports and have fun, learn, grow up, have a good time, and find themselves. It's in 180 countries around the world, and I actually can't wait to get to go and watch one of the Special Olympics in some country.
MM: Everybody deserves a chance to compete, win, and feel special. It is a wonderful opportunity given to children and adults with special needs.
MR: Have you hung out with any of the other artists on this project?
CC: The Carter Brothers. I got to meet them, and Gwen Stefani was at the party as well. She's not on this album, but she's been on previous ones. Those are the only ones I got to meet so far.
MM: Why Yes....one of my favorite entertainers and dear friend who I admire a great deal was also on the album with me....her initials are MC!
ZC: Yeah, we got to hang out with Colbie and Mitchel and Gwen Stefani and a lot of the different artists. It was a lot of fun.
MR: Zach, before the party, were you a fan of any of these artists?
ZC: Completely! It was actually kind of funny, Josh and I were star-struck with Gwen Stefani, and No Doubt members were there too. You know, we were listening to No Doubt for years and years, so it was crazy to see Gwen up on stage and Colbie Caillat--we're HUGE fans of Colbie. I think we were fans of everyone there!
MR: Mitch, have you met any of the athletes from the Special Olympics?
MM: When I was in Atlanta on my tour we invited a group of kids from the Special Olympics to a special meet-and-greet. They were a cool group of kids and I felt honored to meet them.
MR: Do you all see yourselves participating with the Special Olympics organization in the future?
MM: Yes, I would love to get more involved and I love hanging with all the kids.
JC: This is something we'll always be associated with and always be helping out in the future. We'll be a part of it long-term.
ZC: Like Josh said, I think we'll continue wanting to help out. Special Olympics needs all the help it can get, and we'll always be involved just like everything we do because it's such a great thing.
CC: I would love to! If I could continue to be on the albums in the future, and if I can go to the parties, help, speak, give interviews, and explain to people what the Special Olympics are and how they can help out, I would definitely love to be a part of that.
MR: Colbie, what song are you and Jason Mraz going to do on the next volume?
CC: (laughs) We'll see. We may go to Hawaii and write one in the future, I don't know...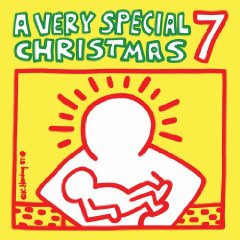 Tracks:
1. Have Yourself A Merry Little Christmas - Colbie Caillat
2. Let It Snow! Let It Snow! Let It Snow! - Carter Twins
3. Rockin' Around The Christmas Tree - Miley Cyrus
4. Winter Wonderland - Vanessa Hudgens
5. The Little Drummer Boy - Sean Kingston
6. The Christmas Song - Charice
7. Do You Hear What I Hear? - Kristinia DeBarge
8. Jingle Bell Rock - Mitchel Musso
9. Christmas (Baby, Please Come Home) - Leighton Meester
10. Santa Baby - Kellie Pickler
11. Hark! The Herald Angels Sing - Carrie Underwood
12. Last Christmas - Ashley Tisdale
13. Silent Night - Gloriana
On the night of December 11, the Carter Twins took the stage with Mitchel Musso in Culver City's Fox Hill Mall for a special holiday show benefiting the Special Olympics. Here is an iPhone pic of the fun.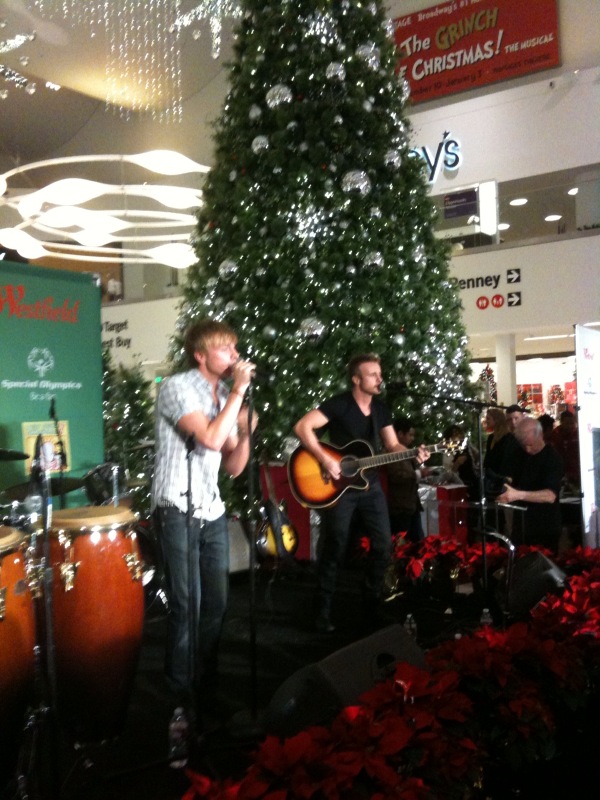 photo credit: Mike Ragogna
PRESS RELEASES THAT NEED YOUR LUV:
ACCLAIMED NEW SYMPHONIC ODE TO PATRIOTISM FROM 'PHILADELPHIA SOUND' PIONEER KENNY GAMBLE GAINS NATIONAL MILITARY SPOTLIGHT AT HOME IN CRADLE OF LIBERTY

INCLUSION HONORS ROCK AND ROLL HALL OF FAMER'S COMMITMENT TO COMBAT HOMELESSNESS AMONG VETERANS IN THE NAME OF RENEWING OUR NATION'S PATRIOTIC SPIRIT AS FIREWORKS DISPLAYS, PARADES, MARCHING BANDS INCORPORATE MUSIC INTO PATRIOTIC PROGRAMMING

Show Your Patriotism at the New Website: www.iamanamerican.us

"Like the country it honors, ('I Am An American') is a veritable melting pot, musically hop-scotching between almost hymn-like modes and the kind of heart-pumping martial sounds that were popular when American doughboys were marching off to put the kibosh on the Kaiser in World War I."
- Chuck Darrow, Philadelphia Daily News

Just a month since its dedication to battle homelessness among veterans, "I Am An American," the acclaimed new symphonic ode to patriotism from legendary music pioneer and co-creator of "The Philadelphia Sound" KENNY GAMBLE, has been catapulted to the field of the ultimate military sports combat - the 110th Army/Navy game.

The song will be heard throughout Lincoln Financial Field during pre-game ceremonies on Saturday, Dec. 12 while images from the newly released DVD/CD commemorative package, I Am An American: The Making of An Anthem , will be featured on video screens in and around the stadium. I Am An American: The Making of An Anthem, is a documentary revealing Gamble's decades-long mission and behind-the-scenes work to ultimately bring modern relevance to this traditional song through his lifelong friend, fellow "Philly Soul" legend Patti LaBelle, and the Temple University Symphony & Choir. The commemorative set includes a CD featuring new edits of the extraordinary recording project that has been a deeply personal labor of love and relentless commitment from Mr. Gamble. His brother, Carl also served the country as a Vietnam War veteran.

To Gamble, the inclusion of "I Am An American" in the Army/Navy game is the greatest honor his project has earned in the year since the recording's release. He is indefinitely committed to addressing homeless veterans - "our greatest patriots" - and interacting to help impact and positively change the lives of these men and women and their families who have served honorably in America's armed forces and are now down on their luck and desperately in need of help.

"At a time of change in history, I believe America has a renewed feeling of patriotism. I'm proud to have produced a song in hopes of keeping that spirit alive through music and the message it gives," says Gamble, the multiple Grammy-winning producer-songwriter whose "message" songs comprised most of his hundreds of classic hits with partner Leon Huff such as "Love Train," "For the Love of Money" and "Me and Mrs. Jones." "It is even more of an honor to have the opportunity to share it during the Army/Navy game. It is my hope that we as Americans continue to have the renewed sense of pride and patriotism that 'I Am An American' inspires."

The Philadelphia Sports Congress, which produces the Army/Navy Game, welcomed home the arrival of "I Am An American" as part of the 82nd time this inter-service rivalry has been played here in the Cradle of Liberty. The Army/Navy Game was recently ranked fifth among "Best Sporting Events to See Live."

"We're delighted that we're able to include our own Philadelphia legends, Kenny Gamble and Patti LaBelle, and their new anthem for America," said Larry Needle, executive director of the Philadelphia Sports Congress. "Between the message that the song conveys and everything the Army/Navy game is about, It's a natural fit. 'I Am An American' captures the patriotism and emotion that emanates from the stadium into America's living rooms during the game."

Gamble's goal is to bring a renewed sense of patriotism to this country through "I Am An American" and restore the public's spirit during these difficult times. A portion of proceeds from sales of I Am An American: The Making of An Anthem are being donated to the Veterans Administration, to help raise money for homeless veterans and awareness for this vital issue.

Gamble envisions patriotic fireworks displays and marching bands nationwide to utilize the new arrangement he is currently developing to adapt "I Am An American" for live audiences everywhere. Last month, "I Am An American" had an expanded Veterans Day presence nationwide, including parades in Detroit and San Diego. In New York, a portion of the documentary was shown to 3,000 returning troops from Iraq and Afghanistan at the "Thank You for Serving" Concert, and the music was featured at the official reviewing stand during the NYC Veterans Day parade. Full of huge orchestral crescendos and LaBelle's powerful and soulful voice, "I Am An American" has been the soundtrack the past two years to the Independence Day Welcome America! celebration on the Benjamin Franklin Parkway in Philadelphia, and at this year's July 4th Americafest at the Rose Bowl in Pasadena, CA, as well as inspiring its very own exhibit, unveiled in April, at Atlanta's National Museum of Patriotism. The film captures Gamble and LaBelle being honored with The Patriotism Award for their song -- the highest honor bestowed by the museum - during the exhibit's unveiling.

From Air America to Access Hollywood, "I Am An American" has been hailed by media nationwide since its 2008 release. The 45-minute documentary follows Gamble through the "I Am American" recording process at the Kimmel Center with the Temple University orchestra and choirs, and goes behind the scenes into the legendary Philadelphia International Records studio with the iconic Ms. LaBelle.

"I decided to produce what I like to call 'A New Anthem for America,' and a DVD to tell the story of its origin and journey," says Gamble. "It's a song all Americans can relate to and be proud of. Its message reminds us that no matter what race, creed or color, we are all ONE PEOPLE as Americans."

"I Am An American" may become one of our country's great anthems - musically waving our flag for all to hear. Gamble is encouraging everyone to show their patriotism by logging onto the new website, www.iamanamerican.us, which launched on Veterans Day.

"Each of us has something to contribute," he says. "My brother and I hope all Americans are moved and encouraged to embrace our brothers and sisters who served this country and now need their country's help. Be proud to say 'I Am An American.'"

I Am An American: The Making of An Anthem, is available on www.iamanamerican.us and can be purchased now at www.gamble-huffmusic.com and the National Patriotism Museum in Atlanta and in Philadelphia's primary souvenir stores - including National Constitution Center, Independence Visitors Center and The Sound of Philadelphia Souvenir Shop.
WITH DIRECT SUPPORT SPOT ON KILLSWITCH ENGAGE U.S. TOUR
Six Week-Plus Trek Kicks off February 4, 2010
The Devil Wears Prada, whose blistering signature sound combined with a Biblical brutality has made them "the next big thing," according to Absolute Punk, will join Killswitch Engage on their Winter U.S. tour as direct support beginning Thursday, February 4, 2010 in Boston, Massachusetts. Sweden's Dark Tranquility will open on all dates, and the tour will keep the threesome on the road over a six-week-plus period.
The Devil Wears Prada - vocalist Mike Hranica, guitarist/vocalist Jeremy DePoyster, guitarist Chris Rubey, bassist Andy Trick, keyboardist James Baney, and Daniel Williams on drums - is touring in support of their critically-acclaimed CD, With Roots Above and Branches Below (Ferret Records), which was released May 5, 2009. Two-thousand nine has proven to be a breakthrough year for the young Christian metalcore band that has developed a mainstream buzz and secular cred. Beginning with a 43-date, completely sold out headline tour this past Spring, TDWP went on to a Main Stage slot on the Vans Warped Tour, and is currently co-headlining (with All that Remains) the 27-date Napalm & Noise tour, which wraps up December 21 in Allentown, PA. Over the past few months, TDWP also found themselves on the covers of Outburn, Alternative Press, HM and AMP, to name a few, and covers for at least two other national music magazines are set for early next year.
Live, the six-piece The Devil Wears Prada presents a powerful intensity that many other metalcore bands never quite achieve, with savage riffs, bulldozing guitar, thunderous beats, manic synths, and an assault of abrasive vocals. On this tour, the band will perform songs from all three of their releases - 2006's Dear Love: A Beautiful Discord, 2007's Plagues, and the new With Roots Above and Branches Below, including the video track, "Danger: Wildman," which can be viewed here.
With more dates to be announced, the confirmed itinerary for The Devil Wears Prada as direct support on the Killswitch Engage U.S. tour are as follows:
FEBRUARY 2010
4 House of Blues, Boston, MA
5 House of Blues, Atlantic City, NJ
8 House of Blues, Orlando, FL
10 Tabernacle, Atlanta, GA
11 Amos Southend, Charlotte, NC
12 Sonar, Baltimore, MD
13 House of Blues, Cleveland, OH
15 House of Blues, Chicago, IL
18 First Avenue Loop Station, Minneapolis, MN
19 Eagles Ballroom, Milwaukee, WI
20 Royal Oak Theatre, Royal Oak, MI
21 Egyptian Room, Indianapolis, IN
23 Cain's Ballroom, Tulsa, OK
25 Warehouse Live, Houston, TX
26 Paladium Ballroom, Dallas, TX
MARCH 2010
1 Sunshine Theatre, Albuquerque, NM
3 House of Blues, Las Vegas,NV
5 Marquee Theatre, Tempe, AZ
6 The Wiltern, Los Angeles, CA
7 Warfield Theatre, San Francisco, CA
9 Roseland Ballroom, Portland, OR
10 Showbox SoDo, Seattle, WA
12 Great Salt Air, Magna, UT
13 Fillmore Auditorium, Denver, CO
14 The Midland by AMC, Kansas City, MO
15 The Pageant, St. Louis, MO
18 Irving Plaza, New York, NY
19 Irving Plaza, New York, NY
21 The Dome, Wallingford, CT
LAY LOW, THE "ICELANDIC PATSY CLINE" (PASTE), MAKES U.S. DEBUT WITH 'FAREWELL GOOD NIGHT'S SLEEP' (MARCH 9) AFTER TURNS ON 'GREY'S ANATOMY' AND 'MORNING BECOMES ECLECTIC'
"Lay Low is by far one of the best new artists I've seen in years." - Lucinda Williams
Lay Low, the alter ego of Icelandic singer/songwriter Lovisa Elisabet Sigrunardottir, will make her North American debut on March 9, 2010, with the release of 'Farewell Good Night's Sleep' on her own Loo label. Recorded and produced in London by Liam Watson (White Stripes, Holly Golightly, James Hunter) at his analog mecca Toe Rag Studios, the album features eleven new songs (ten penned by Law Low, plus a Lefty Frizzell cover) with backing from the following first-call musicians: Carwyn Ellis (piano), Ed Turner (guitar), Rupert Brown (drums), Matt Radford (bass), Jason Wilson (bass) and BJ Cole (pedal steel, dobro).
At age 27, Lay Low draws inspiration from artists like Patsy Cline, Dolly Parton and Kitty Wells, while breathing new life and fresh perspective into the timeless sounds of American folk, blues and country. Her debut album, 'Please Don't Hate Me' released in 2006, topped the charts and went platinum in Iceland, and was the best-selling original album in the country that year, winning three Icelandic Music Awards in the process. It also garnered US attention with a song from the album appearing on the hit show Grey's Anatomy. In 2008, iTunes tipped Lay Low as one of the best discoveries of the year, and in 2009 Lay Low appeared on KCRW's influential 'Morning Becomes Eclectic.'
Following the impressive release of her debut Lay Low also took on the role of music director for the Pulitzer Prize winning play 'How I Learned To Drive' in Iceland, for which she not only wrote the music but also performed on-stage to sell out crowds and rave reviews. Lay Low won an Icelandic Theatre Award for the play last year.
Lay Low will tour the U.S. extensively in 2010.
'Farewell Good Night's Sleep' track listing:
I Forget It's There
By and By
The Reason Why My Heart's in Misery
Last Time Around
On My Own
Farewell Good Night's Sleep
Why do I Worry?
Days Have Been
Little by Little
My Second Hand Heart
JOSH ROUSE'S THESIS: "I WILL LIVE ON ISLANDS"
If Josh Rouse has a thesis statement for his new album 'El Turista' (March 9 / Yep Roc), it could be summed up by one of his song titles: "I Will Live on Islands." Conveying a late-afternoon warmth and a cinematic scope, the album is a clear departure for Rouse in that it's saturated by Spanish, Cuban, and Brazilian influences and partially sung in Spanish.
Listen to "I Will Live on Islands" here: http://bit.ly/JRIWillLiveonIslands
Rouse sets the scene on 'El Turista' with "Bienvenido," a literal welcome to his new life. Though raised in Nebraska, he now lives in Valencia, Spain. He says, "The title is fitting as this record is a bit of a directional shift and the music is inviting and at the same time curious. I originally wrote this on guitar and it sounded like a Nick Drake instrumental. Somehow we turned it into Vince Guaraldi on the Mediterranean."
Fittingly, Rouse conceptualized the rumba groove "I Will Live on Islands," which imagines a prisoner pining for open spaces, in Brazil. He recalls, "Along the highway in Sao Paulo, we drove by a prison. Well, it was very sad. I got the lyric idea from that experience."
Susan Boyle's I Dreamed A Dream Reigns #1 for Second Consecutive Week
Susan Boyle's I Dreamed A Dream continues to hold the #1 spot on the Billboard 200 with another milestone, becoming the fastest selling debut album over a 2-week period after release. The album earned the highest second week sales of 2009 with 527,000 copies sold this week. Over 2 million copies of the album have been shipped to retailers.
I Dreamed A Dream was #1 again on the charts this week in the UK, Australia, New Zealand, Switzerland, Ireland, Canada and Japan.
I Dreamed A Dream made its historical introduction to the charts last week achieving the highest first week sales of 2009 as well as the largest ever debut for a female artist on the Billboard 200 in the Soundscan era with 701,000 copies sold in the U.S and over 5 million copies worldwide.
Additionally, Susan Boyle will star in an original one-hour television special exclusively on TV Guide Network. The worldwide premiere of I Dreamed a Dream: The Susan Boyle Story airs on Sunday, December 13 at 9:00 p.m. on ITV1 in the UK, followed by the exclusive North American premiere on TV Guide Network at 8:00 p.m. ET/PT. The show will celebrate this extraordinary woman's journey from a small village in rural Scotland to international fame and fan-fare.
GRAMMY NEWS: RUBEN STUDDARD'S STAR TURN IN 'AIN'T MISBEHAVIN' NOMINATED FOR BEST MUSICAL SHOW ALBUM GRAMMY
R&B icon Ruben Studdard, whose fourth album 'Love IS' (Hickory Records/19 Recordings) has yielded several radio hits this year, was happy to learn that the 30th anniversary cast recording of 'Ain't Misbehavin', in which he starred as Fats Waller, earned a nomination for Best Musical Show Album in the 52nd Annual Grammy® Awards.
"Working with Frenchie Davis, David Jennings, Patrice Covington, and Trenyce Cobbins was a real pleasure for me," Studdard said. "Congratulations to producer Robert Sher for the nomination and for a great record."
Studdard was nominated for a Best Male R&B Vocal Performance Grammy in 2003 for "Superstar." His new holiday single, "Christmas In Your Arms," was released December 8th.
Hear "Christmas In Your Arms" here:
"Christmas In Your Arms" Windows Media stream: http://bit.ly/RStuddard_CIYA_WindowsMedia
"Christmas In Your Arms" Real Player stream: http://bit.ly/RStuddard_CIYA_RealPlayer
NEW KIDS ON THE BLOCK COMING HOME
THE SUPERGROUP CLOSE OUT 2009 WITH A BANG AND ANNOUNCE LIVE DVD RECAPPING THEIR MOMENTOUS REUNION DVD FEATURES PERFORMANCE FOOTAGE, BEHIND THE SCENES, AND A BRAND NEW SONG
10 GOLDEN TICKETS WILL BE HIDDEN IN DELUXE AND SUPER DELUXE DVDS. LUCKY FANS WHO RECEIVE THE TICKETS WILL RECEIVE LIFETIME TICKETS TO ANY NKOTB CONCERT FROM 2010 TO BEYOND!
New Kids on the Block will give fans another exciting year. After wrapping up a whirlwind run of touring the group close out 2009 on a high note and look to 2010 for more fun, more surprises and more FACETIME. NKOTB will release Coming Home, a special live DVD, on February 2, 2010 to jumpstart the year.

From studio to stage, fans will get a true glimpse at what it took to achieve one of the most successful and momentous musical reunions in history. Coming Home the DVD will include all new footage, giving fans a documentary style look at the band's journey to reunite. The DVD follows the band as they meet in a studio for the first time after 15 years, tour the globe playing over 140 sold out arena concerts performing to a million plus fans and features 6 live performances from the band's world tour, an assortment of never before seen glimpses behind the scenes, bloopers, band jokes and special moments with the fans.
"It was always an important thing for us to document this journey. For the very beginning we knew we wanted to capture every moment of this adventure," said Joey McIntyre. "We truly do appreciate every moment of this ride and all the support our amazing fans continue to give us. After 15 years they have never left. It's not only our journey, it's their journey too, this DVD is for them."

The NKOTB fans' support is unwavering. The fans continue to want more and NKOTB will continue to oblige! After the smash success of the first NKOTB cruise, the band arranged for another ship to set sail in 2010. The tickets went on sale and were sold out within minutes making it the fastest cruise charter sell out of all time. The Boston boys then announced a special hometown House of Blues appearance supporting Toys for Tots. This too sold out within minutes. The NKOTB phenomenon continues to remain strong.
The DVD will be available for pre-order starting December 9, 2009. With every pre-order of Coming Home, fans will receive instant access to a free download of the group's new song also titled, "Coming Home." Special limited edition Deluxe DVD box sets will be available for pre-order as well. The Limited Edition Deluxe DVDs will include the chance for a lucky group of fast acting fans to own an encased piece of wardrobe worn by the guys onstage during their sold out world tour. The numbered, special edition, collector's items are extremely limited and will only be available through the pre-order. It's truly a chance for their fans to own a piece of their reunion.

And as an extra special thank you to fans, a total of ten Golden Keys will be hidden in the Deluxe and Super Deluxe DVDs for fans. The Golden Key will grant the lucky winner tickets for them and a guest to any NKOTB concert from 2010 and beyond forever.
TRACK FROM SINGER-SONGWRITER CY CURNIN IS FEATURED FREE DOWNLOAD ON INSTRUMENTAL
Song from Fixx front-man's latest indie solo release available on PlanetGreen.com's New Music Site
Music fans seeking thoughtful lyrics and distinctive vocals now have the opportunity to download a compelling sample from singer-songwriter Cy Curnin's latest solo CD, Solar Minimum, at no cost. The song titled "Bleed" is currently the featured download on PlanetGreen.com's new Instrumental website, which debuted online last month.
"Bleed," is a haunting track Curnin hopes will connect with listeners. "It's a vampire song, really. There's a kind of ghost-like existence that surrounds our lives. We're invisible to each other most of the time." Listeners who like what they hear are encouraged to seek out the rest of the self-released CD via www.cycurnin.com, iTunes and CDBaby.
Curnin is excited to be associated with the Instrumental site as it provides a space where musicians and activism can intersect in a purposeful way. From his early days as outspoken front-man for classic rock radio staple, The Fixx ("Saved By Zero,""Red Skies," etc.), Cy has used musical performance as a platform to express a political and social perspective. "The time for talking is done," states Curnin, who is keen to see change in the world become actuality through choices we all make in daily life. Pollution caused by excessive, non-recyclable packaging is one basic issue he hopes people will consider seriously during trips to the market. "It starts at home," Curnin insists, "where even small actions can make a difference, if we make the effort."
Away from the road, Curnin makes his home on a self-sustaining farm in France. During breaks from his work with The Fixx and his solo efforts, he is an active supporter of the Love Hope Strength Foundation, a music-based cancer charity and has trekked to Mt. Everest, Machu Picchu, Pikes Peak, and recently Mt. Kilimanjaro, lending his voice to raise funds for medical treatment facilities and education.
Download Cy Curnin's free track Bleed on the PlanetGreen.com Instrumental site.
ALICE COOPER'S '80s RECORDINGS REISSUED ON COLLECTORS' CHOICE
Final three Warner Bros. albums -- Special Forces, Zipper Catches Skin and Dada -- released at the inception of punk and new wave
As Alice Cooper entered the 1980s, the emergence of punk (which in turn owned a debt to him) revitalized his sound and material, steering him away from the overblown albums of the late '70s and back into the raw, nasty rock 'n' roll which, along with his gothic-horror stage show, brought him his initial fame and fortune. On January 12, 2009, Collectors' Choice Music will put three oft-overlooked albums in Alice's catalog -- Special Forces, Zipper Catches Skin and Dada -- back in print. Catalog of Cool author, Luxuria Music DJ and musicologist Gene Sculatti wrote the liner notes for the reissues.
Alice Cooper, of course, originated as a band fronted by Vincent Furnier, who himself became known as Alice Cooper. With a debut album released on Frank Zappa's Straight Records label (Pretties for You) in 1969, the band soon broke into the mainstream with hits like "Eighteen," "Under My Wheels" and "No More Mr. Nice Guy" on albums like Love It to Death, Killer, School's Out, Billion Dollar Babies and Muscle of Love. By the mid-'70s, Alice (the singer) and the band had parted ways. Alice the singer continued to release albums, abetted by musicians from Lou Reed's band including guitarists Dick Wagner and Steve Hunter, with Wagner remaining a creative partner on into the '80s.
Alice Cooper's hard-edged rock help set the stage for the late '70s punk movement. And in turn the punk movement proved influential on Cooper, whose '80s albums reflect that ethos, returning to the basics of rock 'n' roll from his more theatrical forays in the mid-'70s.
• Special Forces: Cooper's 15th album, released in 1981, alludes to the artist's guns-and-ammo fixation at the time. Punk and its cousin new wave were urgent, stripped down, sped up, unsentimental forms and Cooper responded admirably to the challenge. Appropriately, the album contains a cover of Arthur Lee & Love's "7 And 7 Is," plus a hard ' n' fast live reprise of "Generation Landslide" from the Billion Dollar Babies album. Included are "Vicious Rumors" with its buzzsaw guitar, and the new wave-ish "You're a Movie," which namechecks Hannibal, Alexander the Great and General Patton. In addition to guns and warfare, the album's other theme is Cooper's fandom of Count Floyd, the cheesy host of Monster Chiller Horror Theater on SCTV in the early '80s, best represented here by "Skeleton in the Closet," with minor key harpsichord. "Prettiest Cop on the Block" was co-written with former Elton John bandmate Davey Johnston, and the DEVO-tinged "You Want It, You Got It," co-written by Eric Kaz. Finally, the album contains a bonus track, "Look at You Over There, Ripping the Sawdust from My Teddybear," not included on the original vinyl configuration.
• Zipper Catches Skin: The title's enough to make you wince (especially if you're a guy) and that brand of humor permeates this 1982 album which ranks as one of the most ambitious (and funniest) of Cooper's career. Continuing to refocus on sharp-edged guitar rock, he does so here in an early-'80s big production mode. The album includes the new-wavey "I Like Girls," the relentless "Remarkably Insincere," and the Knack-meets-AC/DC-esque "Adaptable (Anything for You)." Dick Wagner, known for his work with Lou Reed and various "solo" Alice Cooper albums, co-wrote "No Baloney Homosapiens" and "Make That Money (Scrooge's Song)." The reissue contains the bonus track "For Britain Only," which first appeared on the Rhino Records anthology The Life & Crimes of Alice Cooper.
• Dada: For Cooper's 14th album and final effort for Warner Bros. Records, producer Bob Ezrin -- who'd helmed every Alice Cooper long player from Love It to Death through 1977's live Alice Cooper Show -- was back on board as was guitarist Dick Wagner. Whether credited to their time apart or simply the luck of the draw, this 1983 release was a musical if not commercial success. The third key player on Dada was Graham Shaw, who programmed keyboards and percussion (the sleeve credits noting that "the drums are not drums but computer drums embellished with some live drumming"). "Enough's Enough" utilizes a disjointed pop structure channeling elements of the Beach Boys and Queen, while Cooper's delivery in "Dyslexia" recalls the jerky rhythms of the Talking Heads. Dada's longest (seven minutes) track, "Fresh Blood," finds Cooper procuring a "sanguinary feast" for his pet vampire.
Dada represented a conclusion and a fresh start for Cooper as the artist retired from music for three years. He re-emerged in 1986 with successful MCA Records debut album Constrictor, flanked again by Ezrin and Hunter

Groovin' High Records Celebrates Two Grammy Nominations for 2010
Roy Hargrove - Best Improvised Jazz Solo
"Ms. Garvey, Ms. Garvey" - from Emergence by Roy Hargrove Big Band
Roberta Gambarini - Best Jazz Vocal Recording
So In Love - Featuring Roy Hargrove and James Moody
Two-time Grammy Winner Roy Hargrove has been given the honor of another nomination for 2010 - Best Improvised Jazz Solo for his trumpet work on "Ms. Garvey, Ms. Garvey." The track appears on Emergence, the debut recording of the Roy Hargrove Big Band. Released in August of this year, the album has garnered critical praise for its modern use of the classic Big Band sound - and top slots in national airplay and sales charts. Roy Hargrove Big Band performs several times per year at its home base, The Jazz Gallery in New York City, and the world's major festivals and stages, including Hollywood Bowl and Central Park Summerstage. Roy is currently touring the West Coast with his quintet, playing an extended engagement this week at Catalina's in Los Angeles.
Roberta Gambarini has earned her second Grammy nomination for Best Jazz Vocal Album with her latest release, So In Love. Amidst Roberta's rise to the world stage, she earned a 2007 nomination for her debut album, Easy To Love. A significant honor in any year - Roberta's second nomination comes in an extremely competitive year for the jazz vocal genre. Since her first nomination, Roberta has recorded and performed with the greats of jazz, including the likes of Dave Brubeck, Hank Jones, and Paquito D'Rivera; and she performed with hit-maker David Foster at a gala benefit in Los Angeles this past October. Roberta toured the US and the world in 2009, appearing on major stages with her own group, and as a featured guest with the Dizzy Gillespie All Stars and the Roy Hargrove Big Band. Roberta Gambarini, who has often been compared with the great vocalists of jazz, solidifies her stature as one of today's great singers with So In Love.
Emergence was produced by Roy Hargrove and Larry Clothier, with associated producer Dale Fitzgerald. So In Love was produced by Larry Clothier. Jaques Muyal was the executive producer of both recordings. Both recordings were engineered by Al Schmitt and mastered by Doug Sax.
DVDs of THE ONLY GOOD INDIAN, a new feature film directed by Kevin Willmott (CSA: Confederate States of America) and starring Wes Studi (Last of the Mohicans, Avatar), may now be ordered at www.TheOnlyGoodIndian.com.
THE ONLY GOOD INDIAN premiered at the 2009 Sundance Film Festival in January, and has screened at The Berlinale European Film Market in Berlin, The Indie Spirit Film Festival in Colorado Springs, The Newport Beach Film Festival in California, Michael Moore's Traverse City Film Festival in Michigan, Tallgrass Film Festival in Wichita, The Cherokee International Film Festival in Tulsa, the KC Film Fest in Missouri, The St. Louis International Film Festival, The Santa Fe Film Festival and The American Indian Film Festival in San Francisco, where it was awarded Best Feature Film, Best Actor (Wes Studi) and Best Supporting Actor (Winter Fox Frank).
THE ONLY GOOD INDIAN, written and produced by Thomas L. Carmody, also stars J. Kenneth Campbell (Bulworth, Yulee's Gold) and newcomer Winter Fox Frank. In the film, Wes Studi portrays an early 1900's Cherokee bounty hunter hired to return an escapee from an Indian boarding school. Winter Fox Frank plays the teenaged student who is trying to get back to his family on the Kickapoo of Kansas reservation and J. Kenneth Campbell plays a legendary "Indian fighter"-turned-sheriff who is after both of them.
The cast also features Paul Butler (Reign Over Me), Thirza Defoe (Pow Wow Dreams), Laura Kirk (Lisa Picard is Famous, The Battle for Bunker Hill), Blake Robbins (Oz, The Office), Kevin Geer (American Gangster), Christopher Wheatley (Raising Jeffrey Dahmer), Scott Allegrucci (The Feud), Kip Niven (Magnum Force), Delanna Studi (Edge of America), Queen Bey (Ninth Street) and David Midthunder (Hidalgo).
THE ONLY GOOD INDIAN was shot in various Kansas locations. Matthew Jacobson (CSA: Confederate States of America, Bukowski: Born Into This) and Jeremy Osbern (Air: A Musical) are the directors of photography. Thomas L. Carmody, Kevin Willmott, Matt Cullen, Greg Hurd, Rick Cowan and Scott Richardson are the producers. Wes Studi is executive producer. Hanay Geiogamah, J. T. O'Neal and Dan Wildcat, Vice President of Haskell Indian Nations University, are co-executive producers and Stan Herd is the co-producer.

"We were delighted at the positive response THE ONLY GOOD INDIAN has received at Sundance and other festivals," said Kevin Willmott. "We look forward to giving audiences around the world an opportunity to enjoy the film."

Kevin Willmott wrote and directed the highly acclaimed independent feature CSA: Confederate States of America, which premiered at The Sundance Film Festival, and Ninth Street, which starred Martin Sheen and Isaac Hayes. He has written scripts for Oliver Stone, NBC, 20th Century Fox and Columbia Tri-Star. Willmott recently completed The Battle for Bunker Hill, a feature action-thriller starring James McDaniel (NYPD Blue), Saeed Jaffrey (Gandhi) and Laura Kirk ( www.bunkerhillthemovie.com ).
Wes Studi's celebrated acting career includes lead roles in Geronimo: An American Legend, Dances With Wolves, Last of the Mohicans, Bury My Heart at Wounded Knee, Into the West, Seraphim Falls, The New World, Edge of America and Mystery Men. Studi starred as Lt. Joe Leaphorn in a PBS television series based on novels by Tony Hillerman and as General Linus Abner in the NBC series Kings. His upcoming films include James Cameron's Avatar.
www.TheOnlyGoodIndian.com

PHOTO FINISH/ATLANTIC TAKE A ROMAN HOLIDAY WITH "WHEN IN ROME: ORIGINAL MOTION PICTURE SOUNDTRACK"
COLLECTION INCLUDES 3OH!3's "STARSTRUKK (FEAT. KATY PERRY)," PLUS TRACKS FROM THE FRIDAY NIGHT BOYS, JASON MRAZ, MATCHBOX TWENTY, LAURA IZIBOR, AND THE ACADEMY IS...; SOUNDTRACK ARRIVES IN STORES AND ONLINE ON JANUARY 12TH
Photo Finish/Atlantic Records has announced the release of "WHEN IN ROME: ORIGINAL MOTION PICTURE SOUNDTRACK," the star-studded musical companion to the upcoming Touchstone Pictures film. The collection arrives in stores and online on January 12th, while the much anticipated romantic comedy - starring Kristen Bell, Josh Duhamel, Will Arnett, Alexis Dziena, Jon Heder, Dax Shepard, and Danny DeVito - premieres in theatres across North America on January 29th.
"WHEN IN ROME: ORIGINAL MOTION PICTURE SOUNDTRACK" is highlighted by the first single, 3OH!3's "Starstrukk (Feat. Katy Perry)." A companion video - co-directed by award-winning filmmaker Marc Klasfeld (Jay-Z, Coheed & Cambria, Foo Fighters) and Steve Jocz (Sum 41, Bowling For Soup)- can be viewed online at 3OH!3's official website, www.3oh3music.com/video.
What's more, The Friday Night Boys video for "Stupid Love Letter,"- also directed by Sum 41's Steve Jocz - will premiere in January.
"WHEN IN ROME: ORIGINAL MOTION PICTURE SOUNDTRACK" gathers tracks from an array of top stars and rising artists, including Matchbox Twenty, Needtobreathe, Laura Izibor, Paolo Nutini, Matt Hires, and multiple Grammy Award nominee Jason Mraz. Among the compilation's many highlights is an exclusive cover of Sweet's glam-rock classic, "Fox On The Run," performed by Fueled By Ramen recording group The Academy Is...(see attached tracklisting). "WHEN IN ROME: ORIGINAL MOTION PICTURE SOUNDTRACK" Deluxe Digital Edition will add a number of tracks from the film's score, including renditions of such Italian favorites as "Tarantella" and "Ave Maria."
Directed by Mark Steven Johnson (Ghost Rider, Simon Birch) and written by David Diamond & David Weissman (Old Dogs, The Family Man), When In Rome stars Kristen Bell (Veronica Mars, Couples Retreat) as an ambitious young New Yorker who, disillusioned with romance, takes a whirlwind trip to Rome, where she defiantly plucks magic coins from a fountain of love, inexplicably igniting the passion of an odd group of suitors. The film is produced by Gary Foster (Sleepless In Seattle, The Soloist), Andrew Panay (Wedding Crashers, Van Wilder), and Mark Steven Johnson
For more information, please visit www.WhenInRome-TheMovie.com , www.facebook.com/WhenInRome, and www.twitter.com/WhenInRomeMovie .
"WHEN IN ROME: ORIGINAL MOTION PICTURE SOUNDTRACK"
1. 3OH!3 Feat. Katy Perry - "Starstrukk"
2. The Friday Night Boys - "Stupid Love Letter"
3. Sofi Bonde - "Heart Bling"
4. Jason Mraz - "Kickin It With You"
5. Needtobreathe - "Something Beautiful"
6. Matchbox Twenty - "How Far We've Come"
7. Mafia Bianca LLC - "I Am Changing"
8. Laura Izibor - "Shine"
9. Matt Hires - "Honey, Let Me Sing You A Song"
10. Tina Parol - "Hold Onto Your Heart"
11. The Academy Is... - "Fox On The Run"
12. Paolo Nutini - "Pencil Full of Lead"
NEW YORK GUITAR FESTIVAL ANNOUNCES ITS TENTH ANNIVERSARY OF CONCERTS
JANUARY 8 - FEBRUARY 4, 2010
FEATURING FREE CONCERTS, SPECIALLY-COMMISSIONED LIVE GUITAR SOUND TRACKS TO CLASSIC SILENT MOVIES, GUEST CURATORS, MULTI-MEDIA WORKS, AND AN ALL-DAY BACH-A-THON
No instrument has spoken in more voices to more people than the guitar, and over the past decade no festival has sought out the modulations in those voices and the range of the guitar's cultural expressions than the New York Guitar Festival.
Following its success since 1999 (with rave reviews in The New York Times, The Wall Street Journal, and Jazz Times as well as sister festivals in Urbana, Illinois and Adelaide Australia), the New York Guitar Festival announces its tenth season of concert performances, January 8 though February 4, 2010.
The festival boasts over 30 exceptional guitarists of jazz, classical, rock, traditional, and avant garde styles. Participating venues include Merkin Concert Hall, The 92nd Street Y, The World Financial Center's Winter Garden, Le Poisson Rouge and Barbes. Concerts range from an all-day Guitar Marathon interpreting the music of J.S. Bach and his contemporaries, (featuring, among other internationally-famous musicians, the Brazilian Guitar Quartet, Paul O'Dette, Ana Vidovic, Eliot Fisk, Paul Galbraith and Nigel North) to the Hindustani slide guitar music of Debashish Bhattacharya.
The festival also has a history of commissioning remarkable original works, and the 2010 season breaks yet more new ground by presenting ten classic silent films (seven by Chaplin, one by Keaton and two by Harry Smith) accompanied by original scores performed live by a spectacularly rich and varied coterie of guitarists: Gyan Riley, Alex de Grassi, Justin Vernon (of Bon Iver), Steve Kimock, James Blackshaw, Marc Ribot, David Bromberg and the members of Chicha Libre.
The New York Guitar Festival, a not-for-profit arts organization, was founded in 1999 by musician and producer David Spelman, who serves as its Artistic Director. The Festival's goal is to broaden the public's appreciation for the guitar by fostering emerging talent, supporting innovative collaborations among outstanding artists, and commissioning new works. In addition to producing eclectic concerts and radio broadcasts, its Guitar Harvest series of recordings supports outreach programs in New York City public schools.
World Financial Center's Winter Garden
Battery Park City, bordered by West Street, the Hudson River, Vesey and Liberty Streets. Tickets and information: (212) 417-7000 / www.worldfinancialcenter.com.
Friday, January 8, 8:00pm
FREE OPENING NIGHT CONCERT
Slide guitarist Debashish Bhattacharya, and his tabla-playing brother Subashish will present an evening of Hindustani guitar music. This Grammy-nominated artist is one of India's most esteemed musicians and has performed with musicians such as Derek Trucks, Jerry Douglas and John McLaughlin. Debashish's music, spirit, and generosity have won him new admirers and devotees around the world and we are thrilled to have him open our tenth anniversary festival. www.debashishbhattacharya.com
Goodman House, 129 West 67th Street
Tickets and information: 212-501-3330 • kaufman-center.org
Thursday, January 14, 8 p.m.
Silent Films/Live Guitars
Charlie Chaplin's The Immigrant + The Kid
Music by David Bromberg and Marc Ribot
2008 Grammy nominee David Bromberg is known for his eclectic combination of blues, bluegrass, jazz, folk, country, and rock. He's recorded and performed with Reverend Gary Davis, Jorma Kaukonen, Jerry Garcia, Bob Dylan and George Harrison among others and is presenting the premiere of newly commissioned music for Charlie Chaplin's 1917 The Immigrant. Style-morphing icon Marc Ribot has lent his mercurial guitar sounds to collaborations including Robert Plant and Alison Kraus, Tom Waits, Elvis Costello and John Zorn, and will improvise a score for Chaplin's 1921 classic, The Kid.
Goodman House, 129 West 67th Street
Tickets and information: 212-501-3330 • kaufman-center.org
Thursday, January 21, 8 p.m.
Silent Films/Live Guitars
Charlie Chaplin's One A.M. and Easy Street + Buster Keaton's Cops
Music by Bon Iver's Justin Vernon and Steve Kimock
Bon Iver is the nom-de-guerre of musician Justin Vernon. His album For Emma, Forever Ago was a critical and commercial hit, making him one of the most talked-about indie artists of 2008. For his scores to One A.M. & Easy Street, he's joined by Chris Rosenau, of Collection of Colonies of Bees, whom Justin calls his "guitar mentor." Steve Kimock is best known as co-founder and guitarist for the San Francisco band Zero. He's recorded and performed with Bruce Hornsby and members of the Grateful Dead-Jerry Garcia once hailed him as his favorite guitarist. He performs music for Buster Keaton's Cops.
Goodman House, 129 West 67th Street
Tickets and information: 212-501-3330 • kaufman-center.org
Thursday, January 28, 8 p.m.
Silent Films/Live Guitars
Charlie Chaplin's Shoulder Arms and The Fall of the House of Usher (directed by James Sibley Watson and Melville Webber)
Music by Alex de Grassi + James Blackshaw
One of the top fingerstyle, steel-string guitarists, Grammy nominee Alex de Grassi is renowned for his impeccable technique and compelling compositions. He's explored a variety of world music influences and drawn acclaim for his 14 recordings on Windham Hill and other labels. He presents his original score for Chaplin's 1918 masterpiece Shoulder Arms. James Blackshaw is a London-based prodigy who's released seven albums of mesmerizing 12-string compositions. His style is often described as "American primitive" and incorporates elements of Indian raga, improvisation, and psychedelia.
Lexington Avenue at 92nd Street
Tickets and information: 212-415-5500 / www.92Y.org
Sunday, January 31, 2 p.m. and 7 p.m., with a break at 5 p.m.
The Guitar Marathon: Bach
Calling all HuffPost superfans!
Sign up for membership to become a founding member and help shape HuffPost's next chapter