This story is part of our monthlong "Work Well" initiative, which focuses on thriving in the workplace. You can find more stories from this project here.
That's a lot to manage. But take a deep breath: There's an easy way to keep track of all of it -- a technique that's worlds better than staring at an unending list of emails. Here's the secret. This takes a few steps, but stick with it -- you'll be glad you did.
First, you'll need a Gmail account. If your office doesn't officially use Google's email service, you can set up forwarding so that you send and receive emails from Gmail even though your primary account is on a different service. It's a little complicated, but we think it's worth it -- here's how to get that done. (Check with your office's IT team first.)
Once Gmail is squared away, it's simple to set up the ideal inbox. I don't recommend using any of the automated functions like priority inbox -- these tend to make me paranoid that important things are getting lost. My technique involves some manual sorting, but it's mostly painless. 
Here's what my work inbox looks like -- certain text edited out, of course: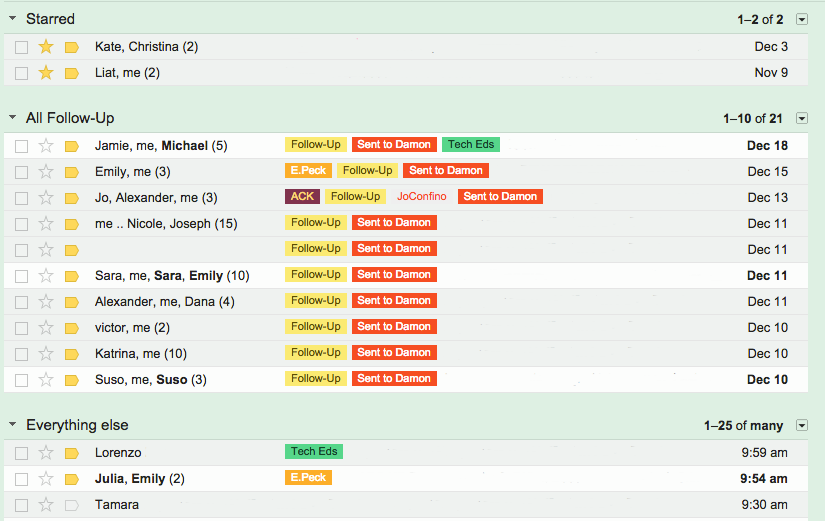 As you can see, my email is sorted into three categories: Starred, Follow-Up and "everything else." The top part uses the "Star" function in Gmail, so I can automatically mark emails that I might want to reference later. I use this sparingly: The two emails I have at the top contain resources that I use infrequently but often enough not to want to search for.
Next: Follow-Up. These are emails that I specifically label with a custom "Follow-Up" label, though you could call it anything you want! Some ideas:
RESPOND TO THIS
To-Do
Ugh
Look At This Eventually
Here's how to set that up. First, create your "Follow-Up" label. There's a "Create New Label" link at the bottom of the left side of your screen -- you might have to select "More" to see it.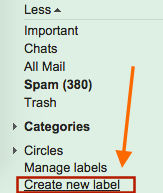 Fill in whatever name you want in the window that pops up. You'll see this label on the left side of your screen. You can change the color by clicking the little square to the right of the label name. Whenever you have an email you'll need to follow up on later -- a task your boss asked you to do, for example, or a question from HR -- drag this label from the side and drop it onto the email.
Now it's time to break your inbox into three different parts. Click on the gear symbol on the upper-right corner of your Gmail screen and select "Settings."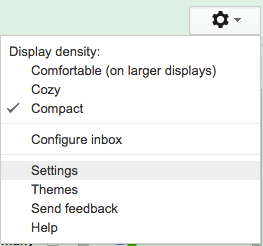 From there, click the "Inbox" link. You'll see a drop-down menu of various "inbox types." Select "Priority Inbox."
By default, Gmail will try to sort your messages into three sections: "Important and Unread," "Starred" and "Everything Else." That's not so different from what we want to accomplish, but I take issue with how Google determines what "important" emails are. I'd rather label them myself, which is the whole point of the "Follow-Up" tag.
So, let's change those suckers around. Click the "Options" tab next to the No. 1 item -- "Important and Unread" -- and switch that to "Starred."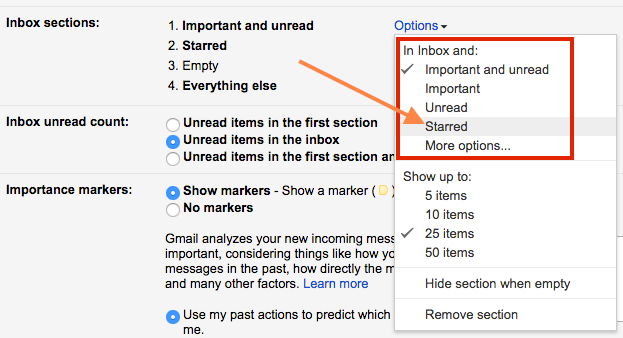 Switch the No. 2 option -- which was "Starred" by default -- to "All Follow-Up." To do so, click "Options," then click "More options..." and select your "Follow-Up" label.
You can keep the third section empty and the fourth section on "Everything Else."
When you click out of settings, your Gmail inbox should be refreshed with three distinct sections -- "Starred" on top, "Follow-Up" next and everything else in the third section. From now on, you'll be able to drag your "Follow-Up" label from the left side of the screen to emails you want to look into later, and you can click the "star" icon next to any message to move it to the top of your screen.
This is how I manage with -- gulp -- 40,366 unread emails and counting. That's a huge number, but it doesn't really matter because at any moment I only have a couple of "Starred" emails and maybe 20 or so "Follow-Up" emails that require my attention. This helps me prioritize my tasks and stay sane.
The Huffington Post's "Work Well" series is also part of our "What's Working" solutions-oriented journalism initiative.
Calling all HuffPost superfans!
Sign up for membership to become a founding member and help shape HuffPost's next chapter