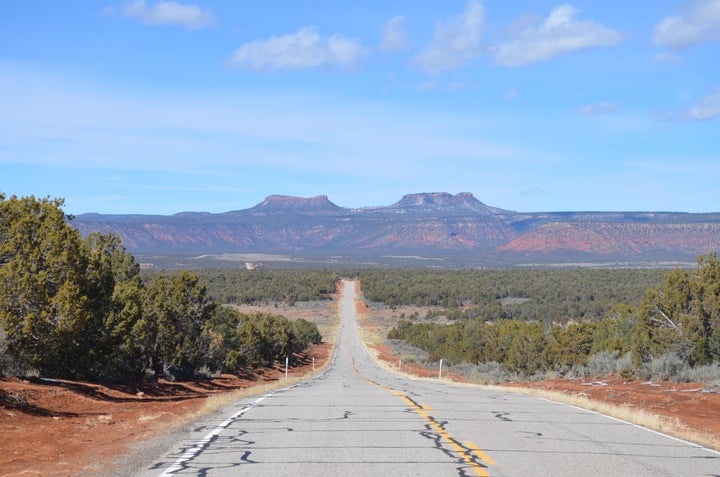 Interior Secretary Ryan Zinke boasted that the comment period "finally gives a voice to local communities and states," parties the Trump administration claims past presidents ignored when granting protections to new monuments under the Antiquities Act of 1906.
And after the comment periods closed in July, Zinke said he appreciated "everyone who took the time to log-on or write in and participate in our government," and that the input would help inform his decisions.
But internal documents show that in the case of Bears Ears National Monument, the administration conducted its review assuming it had little, if anything, to learn; that it had all the information it needed to decide the fate of the Utah site.
Randal Bowman, a senior policy analyst at the Interior Department, led a May 31 webinar to train a dozen agency staffers on how to read and catalog public comments the agency fielded on its review of Bears Ears, a 1.35 million-acre monument the Obama administration established in late 2016. During the hour-long training, Bowman told the review team that because the Utah monument was so new and a management plan had not yet been adopted, it would be "virtually impossible" for a member of the public to submit information that hadn't previously been considered.
When one member of the review team asked Bowman to clarify his previous comment, he said, "I can't visualize what a new [piece of] information would be. But I'm not ruling it out."
From the start, Trump and Zinke's public criticisms suggested Bears Ears wouldn't survive intact, and that the administration's review and public comment period was mostly for show. At the April signing ceremony, Trump said the Bears Ears designation "should never have happened" and that he was going to free up the land to "tremendously positive things." Still, the Interior Department maintained its review would be fair and thorough.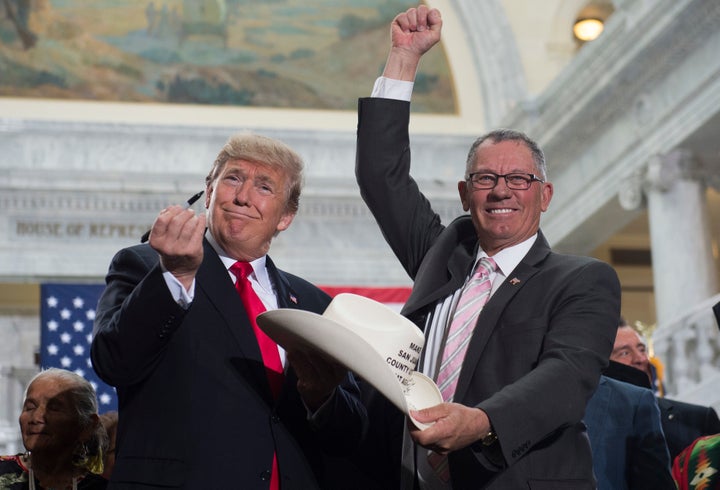 Bowman's comments during the training, as well as subsequent internal emails, are likely to add to critics' speculation that the outcome — at least for Bears Ears — was predetermined; that the administration was not really interested in what the general public had to say.
Bowman and the Interior Department did not respond to requests for comment.
Interior Associate Deputy Secretary James Cason tapped Bowman, a senior policy analyst who's worked at the department for more than 30 years, to lead the review process in early May, documents show.
Bowman is among several Interior Department career staffers who quickly rose within Trump's ranks, as The Washington Post reported. The Post noted Bowman is known among some of his colleagues as "the cicada," a supporter of limited government who "goes underground during Democratic administrations." In 2008, Bowman was involved in a scandal in which Interior Department officials meddled in the listing of endangered species.
To make easy work of analyzing public comments on the monument review, the Interior Department hired software company Texifter LLC. An online summary of the $23,387 contract is dated May 23. As Bowman and Stu Shulman, president of Texifter, highlighted in the May 31 training, the platform allowed reviewers to mark comments as either supporting or opposing the review, as well as flag any that went beyond an expressed opinion and offered new information.
Bowman wrote in a May 6 exchange with Downey Magallanes, a top aide of Zinke who also played a key role in the review, that he expected the comments to be " 99-1 against any changes."
"We will need to know within a few weeks how you want the substantive ones handled ― short summary, just list them by source ― name of group or individual, particularly impressive ones (if any) set aside for Secretary [Zinke] to read or not, etc.," Bowman added.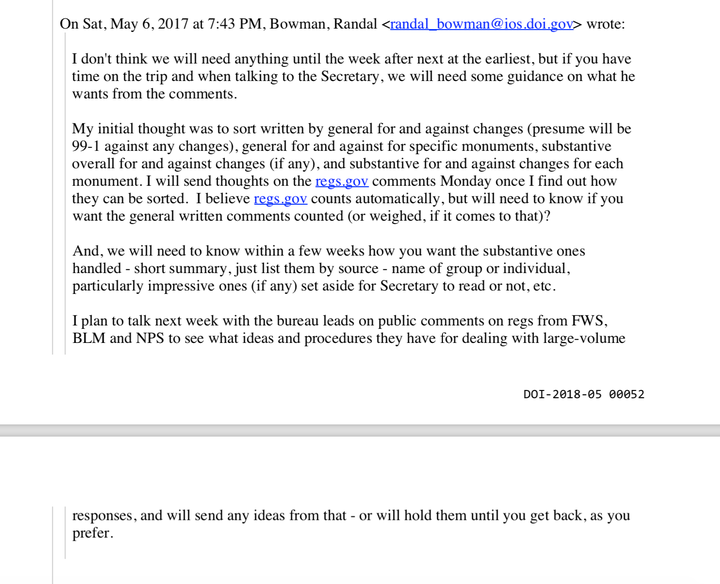 Because Trump gave Zinke a much shorter deadline to make an initial recommendation on Bears Ears than other monuments impacted by the review, Bowman and his team initially focused their attention on those public comments. Of the approximately 59,000 comments specific to Bears Ears, the vast majority — 95 percent — voiced opposition to Trump making changes to the monument, according to an internal email. About 54,000 comments were submitted as form letters or petitions and were easily categorized. The remaining 5,000 or so were unique and had to be individually reviewed by Interior Department staff.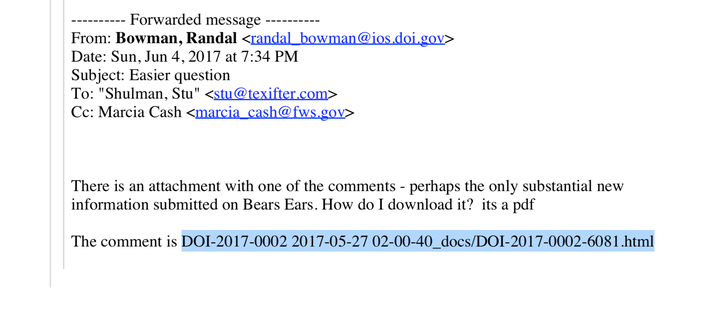 That comment came from Jim Carlson, a managing partner at Stillwater Technical Solutions, a consulting firm based in Garden City, Kansas. Attached was a report that the commissioners of San Juan County — staunch opponents of the Bears Ears monument designation — paid Carlson $53,000 to produce. It was published in October 2016, roughly two months before President Barack Obama designated the protected site in southeastern Utah.
In the lengthy document, Carlson and his co-authors put forward a slew of arguments for why they thought Obama did not have the authority to establish the Bears Ears area as a national monument. At the time, a coalition of five Native American tribes that consider the area sacred was petitioning Obama to set aside 1.9 million acres. It is named after a pair of towering buttes and among the most archaeologically-rich sites in the nation.
"If the [President of the United States] has authority to designate a monument of any size, shape, or area — for any reason — then what is to stop POTUS from withdrawing large swaths, regions, or even entire States under the cover of the Antiquities Act?" Carlson and others at Stillwater wrote in their conclusion.
Although the report contains more information than the vast majority of comments, it was not new, as Bowman suggested. And it seems highly unlikely that no other substantive information was submitted as part of the review.
Take this comment, submitted May 25, in which dozens of environmental and natural resources law professors provided a detailed argument for why presidents do not have the authority to abolish, shrink or otherwise weaken national monuments.
It's also important to note that San Juan County officials hired Carlson to produce the document as part of their fight to prevent a monument from being established in the first place.
Carlson told HuffPost that he met with the Obama administration ahead of its 2016 designation and believes his findings ultimately resulted in the administration opting to designate 1.35 million acres rather than 1.9 million. He added that he was not surprised to learn Interior Department officials in the Trump administration gave special attention to his report.
"We are really a significant researcher in natural resources," he said. "That would stand to reason that they would flag that and use our material. To our knowledge, we know of no one in the country that does our level of research."
It is unclear if Carlson's report influenced Zinke's recommendation or Trump's final decision on Bears Ears. Carlson said he was not contacted to discuss the findings.
Support HuffPost
The Stakes Have Never Been Higher
Popular in the Community