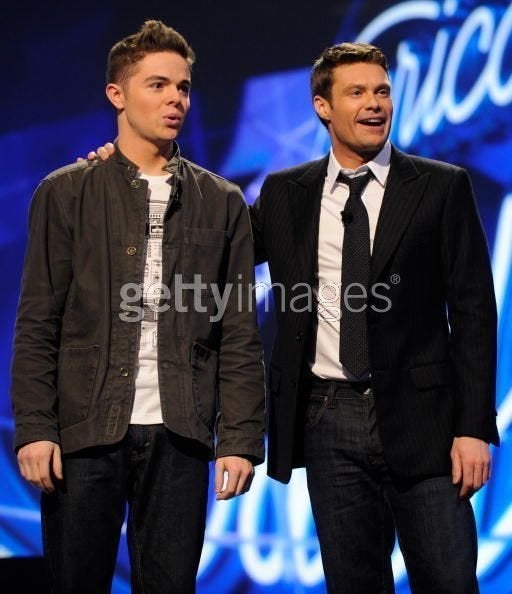 Ok, the results are in and Jasmine Murray and Jorge Nunez are going home. I'm batting 50/50, since I picked Jasmine and Anoop to go home and Jasmine did and Anoop may have been in the bottom four when they faced him off with Jorge. Anoop definitely dodged a bullet and I don't think any of them (including Megan, who was paired off with Jasmine) would have challenged for the top prize. Expect the rest to go in coming weeks.
The ratings were strong as well. According to Marc Berman of Mediaweek, Idol scored a 14.7 in the ratings and was the top-rated show of the night. It was down 10% from a year ago, but that's far better than the 17% drop of Tuesday's show. Thanks to the tweaks in the rules and a strong lineup of talent, the results shows seem to be scoring higher than usual. People are voting in much higher numbers and paying closer attention because -- unlike the judges -- America believes this competition is wide open.
The new twist is a modest and reasonable one meant to prevent a travesty like the early departures of Jennifer Hudson and Chris Daughtry. If the judges think someone has been cut wrongly, they can unanimously declare a Save and that person will remain. However, the following week, TWO people must go home. The judges can only use this Save one time and then that's it for the rest of the season. I expect it might come into play once we get closer to the final six or so. Wednesday, the only effect is an awkward one where the judges have to tell someone who's already been told he's lost that, yes, he's still going home. Not exactly heart-warming, though both jasmine and Jorge maintained their dignity. Anoop, meanwhile, was convinced he was going home and had a look of resigned disappointment the entire night.
The show began with Ryan Seacrest announcing that a record 33 million votes were cast (a record for this stage of the competition, that is). Then they detailed the new twist, showed the mansion where the singers will live together and then they all sang "I Want You Back," the very first hit (and a #1 hit at that) for the Jackson 5. Danny Gokey was given a dance solo, a cute recognition of how spastic his unchoreographed dancing was the night before.
Then they went through the contestants (with Kris getting a notable number of squeals), paired off Jasmine and Megan and then sent Jasmine home.
Kanye West came out and sang his hit single "Heartless," his Top 2 hit that's been on the charts for over four months. He just leaves me cold, frankly, despite some good singles.He had a giant towel hanging out of his back pocket (maybe bandanas are too gay?) which looked dorky but I loved the female backup singer wearing a dress straight out of Dune or Mad Max: Beyond Thunderdome.
Then they paired off Anoop and Jorge.
Kelly Clarkson came out and sang her #1 hit "My Life Would Suck Without You" which has only been on the charts for seven weeks. I would have thought both singers would have performed their next hit single. Still, Kelly's song is a great record -- and another example of a song that is terrific fun but not terribly interesting for others to cover (take note, future Idol wannabes.) Kelly was sweet and unassuming as always and happily still looks like a healthy young woman rather than a stick figure a la so many rail-thin female celebrities. Jorge was sent home with the judges taking a pass and he watched his journey to the tune of Carrie Underwood singing her new single "Home Sweet Home."
Carrie's a huge credit to the show as well, but Kelly's appearance reminded me that the best thing that ever happened to American Idol was Kelly Clarkson. She gave the show immediate credibility by achieving commercial and critical success and then building on it with three more albums -- and she did it all while being true to the show's heartland appeal by not wigging out or embarrassing herself with tabloid antics.
So what did you think of the new rule twist and did you think it was right for Jasmine and Jorge to go home?
OK, first things first: Michael Jackson's Thriller has NOT sold 100 million copies worldwide. When Thriller was reissued very successfully last year, Michael Jackson's camp just started telling everyone Thriller had sold more than 100 million copies worldwide, which was about 30 million copies more than anyone had ever claimed for it before. Their source? None. They just kept saying it and the number sounded so overwhelming, people just repeated it, starting perhaps with Ebony magazine, which had an interview with Jackson and then continued by everyone else. Now, the Jackson camp -- and Wikipedia -- just quote the magazines and TV shows that repeated this imaginary figure as "proof" that it's true. The sad part of this is that Thriller is indeed the best-selling album worldwide of all time, which makes the fact that Jackson feels the need to lie about his sales record even sadder. I seem to recall that when Bad was released, Rolling Stone did a profile of Jackson and said he had written the number "100" on his bathroom mirror because that was his goal for the followup to Thriller: to sell 100 million copies worldwide. That didn't happen, of course so know Jackson is apparently trying to make it happen by just pretending it did. The fact is that Thriller has sold 28 million copies in the US as of 2008, per the Recording Industry Association of America. (The Eagles have a greatest hits package that has sold 29 million copies, but Thriller is still the #1 selling album of original material here.) It had long been reported that the album had sold 40 million copies overseas, but overseas figures are hard to come by. The Guinness Book Of World Records devotes a great deal of time and resources to its research and has declared that it can confirm Thriller sold 67 million copies total worldwide -- making it the top-selling album of all time. If I look at Thriller's sales in the US, which have gone from 20 million to 28 million in the past 20+ years and imagine overseas sales have kept pace, that brings us to a generous 80 million copies worldwide. That's still 20 million copies LESS than what Jackson claims. But Guinness is the best source for worldwide sales and they say 67 million copies. That's #1 and that should be enough for anyone.
The ratings were strong, averaging a 14.1 rating. As Marc Berman of Mediaweek points out, that's down 17% from last season...but so are most other shows and Idol is still far bigger than anything else on TV right now.
I loved that the theme was Michael Jackson songs, since Kara had declared during auditions that NO ONE sings those songs. No one. (She said the same about the Police.) So how could you have a night devoted to Michael Jackson? Kara also sported some crazy bow on her dress while Paula countered with feathers.
LIL ROUNDS -- She kicked off the night when the show was scoring a 12.4 rating. By 9:30, the show hit 15.2 in the ratings, which just goes to show what a disadvantage it is to go first. But that shouldn't stop Lil, who absolutely blew me away singing "The Way You Make Me Feel," the third of five #1 hits in a row from Bad. Lil was amazing -- perfectly in pitch at every moment, faithful to the melody but giving the song her own less pop more soulful spin and completely in command. My friend Aaron hated what she was wearing, just like Simon, but I thought it was fine except for the big flouncy stuff on one shoulder. She could have performed that at the finals, I thought. The judges raved, mostly, with Randy saying -- yet again -- "This is the way we kick off season eight!" -- and Simon praising her but calling it a "lazy" song choice. Kara tried to get down again, by saying, "Good job, y'all."
SCOTT MACINTYRE -- He sang "Keep The Faith," which is an album track from Dangerous and not a single, which makes it an obscurity by Michael Jackson standards. Personally, I didn't even remember the song, which falls into the treacly positivity of "Man In The Mirror" and "Heal The World" tunes. MacIntyre was indeed far far better when sitting and playing the piano then before. But before he didn't belong on the show at all and now he just seems like one of the weakest of the bunch, especially when he tried to get soulful on the bridge and wailed away. Kara tried to shut up the crowd's cheering a tad too early for my taste (I'm really giving her a hard time, I know) but the judges were surprisingly mixed for a change, with Kara and Paula polite but Randy and Simon mixed with Simon -- hilariously -- saying he hated the song (really, he meant the song choice of an "obscure" tune) even though Paula had just said that Siedah Garrett, who wrote it, was in the audience. No wonder Huffington Poster Rubaum-Keller says she likes Simon for speaking bluntly. An unknown song and poor reviews from the judges so early in the night could spell trouble for MacIntyre.
DANNY GOKEY -- Gokey -- aka Robert Downey Jr. Jr. -- sang one of my favorite tunes from Thriller, the infectious single "P.Y.T. (Pretty Young Thing)," which only hit #10, making it the lowest charting tune of all the seven songs released off that album. (It didn't even hit the Top 10 in the UK.) Gokey was so-so on the soulful, slow intro but really came into his own when the performance quickly turned upbeat. He did indeed look manic on stage as the judges pointed out (and that jacket made him look like an English lit professor), but his voice sounded great. But stagecraft can be improved while vocal talent cannot and he's got that in spades. When calling after the show, his number was the only one I got a busy signal on and it happened repeatedly. Unscientific, of course, but there you are.
MICHAEL SARVER -- Sarver sang what remains for the moment the last #1 song if Michael Jackson's career: "You Are Not Alone," which hit the top of the charts back in 1995. Sarver sounded awkward to me throughout, with the slow pace of the song revealing his limitations once and for all. He sounded mannered and odd throughout and also had something splattered on the back of his jacket. The judges mostly praised him, though Kara pointed out that he's not the best singer. Randy said Sarver was "one of the best so far," which -- since he was only the fourth performer -- means I guess that he's better than MacIntyre.
JASMINE MURRAY -- This sweet and very pretty girl sang "I'll Be There," the biggest hit by the Jackson Five and their last #1 hit, where it stayed for five weeks. Of course it was also a #1 hit for Mariah Carey, who duetted on the tune with Trey Lorenz for MTV Unplugged. Lorenz had a Top 20 hit later that year (in 1992) with "Someone To Hold," which Carey co-wrote and co-produced but after that Lorenz was never heard from again. Murray is adorable and talented, but the truth is she was rough on the low notes, her attempt to riff was weak, her big moments were a tad sharp and mostly I was just waiting for the song to begin. The judges were polite but mixed at best, with Kara bizarrely suggesting Murray should have sung the song in an even lower register.
KRIS ALLEN -- Allen -- aka David Archuleta Sr. -- looked awfully cute as he brought out his acoustic guitar and strummed away during "Remember The Time," which hit #3 for an unusual four weeks back in 1992, right before Carey would chart with her remake of "Ill Be There." I really enjoyed Allen's smooth performance. His guitar playing was negligible since we couldn't even hear it, but it was indeed very Jason Mraz-y as Randy said or John Mayer-ish as I thought. Best of all, I wasn't thinking of it as a Michael Jackson tune as he performed it but just as a good song. And again, he's awfully cute. The women loved him while the men were a little mixed, with Simon rightly and hilariously saying Kris should have held off on mentioning he was married for a few more weeks to keep the female voters more hopeful. Paula -- who was focused and prepared, as she's been all season -- oddly prefaced calling him adorable/sexy by saying "don't take this the wrong way." What bad way could that be taken?
ALLISON IRAHETA -- Looking very rocker-ish, Iraheta sang "Give In To Me," another album track (ie. not a single) from Dangerous. It came out before she was born but no one complained about the song being unfamiliar because Iraheta did such a terrific job with it. All four judges raved about the 16 year old and rightly so.
ANOOP DESAI -- In the evening's low point by far, Anoop took his posturing on "My Perogative" one step further and tried to look tough while performing "Beat It" (the #1 hit featuring Eddie Van Halen on guitar). He was about as convincing as Laura Bush was when it came to ending gang violence. In fact, when he made a defiant stare at the crowd at the end (which I kept waiting for him to turn into an abashed grin), I realized Anoop was channeling Kanye West with all his ego. He also seemed to garble the lyrics at one point, but the judges were so harsh they didn't bother to mention it. Paula said the song was "untouchable" (which seemed a tacky thing to say to a person of Indian descent, but I digress). To be more specific, it's not untouchable so much as uninteresting to cover. "Beat It" is a great record but not a great song. This is the same confusion that reigns every year at the Grammys when they award one tune as Record Of The Year and another as Song Of The Year. A great record, like say M's "Pop Muzik" or Jackson's "Thriller" can be a terrific tune, but you don't really want to hear other people record their own versions of it. Another example: the Village People's "Macho Man." Maybe a blast of a song, but does anyone else ever need to do a new version of it? Nope. The Song Of The Year is a tune you DO want to hear other people record over the years, such as "Yesterday" by the Beatles. A great record -- like the Beach Boys' "GOod Vibrations" -- is terrific, but it's been done and never needs to be done again. A great song can and should be covered by other artists. Anoop is going home and his sideswiped expression by the time the judges were done showed he knows it too.
JORGE NUNEZ -- He sang "Never Can Say Goodbye," which hit #2 for three weeks back in 1971 and prompted the biggest disconnect between me and the judges. I've never been a huge fan of Jorge but he seems a classic Idol contestant to me, especially in his song choices and performance. I thought he was good, with his English pronunciation better than ever and Nunez especially good on the upbeat sections, which I thought he nailed. Top it off with a big note or two and I thought he was safe. But the judges were still spoiling for a fight after Anoop and piled on, albeit not as strongly.
MEGAN JOY CORKREY -- She looked absolutely lovely and sang the second hit single by Michael as a solo artist (albeit while still in the Jackson 5), "Rockin' Robin," which is practically a novelty number. She danced around awkwardly again, had a bad last note and then topped it off by saying "Caw! Caw!" which made me burst out laighing. At least she's having fun and not taking herself too seriously. But the judges were mostly negative with Megan having to hope her looks and the relative paucity of women will keep her alive for another week. (Thanks DCDan for pointing out my error on the song.)
ADAM LAMBERT -- The judges went into a meltdown of excitement over Lambert, who sang "Black Or White," which is -- perhaps surprisingly -- tied for the biggest hit of Jackson's career, since it was #1 for seven weeks, just like the landmark tune "Billie Jean." if as the judges say you must be over-the-top to sing this song, then Lambert succeeded since he wailed and ululated his way throughout the number, aided by strobe lights and other flashy effects by the show's producers. Personally, I thought it was a bit draggy and the Members Only-looking jacket awful. But he'll kill it on KISS theme week. The judges were even more over the top in their praise, with Paula predicting a Lambert-Gokey finale, which I think Lil Rounds is gonna have something to say about. Their attitude did seem inappropriate since we've just started the Top 13 and they've praised Gokey and Lil Rounds as well. But when Simon chided Paula, she rightly reminded Simon that he kept saying Carrie Underwood would win it all even before the show began airing.
MATT GIRAUD -- The dueling piano player sang and played the piano on "Human Nature" another great song off Thriller, which may not have sold 100 million copies worldwide but is indeed a great album. This tune in particular is sensational with a melody so beguiling it's been covered by Miles Davis among many others. Giraud was OK, at best, though he didn't embarrass himself on that tricky high run of vocal riffing. But the judges gave him a pass and said nice things all around.
ALEXIS GRACE -- Ryan Seacrest stepped on Matt's moment a bit by urging people to write down the phone number for the next contestant because they would not want to miss it. But in fact, Seacrest was just trying to emphasize that Alexis's number was NOT the one you would expect since that number was taken by a phone sex hotline. She performed "Dirty Diana," the fifth #1 hit from Bad. With her short skirt and naughty attitude, Alexis's transformation from nice girl to dirrrrty girl was certainly complete though Paula rightly warned her against oversinging. Surprisingly, the women liked her more than the men. But I sort of liked her if not exactly this whole performance, although I'm worried that the confusion over her number might hold her back.
OK< so who goes home? Me, I would happily say goodbye to: Scott MacIntyre, Michael Sarver, Anoop Desai, Megan Joy Corkrey, and Matt Giraud. I also think Jasmine Murray and Alexis Grace are in danger, along with Jorge Nunez. I'm pretty sure these will be the people to fall in the next six weeks, with a final four of Lil Rounds, Danny Gokey, Adam Lambert and a person to be decided all but certain. Tonight the promised change in rules might include the bottom person going and the next two having a sing-off to be decided by the judges. I hope that's not the case since letting the audience vote for their favorites is a signature part of the show.
So assuming there's a bottom three, I think it will be Anoop Desai, Michael Sarver and Jasmine Murray (though I almost wrote Megan but her performance was so oddball I think people will remember it and memorably bad is better than forgettable). I think Anoop and Jasmine Murray are going home. But don't be upset about who goes home: as long as LIl, Gokey and Lambert are there, it doesn't matter what order the others fall.
So who did you like and who do you think is going home? Any ideas about what change to the rules they'll introduce tonight? I liked the live decision by the judges for the Wild Card but I hate it if they're gonna do it every week.
REAL LIFE. REAL NEWS. REAL VOICES.
Help us tell more of the stories that matter from voices that too often remain unheard.