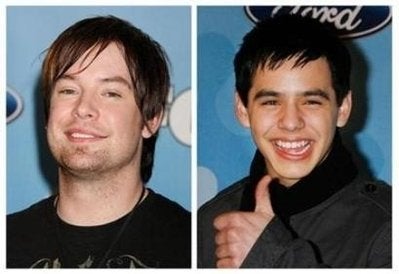 That's the safest headline I'll ever write. The show's producers may have told us it's been a lot closer than we believed (with only one million votes separating the Davids two weeks ago), but this is what I think: a tie goes to Archuleta. Archuleta needs to stumble or Cook needs to be unbelievable if Cook wants to win.
SHOW OPENER -- The "Let's get ready to rumble" guy introduces the two Davids, who come out in full boxing gear. This sets a boxing theme for the night, which is amusing. It certainly wouldn't have worked for Ruben Studdard and Clay Aiken but it works here. Besides, this means they get to nickname Archuleta "Babyface." In talking about past winners, they flashed Daughtry's face even though he didn't even make the finals. Simon gives them one bit of typical advice: "You've got to have a desire to win. And you've got to hate your opponent."
DAVID COOK -- Clive Davis, legendary label head, chooses U2's "I Still Haven't Found What I'm Looking For," which makes Cook visibly pleased. It's a great choice -- yearning, rocking but not with the typical Cook formula of building up to a big finale. He looks very confident and his voice sounds great. Cook stays right with the song, not revamping it or trying to mutate it into something but just delivering it straight until the last note when he soars up a bit very effectively. Very, very good start. Randy offers a tiny caveat and gets the year wrong (it's 2008, dawg), but praises him. Paula takes us to church, saying, "David Cook has arrived. Amen. Amen." Simon calls it "phenomenal."
DAVID ARCHULETA -- Clive Davis chooses Elton John's "Don't Let The Sun Go Down On Me," another very good choice. Archuleta -- who Ryan Seacrest will call "little David" and "Archie," among other nicknames -- begins by sitting on some steps, which means the fans will get to squeal when he stands up. Even sitting down, Archuleta gives lots of hand gestures, but with coaching by Andrew Lloyd Webber, Archuleta was chided to keep his eyes open and does a much better job. His voice sounds great, too, and he's very soulful here. It's pretty close to the George Michael version but doesn't sound like an imitation. To me, it's very strong and the first round is a tie. Randy raves, Paula says "The sun is never going to go down on you" and Simon insists it was the best performance by Archuleta for the entire season. "Oh my gosh," says Archuleta, who seems on the verge of tears and/or nervous exhaustion the entire night (but in a cute, puppy-ish way). Simon gives round one to Archuleta.
DAVID COOK -- In a twist, the contestants are allowed to choose among the top songs submitted for the show's season-ending tune. (However, they apparently don't get to choose the actual winner, which will be unveiled Wednesday night.) Cook chooses a pop-ish rocker called "Dream Big," which has the usual inspirational lyrics ("But if you don't dream big, what's the use of dreaming?") but a pretty solid melodic hook. It's certainly the most rockin' original Idol tune (relatively speaking). The bar is pretty low, but I'd say it's the best Idol tune and a not-bad single. It also shows off a poppier side to Cook and again avoids his standard formula all season, which I assume he's saving for the final song.
DAVID ARCHULETA -- He chooses a far more typical Idol original, "In This Moment," an inspirational ballad with some truly goofy lyrics about looking at your own image in a mirror and wondering how the mirror can reflect perfection. Andrew Lloyd Webber actually mocks the lyrics. But it's in Archuleta's wheelhouse -- this was always the round that should have been easier for him -- and he gets to end on a big note. Again, both guys are in great voice. Randy, Paula and Simon all rave, with Simon saying round two goes to Archuleta, just like round one. This time, I agree with him.
DAVID COOK -- The contestants can choose any song they want as their last number. Instead of picking a greatest hit, Cook boldly decides to do a new tune, Collective Soul's "The World I Know." On the plus side, you won't be compared to your best performance of the season. And you get to create a new memory. Cook plays an acoustic guitar and I'm expecting a build-up to a big emo finale. Instead, it's a soft, quiet tune and ends on a gentle note. On its own, this was a good performance. But Cook went the entire night without ever delivering the emo rocker rave-up style that got him to the finals in the first place. Big mistake. When it's over, Cook wells up with emotion and cries for a moment. Randy praises him; Paula, who has been in full-on blurb mode the entire night, says "You're standing in your truth;" and Simon compliments Cook by saying he's "one of the nicest and most sincere" contestants they've ever had and says it was a good performance of the tune but absolutely the wrong song choice. Simon says Cook should have performed "Billie Jean" or "Hello" and he's right. Unless Archuleta implodes, the night is his.
DAVID ARCHULETA -- He knows what it takes to win: big notes at the end of the songs and play to your strength. So no surprise that Archuleta chooses John Lennon's "Imagine," easily his most praised performance of the season. On the downside, you'll be compared to your peak on the show. But assuming he doesn't go dreadfully wrong, he'll win it all. Archuleta again begins in the middle of the tune -- I'll bet you during his entire career that he NEVER sings the lines "Imagine no religion, it's easy if you try/ No hell below us, above us only sky." He goes for a little more soul this time out and doesn't match his first shot at it, which was simpler and more effective. But it's good and gets the job done. Randy anoints him the winner, Paula praises him too, and Simon says "Tonight we've witnessed one of the great finales" and awards Archuleta a knock-out, to keep with the boxing theme.
As usual, Simon is right. It was a very solid finale, with both performers in great voice and neither one really stumbling. Best of all, it was only one hour long, so the show wasn't needlessly padded. Go here to watch their performances. But a tie goes to Archuleta and it wasn't even a tie. Surprisingly, after going again and again to the formula of starting off quietly and building to a big rocking finale all season long, Cook had three songs tonight and didn't do it once. Why avoid the schtick that got you to the finals? But he shouldn't have any regrets. Archuelta would have won anyway with the performances he gave and Cook made a good case for himself as a real performer (a better one, to me, than he'd made since breaking out with "Hello"). So they both win. But the new American Idol winner is David Archuleta. Do you agree?
REAL LIFE. REAL NEWS. REAL VOICES.
Help us tell more of the stories that matter from voices that too often remain unheard.