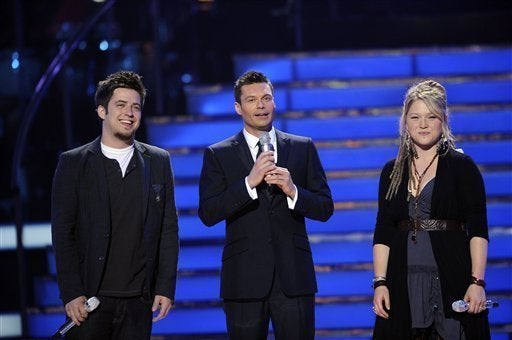 Leading up to tonight's Tony Awards, two pieces in the New York Times wonder what happened to Broadway. Critic Charles Isherwood misses the days when the awards show honored those who performed best over the year. He claims that the spectacle is now just an excuse to show off an assortment of music from shows that aren't deserving enough of such grandiose accolade. Moreover, it's not a celebration of Broadway alone this year; it's a night of music, more generally, with a Glee segment planned. Isherwood isn't pleased:
To put it bluntly, the Broadway musical seems to have lost its voice. More gently one could say it appears to be in tentative search of a new one, and in the interim has increasingly relied on sounds from other realms of music, namely rock and pop, to provide the central ingredient in the theatrical recipe. In a curious way, the current Broadway musical and Glee are examples of the same phenomenon: both stitch together new narratives with already recorded (and popular) music, using repurposed spare parts from the cultural trove of the past half-century to spin fresh forms of entertainment.
Isherwood does acknowledge that Green Day's American idiot is surprisingly insightful and well-produced. But overall, composers are drawing from different styles of music than before in order to accommodate the changing wishes of Broadway fans. It used to be "infused with the vitality of original American forms like jazz and blues," but "today's popular musical styles to create theater scores." Sure, composers and musicians have always had to adapt to the current times to give people what they want. But is the result still "new, inspiring music" or just a sorry excuse for a score?
David Kamp expresses similar concerns in his NYT piece. The "Broadway babies" grew up with musical franchises such as Glee and High School Musical. Now teenagers, they believe that showtunes are downright cool because the music was a staple of their upbringing.
The Broadway babies are not the passive, bused-in tourist young people of yore who went to see "The Phantom of the Opera" or "A Chorus Line" simply because it was what one did when visiting New York. They're true believers for whom love of musicals brings happiness, transcendence, and, strangely enough, social acceptance.
Kamp says that "'American Idol' has been a factor, too, legitimizing the idea that a young singer can deliver a dynamic vocal performance in a nonrock, nonband context." I think that "American idol" is centrally involved in the changing perception of Broadway. As Broadway dealt with well-publicized economic problems in recent years, it turned to overnight celebrities from the Fox show to "save" it from inevitable doom. I recently caught Idol contestant Constantine Maroulis perform in Rock of Ages. Diana DeGarmo and Ace Young were brought in to revive Hair, though that effort sputtered out with the announcement that the show will close at the end of the month. And Idol winner Jordin Sparks will soon join the cast of In The Heights.
Those singers are just the latest Idol celebrities to take their turn at acting on Broadway. The show's become a feeding ground for the New York institution as the singers' massive fame gives them the chance to achieve their longest dreams. The relationship has also worked the other way -- Broadway veteran Kristin Chenoweth made a guest appearance on Idol.
While Glee and High School Musical have undoubtedly contributed to generating popularity of showtunes among teenagers, it's been American Idol that's made the biggest mark on Broadway shows themselves. But it would be unfair to blame the Fox show for the shift that's taken place. Broadway was already in trouble well before any of these franchises came into play. What Isherwood and Kamp seem to be wallowing in is the reality that Broadway has done everything it possibly could to survive -- to the point of giving itself over to a younger generation's ideas, sounds and wishes -- and ultimately failed time and again.
The Tony Awards last night reflect how far Broadway has veered while attempting to salvage itself. Even if the music will be well-received, it's part of a bittersweet and compromising production.
Calling all HuffPost superfans!
Sign up for membership to become a founding member and help shape HuffPost's next chapter