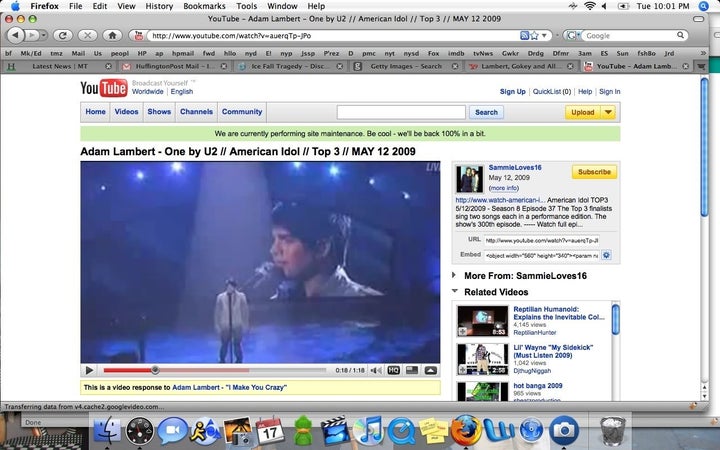 FINALE UPDATE -- Kris Allen wins it all! A versatile, genuine talent, Kris Allen got better week after week, which is the best way to keep winning fans. For the second year in a row, being the heavy favorite of the producers and Simon Cowell has perhaps been a negative. or more simply viewers get bored with the presumed front runner whether it's David Archuleta or Adam Lambert. Lambert will definitely get his shot at stardom and might even benefit from not being forced into releasing a debut album as quickly as Kris Allen will. Both are genuinely talented but I'm glad for Kris. I've been rooting for him throughout the Top 12 and thought he was sterling, whereas Adam at first seemed a one-not wonder. Adam won me over in the last few weeks. I have no idea what kind of album he might deliver (Mika, Queen, Aerosmith?) and that's pretty fun. The wild card for Kris is whether he has any songwriting ability. Carrie Underwood has proven a real talent in songwriting and if Kris has that ace in the hole, he's going to really deliver. He joins Kelly Clarkson, Carrie Underwood, Jordin Sparks and Taylor Hicks as winners who never were in the bottom two. Anyone who complains that Adam losing takes away from the show is crazy, by the way. The fact that wildly successful artists have appeared in the Top 10 finalists year after year is actually a testament to Idol's success: they uncover a lot of talent and you don't have to win it all in order to have huge success. Just ask Daughtry or Clay Aiken or Jennifer Hudson, to name three. Adam Lambert will be another great addition to that list and now Kris Allen has something to prove so go out and make a great album. By the way, almost 100 million votes were cast. Since the showdown on Tuesday was the lowest rated in Idol history, that means people averaged about five votes per person. Thank you, speed dialing! I did pretty good on my picks, calling it right 7 times out of the last 10. I picked the final four when there were still 9 people left and I predicted a Kris and Adam finale for a while as well. And of course the Idol I supported most won it all. So thanks for reading and commenting. See you in January. (Or maybe earlier if they ask me to take over for Kara.)
ORIGINAL POST FOR FINAL NIGHT OF PERFORMANCE COMPETITION:
Well, Kris Allen gets to join Clay Aiken and David Archuleta as Idol contestants who never were put into the bottom two but failed to win it all.
Clearly, Adam Lambert will be the next American Idol. I've been a big fan of Kris and he certainly has the potential to deliver a great album sometime down the road. But Adam had a much better mix of songs that contrasted each other perfectly and let him show off his versatility. It was fitting that Carrie Underwood closed the show for not since her triumphal march to victory has one contestant so clearly dominated a season. And just like Underwood, Adam Lambert will probably prove to be wildly commercial as well. (In this day and age, that would mean going triple platinum.)
As for the judges, the men stayed true to form but the women were not. Paula has been sharp and insightful all season but tonight she stayed firmly in cheerleader mode. Kara did herself no favors by being strident and wildly intense the entire night. Every comment was delivered with ferocious determination. Relax, Kara!
SONG ONE -- Kris won the toss and elected to go second. Adam chose to reprise the Tears For Fears song "Mad World," which was smart. The production was over the top with so much blue lighting and fog that you couldn't even see Adam's face for the first 30 seconds. He sang the tune very well, not notably better or worse than his excellent original rendition. All the judges praised him but it wasn't as emotionally piercing as the first time around and Simon was right to find the theatricality a bit much (especially for this quiet tune). Kris sang "Ain't No Sunshine," again, the song I would have chosen for him. He did it perhaps a tad better. The longer performance time let him stretch out the tune and nail that bridge yet again. Plus, the camera was in tight on Kris the whole time. They were both strong but on production and performance I'd give a slight edge to Kris.
SONG TWO -- Adam was asked to perform "A Change Is Gonna Come" by Sam Cooke, a terrific selection. It also had a great arrangement that included bluesy guitar to give it some bite. Adam just nailed it to the wall, making the most out of a dramatic ballad that builds and builds. He used his big voice for that ultra-dramatic wailing and in this case it worked perfectly. Like the first song of his, it's slow at first. But it really builds to a big finale so it's a good contrast. Plus his outfit looked classy and good. Finally, both this and "Mad World" are very emotionally resonant for Adam, so that helps too. He ends with a giant Idol moment and I immediately wrote down "He's won it all." But then, I thought the same thing after Clay Aiken sang "Bridge Over Troubled Water." Kris is asked to sing Marvin Gaye's "What's Going On," which does NOT seem like a good idea to me. He shows off his cool, mellow demeanor and strums away on an acoustic guitar. The performance is actually better than I feared. But it's way too similar in tone and style to the first number. And now he has to sing the presumably dull new Idol theme? Not looking good.
SONG THREE -- "No Boundaries." As Adam begins to sing, I immediately realize how he can knock out a silly power ballad pop song like this in his sleep. The sillier the lyrics, the more he can just wail away. And this tune has plenty of silly lyrics: "With every step you climb another mountain" and "Just when you think the road is going nowhere" and "You can go higher, you can go deeper" and so on. Stuff and nonsense but Adam gives it passion and it is more upbeat and pop, so it again makes a very good contrast with the other tunes he sang. Kris gives it a sort of Bryan Adams feel which is a good call. After being flat at the start, he gets into a groove. But this is still a much better fit with Adam.
Ultimately, Kris's three tunes blended together, each one ending on a fairly mellow note. Adam on the other hand got to show a lot of his skills. Plus he gave the single best performance of the night with "A Change Is Gonna Come." That's the one people will remember and that's the one they'll vote for.
But as Paula would say, neither of them are losers. And certainly not the viewers, when we had the most talented duo in the finale since Ruben Studdard and Clay Aiken faced off. Both could definitely deliver the goods creatively. Kris will probably benefit by not winning since that's cooler in the indie rock, John Mayer world. Plus, he would have gotten a lot of grief if Adam was seen to have been cheated out of his rightful crown. As for Adam, I hope he takes a cue from the very first Pop Idol winner, Will Young. He came out right after winning and no one blinked an eye and he has gone on to have exceptional ongoing success in the UK as a singer and actor. (I'm assuming of course that Adam is gay.) He's certainly a very talented, worthy singer.
I rooted for Kris for weeks, but Adam won me over with his consistency. It'll be fascinating to see what sort of album he delivers, but it may take one or two to find his groove and gain control over his artistic future. That will be bright for both of them, not to mention Alison Iraheta. Based on talent and the week to week performances, this has been the strongest Idol season yet. So who do you think will win and whose album(s) will you buy?
REAL LIFE. REAL NEWS. REAL VOICES.
Help us tell more of the stories that matter from voices that too often remain unheard.