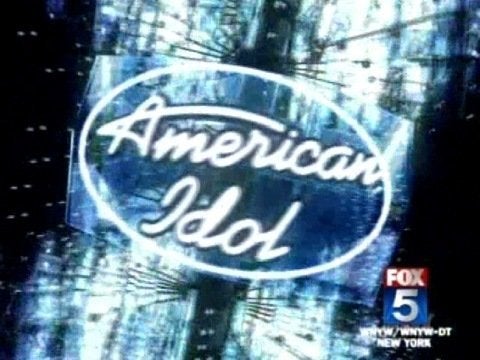 A very theatrical night for Idol as they perform the music of Andrew Lloyd Webber. A taped introduction insisted that "he's composed most of the important musicals of our time." Uh, no. But heck, you could say "he's composed some of the most successful musicals of all time," with Cats being surpassed on Broadway only by his own Phantom of the Opera. You could say he's composed "some of the most successful and acclaimed and influential musicals of all time" and I wouldn't argue with you there, since both those two and others like Evita and Jesus Christ Superstar have gobbled up Tonys and huge box office returns. Really, with all the accolades one could shower on Lloyd Webber, why say something that in fact is quite debatable? It cheapens what he has accomplished by trying to insist on some grand statement that immediately makes you think, "What about Sondheim?" That's no way to celebrate someone.
SYESHA MERCADO -- Sang "One Rock N Roll Too Many," a song from Starlight Express of all things. Surely one of ALW's most derided shows, it's also been remarkably resilient, especially in the UK and on the road. (It's a bit of silliness about people on skates pretending to be trains.) He rightly said it was an "interesting choice." Then Syesha belted it out with gusto, looking very sexy in a red dress. She was so relaxed and confident, it was no surprise to find out she's a theater baby. She had a little rough moment on a high note right near the end but finished well and was very confident throughout. To my delight, the judges didn't seem to be watching a different performance this time. Randy raved and said she could be a huge Broadway star, Paula said "this is your happy place" and Simon said she was very sexy, spoiling it a little by saying this was one of her best performances so far. (Syesha looked a little mock peeved when he didn't say it was her best performance so far, bar none, but to me it looked cute not annoying, though I've been a fan of hers for a while.) Yes, she went first but this is the week where that stops mattering so much anymore because there are so few contestants.
JASON CASTRO -- Sang "Memory" from Cats. OK, he's not into theater, but did Jason really not know that Cats was about, you know, cats? ALW proved a useful coach throughout, convincingly saying he was there to serve them, providing good tips and subtly letting us into his opinion, in this case by saying about Jason's pick: "not sure I would have done it." Translation: don't think he can pull it off. He does, sort of, crooning the tune in the expected lightweight manner. Very rough on the low notes in the transition ("burnt out ends of smoky days") and basically getting through it. Not quite a disaster but not memorable either. Randy plays it off as being a genre unsuited to Jason, Paula says something nice and Simon nails it by saying Jason looked like someone being forced to sing a song they didn't want to sing at the family wedding.
BROOKE WHITE -- Sang "You Must Love Me" from the film version of Evita. ALW zeroed in on my biggest complaint about Brooke: she doesn't pay attention to the words (singing "Every Breath You Take" like a standard love song instead of the stalker anthem it is, etc.) He said bluntly that she didn't have a clue as to what she's singing and then related the story and context of the tune to her, with Brooke looking very weepy as he spoke. She begins the tune and then stops after about four or five words to begin again. The rest of the tune sounds wildly over-deliberate, with Brooke oddly enunciating certain words, getting out of breath, pausing dramatically ("You must...love me! You must love...me!") Nervous and weird, it seems to take twice as long as all the other performances. Train wreck, really, and it ends with very tentative, uncertain applause from the usually robotically enthusiastic audience. Randy is very negative. Paula pauses a long time before speaking (never a good sign) and then says simply, "You must never start and stop." before giving a mixed critique. Simon is very negative and describes her as "tense." To her credit, Brooke didn't comment or talk back this time, maybe because it went so poorly her confidence was shot. Ryan asked her what happened and she answered simply that she'd forgotten the words. Ryan asked Simon what he would have done in that situation and Simon said, "I would have done exactly what she did," the only positive moment of the entire night for Brooke. Paula said again that you should never stop -- just fake the lyrics and sing whatever comes into your heart -- and Simon said you can't do that and Randy chimed in that Simon was right. Guess what? They're all correct. Simon is right that to deal with a crisis, stopping and starting over can be the wisest option. But Paula is right that you should never put yourself in that position in the first place and that it would be better to fake it for a line and keep on going. Paula is also talking from the point of view of an elaborate live show where everything is choreographed down to lights and fireworks and major set and costume changes. Once that baby gets rolling, you can't just stop and start over (especially if you're lip-syncing and doing major dance moves); you've got to keep moving whether it's an arena show or a Broadway musical.
DAVID ARCHULETA -- Sang "Think Of Me" from The Phantom of the Opera, the longest running show in Broadway history and one of the biggest (if not the biggest) hit musicals of all time (though The Lion King and that darn Mamma Mia are looking awfully scrappy, they have a LONG way to go to catch up with Phantom, which is still going strong 20 years after it opened). ALW said it was "written for a diva" and enjoyed David's take on the tune but had one salient bit of advice: open your eyes! I hadn't realized how often Archuleta does that, but he admitted it was a tendency he was trying to work on. Now, along with his lip-licking and breathing, we can watch out for David and his eyes. The whole segment began very annoyingly with Ryan Seacrest inviting girls up to hug him which was tacky, rude to the other contestants (stop treating him like he's already won) and unfair to David who quite rightly had no idea how to react -- he's not a plush doll, he's a singer getting ready to perform. Finally, when he did perform, I spent the entire song laughing about David's constant struggle not to close his eyes, a tic he clearly fought again and again. I was watching via Slingbox, which doesn't handle rewinding very well, so I saw the entire show in order without any repeating of musical numbers like I usually do. That said, he was solid and had a very strong ending. Randy raved, Paula raved and Simon said it was pleasant. That's about right. Not one of his best but far from weak. (By the way, I lose a bet with myself since I was CERTAIN David would sing "No Matter What" from Whistle Down The Wind.)
CARLY SMITHSON -- Sang "Jesus Christ Superstar" from the show of the same name. I've often thought it was interesting that ALW and Tim Rice did this show after having done Joseph and the Amazing Technicolor Dreamcoat. You think they might have been worried over being pigeonholed as people who write religious musicals. But they ended that talk with Evita, which is ALW's strongest musical as a whole, with the best book combining with some of his best music and lyrics (by Rice). ALW also earned his money by quickly rejecting Carly's first pick of "All I Ask Of You" from Phantom by saying she has a big chest voice (I noticed!) and needed a big dramatic song. Carly came out in a smashing, fun dress and belted it out with aplomb. My only complaint was on the chorus -- the background singers overwhelmed her a bit and since she was following them vocally, I thought she got lost in the mix. In the verses, she was very strong and had a big finish. Randy was positive, Paula said she especially like the chorus (just to annoy me, I think) and Simon seemed positive though since she was the fifth of six singers, saying it was one of his favorite performances of the night was awfully tepid.
DAVID COOK -- Sang "The Music Of The Night" from Phantom, right down to the vocal tics of Michael Crawford from the original cast album (at least in the beginning). ALW has buckets of money and Tony awards but not much critical respect. However, he can be guaranteed to pull out one or two ironclad melodies for every show he does -- tunes that you will remember forever, whether it's "I Don't Know How To Love Him" from Jesus Christ Superstar, "Don't Cry For Me, Argentina" from Evita (see, you can't even read those words without starting to hum it), "Memory" from Cats or this song from Phantom. Crawford's original vocals on this tune still get me all tingly. Cook -- who I was surprised to learn knows his way around a show tune and dug musicals -- simply knocked it out of the park with his most confident, assured vocal since reworking Lionel Richie's "Hello" and vaulting to the head of the pack. Is there any doubt he'll be in the finals with Archuleta? He hit that big note in the middle tremendously well and did a slightly rockish and effective key change at the end that let him wail away. It's a huge recovery from being so-so last week and a train wreck when he tackled Our Lady Peace's "Innocent" the week before. If I was at home and had this on my DVR, I would save the performance.
THE BOTTOM THREE -- So who is it going to be this week? Well, Syesha went first but I think she's going to squeak into the top three past Carly. I predict the bottom three will be Carly and Jason and Brooke. Jason and Brooke are clearly the bottom two. He was bland but she was an awkward disaster, so Brooke will be saying goodbye. Talk to me. Jesus was back on Idol but since no one substituted "Shepherd" for "Jesus" in "Jesus Christ Superstar," I think the non-Idol fans will remain away this time.
REAL LIFE. REAL NEWS. REAL VOICES.
Help us tell more of the stories that matter from voices that too often remain unheard.