Protesters shut down parts of an Alabama highway on Monday in response to the fatal police shooting of a young black man.
Led by Carlos Chaverst Jr., president of the activist organization Justice League, the demonstrators halted traffic along Highway 31 by the Riverchase Galleria mall in Birmingham, where an officer from the city of Hoover killed 21-year-old Emantic "EJ" Bradford Jr. on Thanksgiving night.
The group held signs reading "Black Lives Matter" and chanted "No justice, no peace, no racist police!"
They demanded that police release body camera footage of the shooting.
According to Hoover police, "body camera video and other available video has been turned over to the Alabama Law Enforcement Agency (ALEA) which is now investigating the shooting."
Authorities said it's up to ALEA to determine whether it would be appropriate to release any video. ALEA told the Telegraph Herald on Monday the results of the investigation will be turned over to the district attorney's office.
Police reportedly kept their distance from the protesters and prevented traffic on both ends from entering the highway.
"We all want answers and we believe with patience and focus the truth will be firmly established," Brocato said in a statement.
On Nov. 23, police retracted that statement, claiming that while the evidence suggested Bradford did not fire the bullets that injured the victims, he was seen with a firearm.
Bradford "was fleeing the shooting scene while brandishing a handgun, was engaged, shot and killed by a uniformed Hoover police officer," authorities said, adding that the shooter from the mall is still at large.
Hoover police released another statement on Monday in an attempt to clarify their earlier statement:
"We stated that Mr. Bradford 'brandished' a gun. To clarify, the word "brandish" was used because Mr. Bradford had a gun in his hand as police officers responded to the active shooter situation between mall patrons."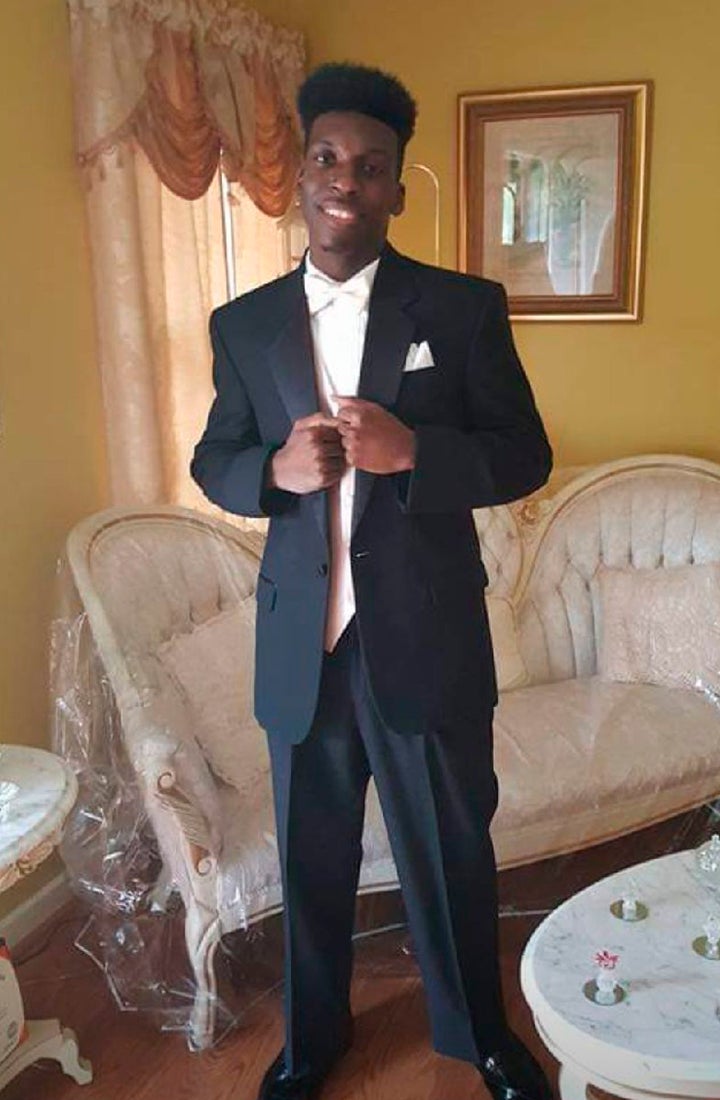 Bradford graduated from a Catholic high school in Birmingham and joined the U.S. Army in 2017. He was "administratively separated" in August, the Montgomery Advertiser reported. The reason for his separation is unclear.
At the time of his death, Bradford reportedly worked full-time and helped support his mother, according to his family.
Bradford's father, Emantic Fitzgerald Bradford Sr., who spent 25 years working as a correctional officer at the Birmingham Police Department jail, has said his son had a permit to carry a concealed handgun. Authorities have yet to comment on that claim, but the Riverchase Galleria's website notes that firearms and illegal weapons are prohibited on the property.
Civil rights attorney Ben Crump, who is representing the Bradford family, held a news conference on Sunday. He claims his firm has spoken with people who witnessed the shooting and said Bradford was trying to "wave people away from the shooting."
Crump further alleges the officer who shot Bradford did not make any verbal commands before pulling the trigger and failed to provide the young man with medical assistance.
"He saw a black man with a gun and he made his determination he must be a criminal," Crump told reporters. "They concluded their investigation while EJ was on the mall floor, bleeding out, dying."
Emantic Bradford Sr. told CBS News his son would have obeyed commands from the police.
"My son always respected the police and if you would have given a command when you came around that corner, say freeze, drop your weapon, he would have complied with your order," he said.
The officer who shot Emantic Bradford Jr. has been placed on administrative leave, pending the outcome of the investigation into the shooting. The officer's name has not been released.
"I just want everybody to understand this: Thanksgiving will never be the same for me because that's the last time I saw my son," the young man's mother, April Pipkins, said during Sunday's news conference. "My son was a loving, very loving young man. He would give any of you the shirt off his back. And that's true. He loved people, period. He was not a killer."
Authorities are asking anyone with information on the identity of the mall shooter to contact Crime Stoppers of Metro Alabama at 205-254-7777. Tipsters can remain anonymous.
Calling all HuffPost superfans!
Sign up for membership to become a founding member and help shape HuffPost's next chapter
BEFORE YOU GO
PHOTO GALLERY
Black Women Killed In Police Encounters