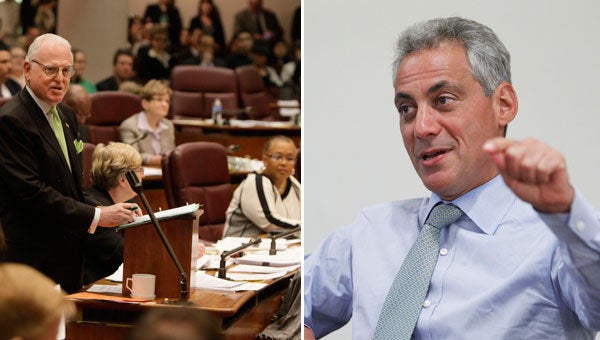 After hearing feedback from aldermen and residents, Chicago Mayor Rahm Emanuel announced Friday that he would make $10 million in changes to his proposed budget.
Emanuel received a letter from 28 aldermen earlier this week, urging him to reconsider cuts to libraries, health care, police and fire dispatch and graffiti removal budgets in their wards.
"In the campaign, I said we were going to form a new partnership between the fifth floor, the mayor and City Council, that that the voters did not want Council Wars, and they also did not want a council that would be a rubber stamp," Emanuel said Friday, according to the Chicago Tribune. "I think this speaks to that partnership I said I was going to do in the campaign. And that is a partnership that hears the aldermen, listens to their suggestions and ideas and then addresses them."
One compromise involves the cost of city stickers. Originally, Emanuel wanted to raise the city sticker fee by $15 on larger vehicles, and expand the pool of motorists forced to pay a $135 fee for "large passenger vehicles," which would have included mini-vans and SUVs, the Chicago Sun-Times reports. Now, everyone will pay more for their city sticker.
.. while passenger cars get a $10 annual bump from $75 to $85, SUVs city stickers will now cost $120 to $135, a $15 increase. As originally proposed, pickup trucks will still see a $20 increase from $180 to $200 and larger trucks will have a $30 increase making those city stickers $450 this coming June.

Emanuel's original plan would have brought in an additional $14 million from the increased fees for SUVs. The Mayor's office believes these across the board city sticker increases will still reach that $14 million goal.
Another budget sore spot was Emanuel's proposed cuts to libraries. On Monday, a group of librarians, moms and library supporters protested City Hall over the mayor's proposed $10 million reduction in funding for the city's library system. The cuts would have forced libraries to be closed Monday and Friday mornings and led to 284 layoffs, including the entire team of pages who are tasked with shelving books. Emanuel said Friday that he would restore $3.3 million in library funding, which would save 100 jobs, the Chicago Tribune reports. It would also allow libraries to stay open six full days a week during the summer and when children are on winter vacations.
Emanuel also agreed to restore $1 million in lot cleaning, weed cutting and graffiti removal services, NBC Chicago reports. He also said he would extend a discount on water service fees for some churches, universities and non-profit organizations.
Aldermen told the Sun-Times Emanuel's compromise was "a start," but some hoped for more.
"Three million is a lot for libraries, but it doesn't cover everything and the mental health clinics are still important. If we can find other sources of revenue, maybe we can stave off some of these other cuts," Ald. Scott Waguespack (32nd), told the paper.
Emanuel will formally introduce the budget amendments Monday.

Popular in the Community