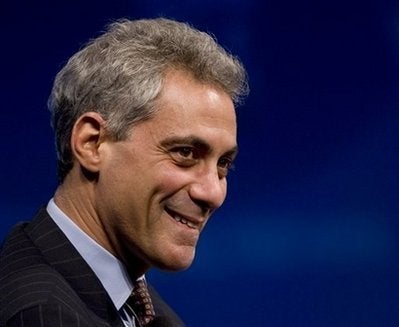 With the Obama transition team set to release an internal report regarding the extent of its interactions with embattled governor Rod Blagojevich, one of the key figures in the mix is heading out of the country.
Incoming White House chief of staff Rahm Emanuel left on Tuesday for a "long planned family vacation in Africa," a transition official confirmed to the Huffington Post.
The internal review by the Obama team is expected to clear Emanuel of any impropriety regarding the Blagojevich scandal, and Emanuel's departure suggests he feels comfortable enough to be out of the country (and not doing damage control) on the day the report drops. Obama, meanwhile, is vacationing in Hawaii -- another indication that the president-elect's team is not exactly sweating out the matter.
Already reports have surfaced that Emanuel talked only a handful of times to the Illinois governor and his chief of staff, mostly about who would replace Emanuel in the House of Representatives. Never, these reports suggest, did the two have a conservation that could implicate Obama in the pay-to-play scheme that Blagojevich was allegedly pursuing to choose Obama's Senate replacement.
The Obama transition's internal report is set to be released Tuesday at 4:30 pm.
Emanuel's choice of destination is also noteworthy. Transition officials did not specify where in Africa he went, though another source said the family would be going on a safari. Nevertheless, it's an interesting choice for a holiday vacation. Certainly it is not beyond the realm of reason to see this trip having minor geopolitical ripples given Obama's renowned status on the continent.
Popular in the Community