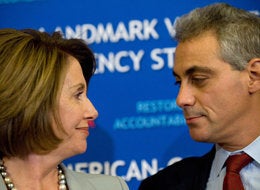 Rahm Emanuel ventured to the Capitol Friday evening to hash out health care strategy with House Speaker Nancy Pelosi (D-Calif.), a White House aide confirmed.
The meeting comes as Democrats are searching for a way to get to the health care finish line, though neither chamber wants to move first. Senate leaders want the House to pass the Senate bill first, after which the Senate would use reconciliation to fix the legislation to the liking of the Senate. House leaders contend that the votes aren't there for the Senate bill if the upper chamber doesn't move. The House, after two centuries of watching the Senate lag behind, doesn't trust that it'll act.
Senior Hill aides speculated to HuffPost that Emanuel, the White House chief of staff, would bring the message that the House must move first, with a pledge from Senate Democrats that they would follow. It's hard to make amendments to a law through reconciliation if that law hasn't been made official yet, they argue.
Pelosi's office wouldn't confirm that the meeting, which was still ongoing as of the early evening, was taking place or comment on what Pelosi's reaction might be. A White House aide said he was unsure what message Emanuel would deliver.
The meeting comes after Pelosi got under the skin of Senate Democrats on Wednesday by making a veiled challenge at a press conference. "We can't say to [the American people], at the end of the day, well, we had an idea, we had a vision, we had a majority, but the process did not allow us to make a change for your lives," she said. "We need to have the courage to get the job done, and I think we will. And I think today took us a step closer to passing health care."
Popular in the Community