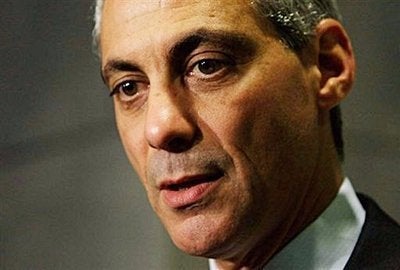 Rahm Emanuel's boss in the Clinton White House praised his selection as Barack Obama's chief of staff, saying the congressman was enough of a son-of-a-bitch to get things done, keep the White House disciplined, and make tough decisions.
"He was just very well organized," said Leon Panetta, Bill Clinton's former chief of staff and Emanuel's ex-boss. "He knows the White House inside and out and now, obviously knows Capitol Hill. So he has all the qualities you basically need to be a great chief of staff. Part of the job description is you have to be an SOB to be a chief of staff, you have to have somebody who makes the tough decisions... There are decisions the president ought not to make that the chief of staff has to. My sense is Rahm will do that."
Panetta, speaking at a forum at the Brookings Institute, dismissed the notion that Emanuel was too partisan a figure to forge political consensus on policy proposals. But his defense could have the counterproductive effect of stirring the concerns of progressive Democrats who have accused Emanuel of lacking ideal ideological firmness.
"Of course he is going to be partisan on Capitol Hill," said Panetta. "Rahm Emanuel is basically a centrist. He is someone who really does understand where the party needs to be in dealing with the center. And to that extent I think he will be a very good chief of staff for the senator."
Fellow speaker Ken Duberstein, who served as chief of staff for Ronald Reagan, echoed many of Panetta's points. Arguing, again, that Emanuel had passed the SOB threshold, he added that the Congressman was "exceptionally well qualified for the job."
"He will run a White House staff that is very disciplined," said Duberstein, "but his challenge will be with the president's outreach and building coalitions on the Hill, saying no to the president elect's most important constituencies and keeping the White House on a schedule."
Then, stepping a bit on GOP messaging against Emanuel, Duberstein offered the following testimonial: "As partisan as Rahm may have been on the Hill, he is all about governing. And remember, any time Rahm opens up his mouth, know the voice they will be hearing is the voice of the president elect, not Rahm."
Popular in the Community