D.C. has lots of embassies, and lots of embassies host cultural events that showcase arts and culture from their countries. The thing is, whenever I go to any of these events, they are filled with people who are from those respective countries. Don't get me wrong! I love meeting people from other countries. I seek them out. But I think embassies produce this kind of programming because they want to share their culture with Americans. Cultural diplomacy at its best! I'll highlight a few cultural programs I know about right now and I encourage you to check these out. Many embassies have mailing lists, which is a great way to learn about future programs. No passport required.
Next week, the Embassy of Finland will open an exhibit of Photographer Miina Savolainen's beautiful award-winning images portraying the coming-of-age passages of ten girls growing up in a children's home. Taken in the remote corners of Finland, the images show natural beauty in all its forms. The photographs and the act of taking them also act as art therapy, telling the girls and the viewer, "Everyone is entitled to feel precious and loved."
The Loveliest Girl in the World, October 21 - November 13, Friday to Sunday from 11am to 4pm. Free entrance. Embassy of Finland, 3301 Massachusetts Ave NW. More information: (202) 298-5822.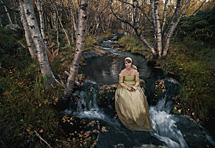 Visit the Mexican Cultural Institute for its beautiful architecture and design. And while you're there, check out the terrific cultural programming, too! The next exhibition will feature D.C.-based Muriel Hasbun and Mexican artist Pablo Ortiz Monasterio in a photography collaboration called Conversación. The show explores cultural exchange in the digital age and what it means to collaborate under risky and uncertain circumstances.
Conversación, Opens November 10, Gallery Hours: 10:00 am - 6:00 pm Monday to Friday | 12:00 - 4:00 pm Saturday. Free admission. Mexican Cultural Institute, 2829 16th St NW.
The Dutch Ambassador Renée Jones-Bos recently hosted Microcosm, an exhibit of works made by ten Aruban contemporary artists, in her residence over the past month. Curated by Laura Roulet, Gijs Stork, and Renwick Heronimo (American, Dutch, and Aruban contemporary art experts), Microcosm is the first phase of an initiative to create a platform for using contemporary art as a medium to create awareness and dialogue among these regions. Although this exhibit has closed, more interesting programming is coming and I'm excited to see what's next.
The "Microcosm" exhibition has been extended. Tours will be led by curator Renwick Heronimo on Friday, Oct. 21, 2011, and Friday, Oct. 28, 2011, at 10:30 am. The residence is located at 2347 S Street NW. You must RSVP to attend. Phone: (202) 368-1863, or email: heronimus@verizon.net.
Related
Popular in the Community