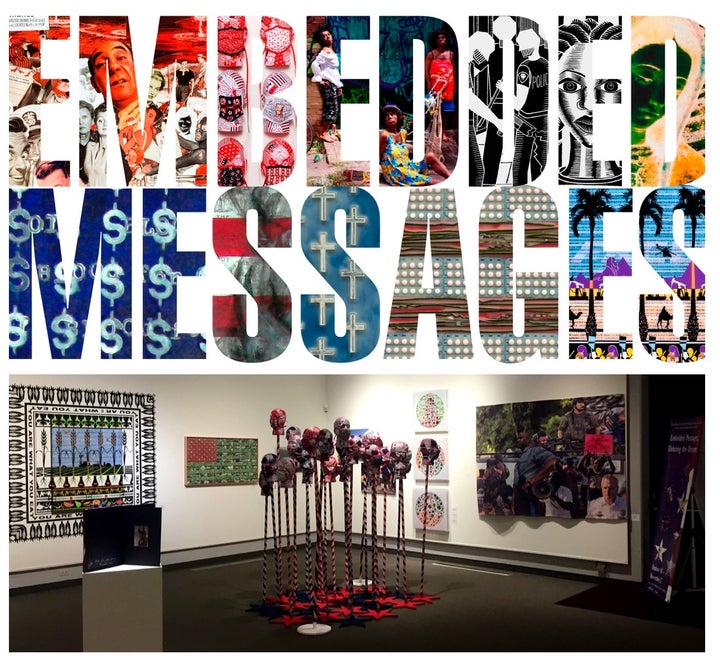 In a damning touch of irony, the art exhibition seemingly ripped from the headlines, has actually been in the works for over three years. Embedded Messages, Debating the Dream, highlights the intersection of social injustice and the mythos of the "American Dream". The original intent sought to engage a conversation to draw people out of a general denial that the American Dream is available to all. However, in this new political landscape, many of the underlying issues have risen to the surface in a way that could not have been imagined even a year ago.
Curator, Karen Gutfreund states, "With today's complicated and polarized sociopolitical climate, this exhibition is both a reflection and a statement about current issues and events. The eight women artists in this exhibition have dedicated their practice to "art as activism", so while the topics presented are not new, they respond to an increased urgency to address what is happening in our country. It is needed now more than ever. Art can have a major role and responsibility in encouraging transformational thinking, to move us in positive directions and to communicate visions that transcend language and cultural barriers. Successful socio-political art, strong in message, will stimulate dialog and encourage action for positive change. We've got a long, hard fight ahead of us."
Embedded Messages speaks to a broad range of issues. The topics include racism, sexism, sexuality, gender identity, immigration, poverty, the environment, criminal justice and war. Under the overarching umbrella of social justice, the viewer is invited to look beneath the image for connections, meaning and asked to be open to gaining a broader perspective.
These artists put forth a vision for a better society, however, their work reminds us that nothing can be fixed until the problems are identified; a metaphorical looking at cultural issues which have been swept under the rug for many years. This is made clear in the exhibition prospectus, The works speak volumes and question the traditional boundaries and hierarchies of culture as represented by those in power. Although each artist's specific approach and goals are distinct, their works, especially experienced together, invite conversations that will appeal to a wide range of audiences. Viewers will become participants as they explore the embedded messages that stimulate critical thinking and open their pathway to potential answers and solutions.
Embedded Messages opens in Chicago at The Art Center in Highland Park, IL, March 3 - April 3, 2017. This is the second presentation of this work as the exhibition was first presented at the University of Redlands in California. It is the hope of the curator that this exhibition will be invited to be shown in other parts of the country over the coming years.
For more information contact: Karen Gutfreund, karengutfreundart@gmail.com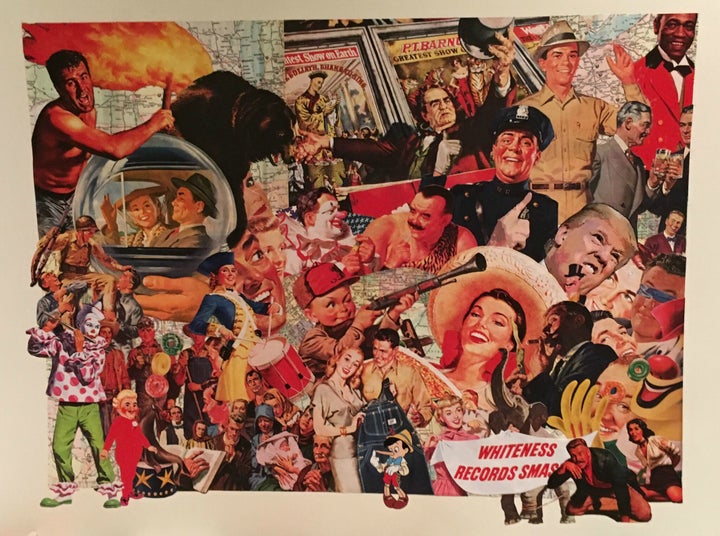 New York artist, Sally Edelstein is a collage artist whose use of iconic mid-century imagery seeks to deconstruct the mythology of the optimistic post WWII years contrasting that "once upon a time" American Dream with the present reality.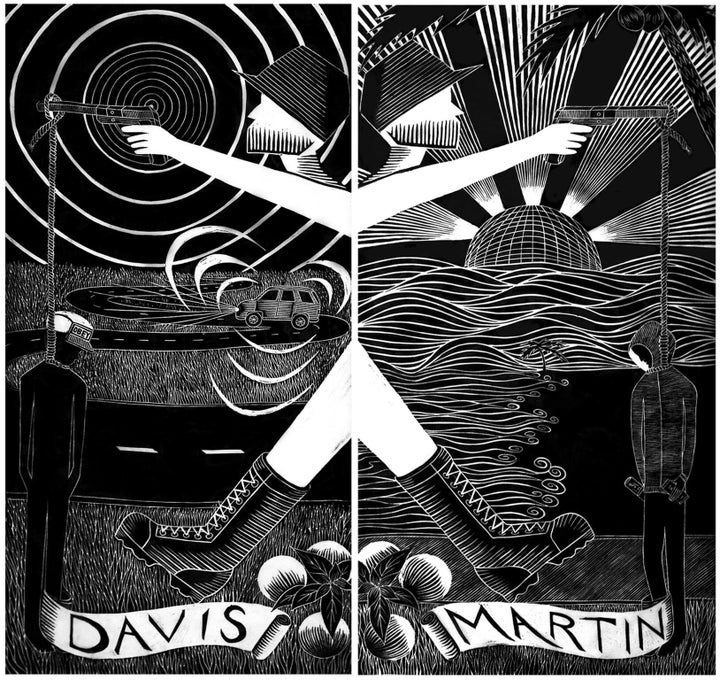 Washington DC artist, Justyne Fischer's recent work focuses on criminal justice reform in the light of the deaths of several young black men such as Trayvon Martin, Eric Garner and Tamir Rice. Her work exposes difficult topics in strong black and white images.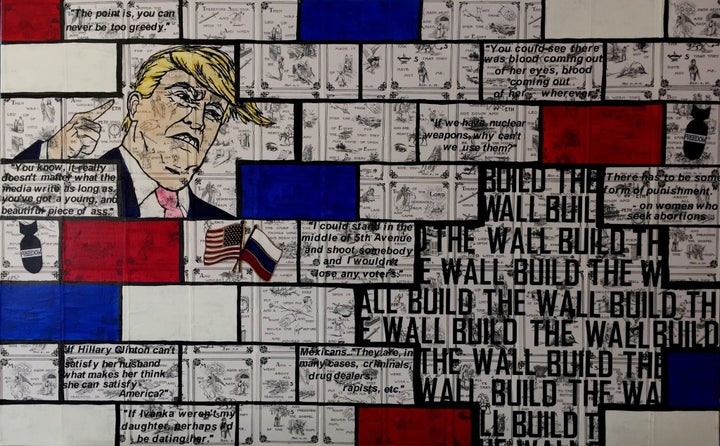 Bay Area artist, Karen Gutfreund's mixed media pieces combining image, stencils, text, religious and pop culture symbols speak to the past, present and perhaps future wars over oil and natural resources. She challenges the seat of power, whether religious or secular, and its consequences are presented in a series of complex layering of images and text.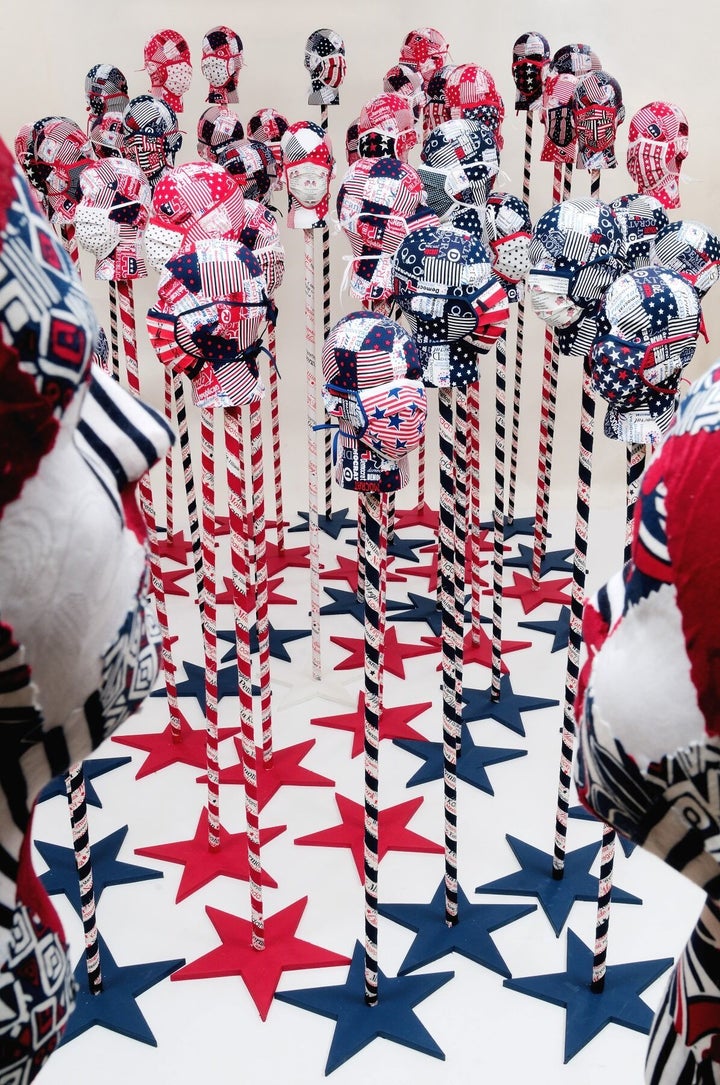 Pittsburgh artist, Penny Mateer's inspiration is found in the rich history of quilting and decorative needle arts. She manipulates pattern and combines graphic commercial fabric in unique ways as a platform to explore current hot-button issues. Recently, she has incorporated newspapers into her collages as a means of questioning the impact of digital delivery of the news.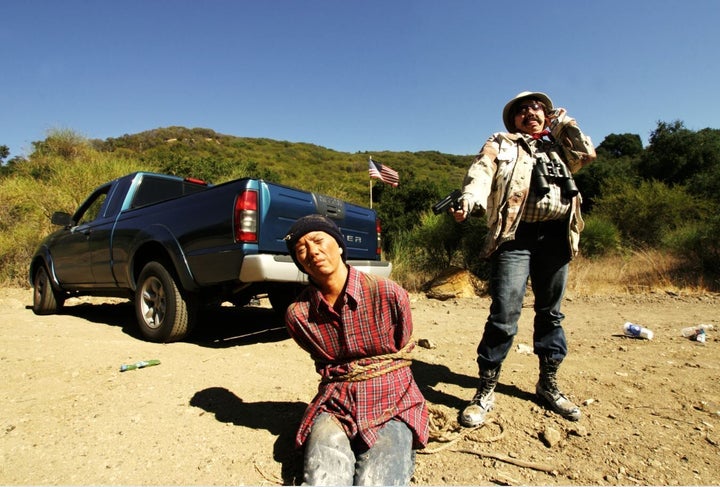 Los Angeles based artist Sinan Revell is known for political self-portraits, the DoppelgANGER series combining photography and mixed media. The portraits express the belief that we can no longer be ignorant of our global connectiveness. Staged dioramas hint at humanity's darker side.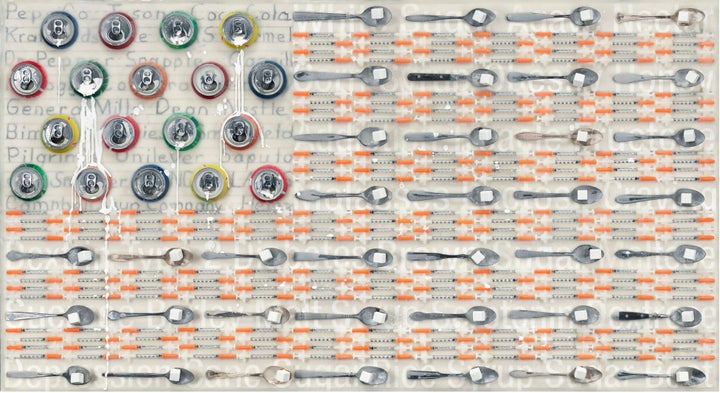 California artist, Debra Thompson's most recent socio-political based assemblage series, Visual Discourse, uses the imagery of the American flag to incorporate ordinary objects and text to address a variety of social justice issues such as women's reproductive rights, gun violence, racial tensions, sexual assault, and financial greed.

California artist, Linda Vallejo grapples with the place of race, class and color in society with her Make 'em All Mexican series. Using her own Mexican-American Chicano perspective and multicultural experience, her work reimagines an inclusive America.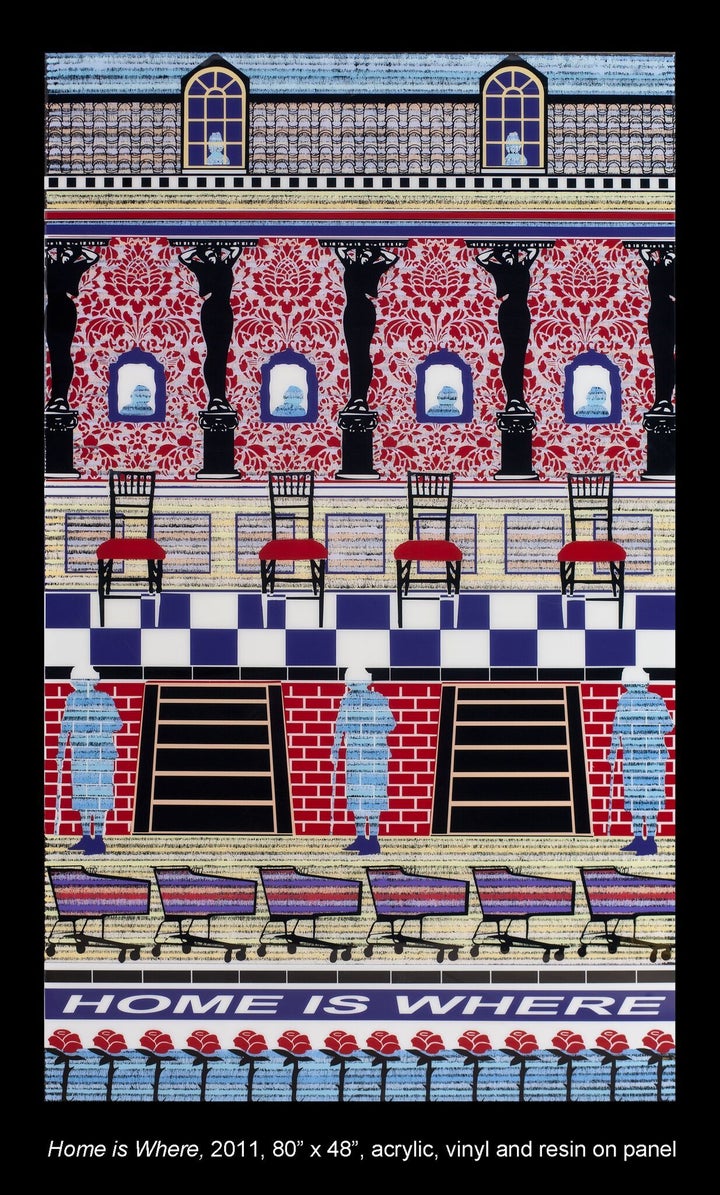 Detroit artist, Margi Weir creates tapestry like, spatially flat compositions reminiscent of figurative patterns found in ancient Egypt and Greece. A closer look reveals a deeper narrative that invites a discussion about sociopolitical realities of the contemporary world that surrounds us. Meaning is implied by the juxtaposition of images--conclusions are left to the viewer.
Support HuffPost
The Stakes Have Never Been Higher
Related
Popular in the Community