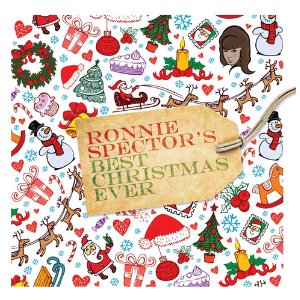 A Christmas-y Conversation with Ronnie Spector
Mike Ragogna: Hello again, Ronnie.
Ronnie Spector: Hey Michael, Merry Christmas!
MR: Merry Christmas to you! I'm also looking forward to Thanksgiving, but it's always like Christmas when you call, Ronnie. (laughs)
RS: Thank you, Michael. I have such a thing for Christmas--I guess that's why for the last thirteen years, they've been calling me "Mrs. Claus." I love my songs and I love my new Christmas songs. I have just LOVED Christmas since I was a little girl on Santa's lap at Macy's.
MR: You've got a new album, Best Christmas Ever. Ronnie, what are your memories of Christmas growing up?
RS: Well, my mother was a waitress and she was just getting off of work, and I was one of those little kids that had to know everything because I was a very inquisitive kid. I loved Santa. One of my friends from school had told me that they sat on his lap, and I was devastated. I told my mom, "I've got to sit on Santa's lap, that's the only way I'm going to feel like it's really Christmas." I was about six or seven then, and I've loved Christmas to this day. I have to have my Christmas tree up and everything.
MR: I think everybody is very familiar with The Ronettes' "Sleigh Ride" and "Frosty The Snowman," and it's really nice to have another collection with your lovely voice gracing the tracks.
RS: (laughs) I'm just thrilled that I finally got to do more Christmas songs.
MR: Tell me a little bit about the making of this record. Since you love Christmas so much, this must have been a blast.
RS: Well, we met a guy by the name of Bobby Eli. As you know, I did all my Christmas songs with Phil Spector, but with Bobby Eli it was completely different. Bobby produced people like The Chi-Lites and most of the great groups of that genre, and then he hadn't done anything for a long time. My manager met him at one of the shows we were doing on PBS and asked him, "Would you like to produce Ronnie Spector?" and he said, "Would I like to? No, I'd LOVE to produce Ronnie." So, I went to Philly this summer when it was like ninety-five degrees every day, and I made the record at Studio E. It was so hot that Bobby Eli had to put the air conditioning on the coldest setting ever, and then he had a Christmas tree--you know, one of those Christmas trees that are not real? He put the tree up, put a wreath up, and he just did everything he could to make it cold and Christmas-y in there, and I sang and sang until I couldn't sing anymore!
MR: How did you choose the songs?
RS: Well, I had the one by Franky Lymon in there--I guess everybody knows that he was my inspiration. As a matter of fact, I learned how to sing by listening to his voice and his records. My parents couldn't afford to send me to a music school or get piano lessons, so I don't know how to play an instrument. But when I met up with Phil, he said, "Your voice is your instrument."
MR: Yeah, there are some singers, and you're certainly one of them, who you just want to leave alone and let them sing.
RS: Yeah, and that's exactly what I did then, and that's what I do now.
MR: We touched on it a little, but what are you memories of Christmas in New York in the late '50s and early '60s?
RS: Firstly, my father would take us to Radio City Music Hall where we'd watch all the skaters. We were up above with the skaters down below. Then, we'd go to Macy's, of course, and I sat on Santa's lap. I loved everything at Christmas time. I especially loved the people because people were so much nicer at Christmas time--the doorman, the grocery guy--everybody was just nicer at Christmas, and I noticed that as I was growing older and older. People wait until about this time of year and then they start getting nice--door men, grocery store workers--then, by the time you get to Christmas you know you have to give them a big tip. (laughs)
RS: But they have kids too, so I understand all that. Those people also have kids and stuff at home.
MR: To this day, I love going back to New York for Christmas because it's a whole different vibe there than anywhere else.
RS: Not only that, but it's only once a year. So, I get to sing all of my Christmas songs within about fifteen days. (laughs)
RS: One of the songs on this album says that Christmas should be every day of the year. I say that because I've just always loved Christmas and I light up too. I think the audiences have followed me all these years because they say, "We're going to see Ronnie, the Christmas girl. If no one else can make us smile, she will."
MR: Nice. Now, of course you know that Beach Boy Brian Wilson is known to have said that "Be My Baby" is his favorite recording ever.
MR: Now, you've had so many great songs over the years--and I don't know if it's even fair to ask you this question--but can you pick a favorite?
RS: Oh, that's a horrible question.
MR: (laughs) Okay, that's fair. Is there a Christmas song or two that you enjoy singing today more than the others?
RS: "Sleigh Ride" from the old stuff, and I love "A Christmas Voice" from my new stuff.
MR: And you love performing.
RS: I love singing everything. I don't think I could survive if I didn't go on stage, and that's why I make records--so I can go on stage and perform them.
MR: For the one or two people on the planet who don't know, can you give us the origin of The Ronettes?
RS: Well, first of all, my mother had six sisters and seven brothers, so I had twenty-three first cousins. We'd all meet at my grandmother's house on Sunday, especially at Christmas, and there was so much excitement--there was food, gifts, and a big tall tree. There were five Ronettes at the beginning, but Elaine and Diane's mothers did not want them singing rock 'n' roll. So, they were dismissed and that's how it ended up being three Ronettes. At my grandmother's house, because it was one of those quiet, pre-war buildings with eight or nine rooms, we'd go in one of the rooms in front of the mirror and do our own routines. We never had a choreographer. And we'd figure out how to do our hair so we'd be different from the other girl groups.
We weren't better than the other girl groups, we were just different, and that's why we stood out. I'm half Cherokee Indian and black, and my father is Irish, and my cousin Nedra's father was Spanish. Our mothers were sisters, so that's how we had that similar look, and that's how we got together. We put the tight dresses on and my aunt would sew them--we didn't have much money growing up, but we sure had fun. If I were rich back then, I probably wouldn't have had as much fun.
I remember sitting on the stoop or the roof because my grandmother was one of those strict grandmothers and we couldn't go out--we could go onto the stoop or on the roof, but we couldn't pass the stoop where she could see us out the window. My sister had gone to The Fashion School Of Technology about six months before we had our big record, so she new the styles, but I just knew the street look. I'd look out the window and see the different styles of the black girls, who were so cool, and the Spanish girls with their tight dresses on, and I said, "That's what I want to look like," because they had that look of the street plus the dressier look of the Spanish girls. And that's how we became The Ronettes.
MR: That's a great story, thank you for sharing that with us.
MR: I brought this up when I interviewed you for those PBS shows in Pittsburgh, but I did want to bring up the late Ellie Greenwich again who wrote a few of your great songs.
RS: I know, I love Ellie so much. I went to her funeral and I was just so sad for a while. She was the only person from the '60s who stayed with me through the '70s, '80', and the '90s. I got to do David Letterman again because of her. After she died, they asked me to be on the show, and I'm going to do it again on December 15th.
MR: Thanks for letting us know that. So, you've been mentioned in a book recently by a certain Mr. Keith Richards.
RS: Oh yeah. (laughs) You know, we've had a love affair for like forty years, Keith and I. He lives about fifteen minutes from me here in Connecticut, so I see him all the time. We wrote a record together, "A Love Affair," and when he sent me his book, that's what he wrote on it--"It's a love affair." I told him that it was too bad that I didn't marry him because that would have worked out better for me.
RS: Our kids would have had amazing hair, you know? I have this black, thick hair and so does he. I said, "Keith, we would have had great looking kids with great hair." It would have been a much better position because Phil was a producer, and Keith was like me, a performer, and we love getting out there. When I married Phil I just assumed I was going to continue my career, but I never sang again on stage--only in the studio. I'd get upset or look depressed, and he'd take me into the studio. I did a record with Toni Wine, "You Came, You Saw, You Conquered," and he never put it out. He would only take me to the studio when I looked depressed or was angry with him. He took me to the studio, but I wanted to go to the studio so I could perform. The studio means nothing if you can't take it all out to the people.
MR: So, you've had so many great relationships over the years--you were tight with The Stones, of course, but you were also close with Jimi Hendrix, The Beatles, Cher, Patti Smith...
RS: ...The Rolling Stones, Eric Clapton--I knew those people before they were famous. When The Beatles were playing at The Cavern, I got to see them, and with The Rolling Stones, we were the headliners and they were our opening act and so was Eric Clapton. All of that changed once I married Phil. I didn't even go on The Beatle's tour, and they were pissed. Phil said, "You can't go. I have a great record that is going to be bigger than 'I Want To Hold Your Hand.'" I'll never forget that. I never really recorded much after I married him, and I never went on stage again for seven years. I was becoming very depressed. But I love kids, so I have three adopted children and I have biological children too. I thought he was being nice to me, and not telling me that the doctor said I couldn't have babies, but obviously that wasn't true.
MR: Ronnie, what are you plans for this upcoming Christmas?
RS: I'm doing shows! (laughs) One of my sons still lives at home because he's a little younger, and I told him, "Don't forget to get the tree out of the attic." I start now, decorating, and I go out to get the peppermint sticks to put on the tree. I'm just a Christmas fool, I love it that much, and I've loved it all my life. I can't help it because I started at such a young age with leaving the cookies and milk out.
MR: I bet here comes another Christmas story!
RS: One thing I told my dad is, "How come I look at all these pictures of Santa coming down the chimney with these black boots on? We don't have a chimney!" My dad said, "In our neighborhood," because we lived in Spanish Harlem, "he comes down the fire escape." I was so happy. I'll never forget it--I ran to my room, put the covers over my head, and fell fast asleep, because I knew Santa was really coming.
MR: Ronnie, I just have one more question for you. What is your advice for new artists?
RS: Read the fine print. (laughs)
RD: You know what it is with new artists? You're so anxious to get on, get out in front of that audience, and sing for people that you really don't look at your contracts and all the fine print--you really don't. That's the only advice that I have, and I'll say it until I drop dead because people are young, want to be on stage, want a hit record, and they don't think about the fine print. You know why I didn't? The Ronettes were so popular, and we made so much money that I never thought about it coming from the record company. I thought it was my personal appearances that would make me thousands, and it did.
MR: I love you Ronnie, thanks so much for sharing some time again with me.
RS: And I love you too, Michael. I do. Am I going to see you at any point with Christmas coming up?
MR: I'm coming to New York 'cause rumor has it I might be singing the national anthem at a New Jersey Devils game.
RS: Oh, will you be able to come see a show?
MR: I'm so there. Thank you so much for everything. Have the best Christmas ever, Ronnie. This has been a blast.
RS: Thank you, Michael. It has been for me too.
Tracks:
1. My Christmas Wish
2. It's The Time (Happy Holidays)
3. Light One Candle
4. Best Christmas Ever
5. It's Christmas Once Again
(transcribed by Ryan Gaffney)
Popular in the Community