So... what are you and your honey going to watch for Valentine's Day? The Hurt Locker? Inglourious Basterds? As if!
Here, allow me to offer a suggestion: Get something chilled and bubbly, two TV dinners, and the brilliant comedy-romance Better Off Dead. You will grin, you will cackle, you will feel all warm and tingly like it's a first date, and you may even thank me -- for helping to revive this largely unheralded gem of totally-'80s radness.
Why do I have the authority to advise you thusly? That's simple: I'm a cineaste who came of age right alongside this movie. It's a part of my soul.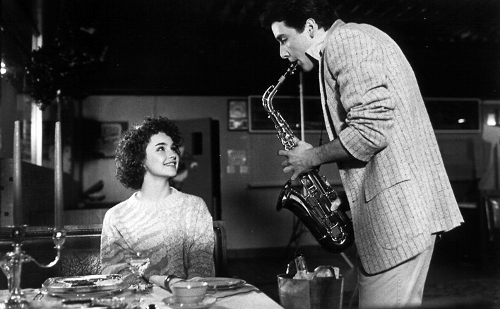 This is how you do it. Diane Franklin and John Cusack in Better Off Dead.
What makes Better Off Dead fresh, topical, sparkling anew? Well, for one, this year marks the timeless time-capsule's 25th anniversary (and if you have kids, you know that they too love the '80s). For another, with a packed house of extremely enthusiastic fans, I recently attended the American Cinematheque's screening of Better Off Dead with raucous live commentary -- featuring writer-director Savage Steve Holland (Legally Blondes), spunky Elizabeth Daily (Happy Feet and now Happy Feet 2!), hilarious Curtis Armstrong (Ahmet Ertegun in Ray), and the luminous Diane Franklin -- who plays the film's French foreign exchange student, Monique Junet, and whose birthday happens to be today.
Now, not to worry. I totally get that Franklin, while supernaturally adorable, has become an adult with a life and family, and more power to her. And nonetheless here's an appreciative Gen-Xer sending a totally indulgent birthday wish and benign Valentine to a girl so iconic in his teen years that she became emblematic of everything sweet, saucy, French and wonderful -- all the way through Amélie and beyond.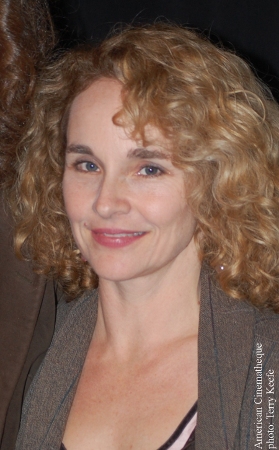 "A delightful girl with a firm grip."
A salute to Diane Franklin: Joyeux anniversaire! Bon travail! Bonne chance avec tout!
As for the film itself, there is an indefinable magic to Better Off Dead -- something about which its fans would be happy to gush all night long (and they did). For a movie allegedly about heartbreak and suicide, there's an innocence and playfulness here you simply won't find in today's crop of comedies. (When this was made, terms like "Grunge" and "Gangsta" were meaningless.) Especially in the wake of losing our generation's chief iconographer, John Hughes, last year, Holland's Better Off Dead -- with its still-kicking makers -- feels all the more beautiful and (relatively speaking) relevant: For with its mélange of unlikely elements (among them an Asian "Howard Cosell," freaky animated food, malevolent paperboys, bewildering California geography, and a sweetly synthy score), somehow Better Off Dead ups the ante on deservedly cherished '80s classics like Sixteen Candles and Ferris Bueller's Day Off. Dream and reality merge seamlessly in Savage Steve's world -- and I can tell you from experience that Better Off Dead very accurately depicts how a young, imaginative, hopelessly naive fellow's psyche really feels.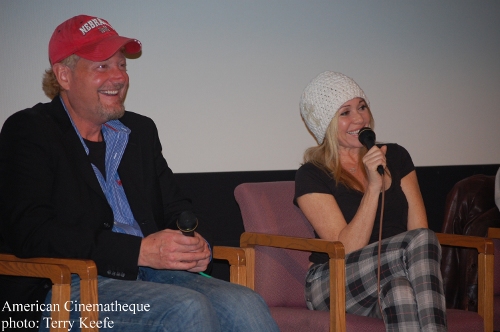 Savage Steve Holland and Elizabeth Daily.
You elders had your Rebel Without a Cause, you Boomers your Easy Rider. Welcome to the dawning of Gen-X nostalgia. With no slight intended to ol' Ferris, Better Off Dead's Lane Myer (John Cusack) is our guy. And the sheer surprise of his determined Gallic gal (Franklin) -- that's the dream into action, baby. I don't even like baseball or cars (via which they bond), and yet these two characters feel like heaven on earth.
Did Huffington Post pundit and sometime movie star Cusack show up for the commentary? Alas, he did not. I've met him a couple of times professionally, and he's been quite nice, so no smack about him will be spoken. But he wasn't there.
The glory of the Better Off Dead evening came from the outpouring of laughter and love in the house -- a bunch of strangers who converged and "got it." Like The Rocky Horror Picture Show a decade before it, this is a movie which engages its audience and gets them roaring. While ostensibly a mere "teen comedy," it breaks rules, it defies physics, and it nails its suburban-American archetypes so squarely that you laugh until you shake. (Paramount, or whoever, please note: We need a Special Edition disc with all the bells and whistles!) Also, from the live commentary we gleaned practical information, for instance: that Daily struggled to stay on the slippery plexiglas stage in heels during her awesome New Wave musical numbers; that Armstrong's top-hat and coat on the ski slopes were inspired by George Harrison from Help!; and that Savage Steve once got himself fired from McDonald's by swapping out their Employee of the Month picture with a photo of himself taking a break from flipping burgers to flip everybody the bird.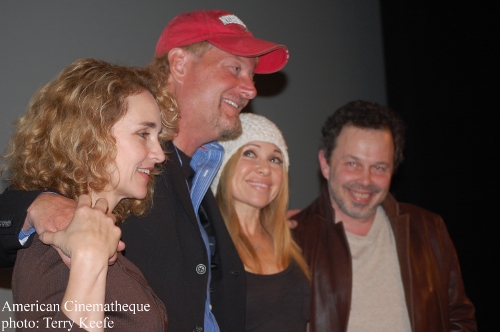 Diane Franklin, Savage Steve Holland, Elizabeth Daily and Curtis Armstrong.
A quarter century has been kind to these folks -- and to put this in modern parlance: They're hella fun. Afterward, Franklin graciously posed with a seemingly endless queue of fanboys and fangirls, donning her hip baggy coat from the film, or letting them wear it. I've been to thousands of movies and hundreds of events, and yet this one stands among the most enjoyable. It was a party and a love-fest.
Quoth Diane Franklin, "To me, the best films are the word-of-mouth films. And sitting here today just proves that word-of-mouth kept on going and going. This is a very special movie."
Indeed it is, birthday woman! Thanks to all of you. Now I'm going to allow Howard Jones to run through my head all weekend long.

REAL LIFE. REAL NEWS. REAL VOICES.
Help us tell more of the stories that matter from voices that too often remain unheard.