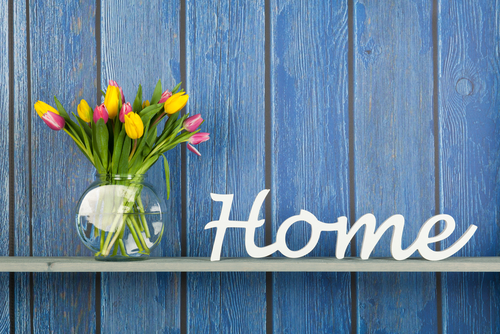 Spring is right around the corner, knocking at our doors and peeping through our windows. And it's high time we invited it inside. If you've got the itch to make a spring design switch, there are many fun and flirtatious means by which to bring in the brightness of this beautiful season and let spring shine through. Here are a few ways to snag some spring elements and put them to work for a fresh new spin on your home design.
Spring Cleaning
We all get the bug around this time of year, when we've decided to be out with the old, and in with the new. Before you begin to revamp your home décor, pick up that broom, grab a box, and start decluttering those wintery wares from your home. Get rid of old clothes, last year's toys, and anything else that you've forgotten you had or that you haven't seen in a long while. The chances are good that if you haven't used it in over a year, you won't miss it when it's gone. And spring cleaning is a great way to make room for new colors, new patterns, and the fresh new look of spring. If you have quite a heap of old stuff to offhand, think about holding a yard sale to help you unload. Not only will you declutter your house, but you'll earn extra money that you can put towards energizing your décor.
Liven Up the Living room
The overall style of your home can often be seen in design elements found within your living room. If you're looking to bring in spring, invite in some brighter colors first and foremost. Orange and yellow accents, a coffee table bowl full of citrus fruits, and brightly colored throw pillows can help spice up your space and provide that pop that reminds you that this season is the time to cultivate new chances for cheer. If your common areas are feeling a little dark, take a look at your window treatments. Replace thick panels with sheer options or those in festive colors such as sunshine yellow or robin's egg blue. Just a quick swap in curtain color can work wonders for the overall atmosphere of your living room. Lampshades and candles offer other easy places to trade out one style for another and change up the overall ambience of an area.
Add Accoutrements
Nothing says spring like fresh cut flowers in vibrant vases. Choose springtime colored vases such as sunny yellows and pastel pinks or blues to give each room a pop of spring. Bring in bouquets of spring blossoms such as tulips, daffodils, pansies, irises, crocuses, and anything else sprouting up in support of the new season. Create green centerpieces and bring as much life into your home as possible. In addition to bouquets, add potted plants to tables and windowsills to provide your home with some long-term floral features. And flowers aren't the only things that scream spring. String lights around patios and bring out those beautiful candles. Spring is a great time to start dusting off those old outdoor areas and fashioning them up as the perfect place to relax on warm afternoons.
Reinvigorate with Patterns and Paint
Adding a touch of pattern here and there can help you embrace this yearly event that represents growth and new life. Use floral patterns on tablecloths, headboards, and even shower curtains to help spread the concept of new life throughout your home. If you have wallpapered rooms, try peel-and-stick options and create a virtual vertical garden in your dining room or reading nook. Or brighten up your painted walls with a light new color that reminds you of a fresh spring morning or budding flowers. If large changes are too much to take on, find a simple accent wall to paint instead and offer a subtle adjustment to your home's color palette. If you want to get creative, use a wall stencil to help you paint with pizzazz and add dandelion puffs or spring scenes to those boring interior walls.
If you're the more non-committal type, consider wall decals. These can be purchased at very reasonable prices, and can be placed on walls and then easily removed later.
Brighten Up the Kitchen
The kitchen is one of the easiest places to update your décor for spring. Set out new flowers and spring-scented centerpieces, put out that bowl of fresh seasonal fruits, add in some potpourri, and update your kitchen linens with pastel ginghams or flowery prints that bring in the semblance of spring. Dish towels, tablecloths, kitchen rugs, aprons, and even sponges can all be easily upgraded to spring colors and patterns. You can even paint wooden stools and other furniture to match your updated textiles. Updating kitchen dishware is also an easy way to modernize with a spring décor, and can be stored away and reused season after season.
Update Failing Furnishings
Tired of those banged up, dark pieces of furniture? Lighten up your home's look by swapping out dark and dreary tables and furnishings with brighter, lighter colors. From outside patio sets that beg for barbecues to lightly colored couches and chairs, a few updated furniture pieces can help ring in spring with a fresh new look that can be the perfect backdrop for all future seasons. Look to lighter colors that can create a fresh foundation for your changing interior design and you'll set yourself up for future home décor that can support a gamut of seasonal themes.
Spring is a wonderful time of year for dusting off cobwebs, clearing out clutter, and bringing some beauty into the home to help shake off those winter woes. Take advantage of the loveliness of the outdoors this spring season and mirror it with your own indoor oasis by making simple upgrades such as setting out new dishware, bringing in bright vases, updating old furniture, introducing interesting fabrics, and making bouquets out of the fresh cut blooms of spring.