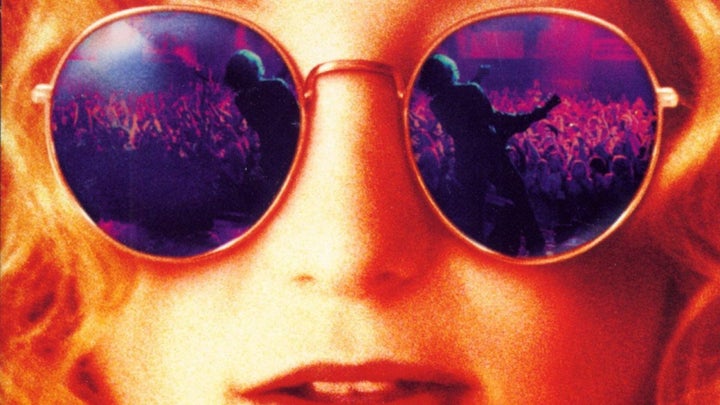 It's a scene I sometimes forget, but when Jimmy Fallon steps into the frame of Cameron Crowe's Almost Famous time stops. The short, brilliant moment takes place backstage before another Stillwater concert, marking the transition into the film's third act. I sometimes forget the scene, because it's such a drastic shift in content and tone for a film otherwise drenched in the wonder and innocence of discovering bands and their music. At its core, the film is about the impossibility of finding words to capture the magic and irony of rock 'n roll. But this scene traffics in explicit cynicism. It feels like time stops, because losing one's innocence can feel like that, and frankly it should.
Fallon's character reveals the ins-and-outs of a budding industry about to lose its baby fat and face the cold, cruel world of capitalism. It's a necessary moment, a wake up call for the troupe of insecure musicians, and a peak behind a very thick curtain. Fallon's painfully true words are a crash course in music industry economics, circa 1973: "You gotta take what you can, when you can, while you can." Fast forward to 2016 and these pithy lines, now a banal truism, have become the slogan of so many companies, and the mantra of StubHub.
More on that site and its impact in a moment. For now, let's get back to the music, and revisit one shining moment earlier in 2016, when it felt like we might regain our innocence, when the impossible became possible, and LCD Sounsystem were once again kings of New York City.
The band's reunion shows had the music industry abuzz, and rightfully so. Like an inconspicuous mirror, LCD's return delivered music fans our own, surprisingly haggard reflections. We found ourselves with few other bands that could deliver the musical satisfaction and catharsis this colossally talented group gave us for seven straight years, until their last live show in 2011. To fill this void we didn't know we had, many fans threw down their hard-earned money to see the band headline festivals in California, Europe, Tennessee, and Chicago. We realized how ready we were to dig deep into our unabashed enthusiasm (a very difficult job for hipsters) and gear up for more live LCD Soundsystem performances. Very simply, we were so ready to dance to our favorite songs.
Then, the band announced two last-minute shows to precede their summer festival schedule. Posters said they were "Back From The Dead," resurrecting themselves for two shows at Webster Hall the Sunday and Monday of Easter weekend. Prominent corners of the Twitter-verse blew up with the news. It was the hottest ticket in town, and organizers did their best to make ticket access as fair as possible with a lottery that would randomly issue ticket codes. Fans submitted their requests, crossed fingers and toes. I too threw my hat in the ring. What did I have to lose? As it turns out, I had plenty to gain.
The next day, to my extreme surprise, I received a congratulatory email. I'd won the chance to buy two tickets! Here's your code, the email said. Click this link at 10AM it instructed me. It all seemed blessedly straight forward. But a cloud loomed overhead. A show this massive begged to be exploited by the scalpers who warmed up for an ambush.
Mere minutes after the clock struck ten, exactly what the band wanted to avoid had already happened. Lucky lottery winners navigated to TicketWeb, but the site wasn't working. It crashed for more than two hours, plagued by constant assaults from scalper bots working to crack the lottery ticketing codes. Like everyone else, I refreshed the link dozens of times and called TicketWeb's 800 number, trying to get a straight story. Webster Hall responded to an email I'd sent, reassuring me that if I had a code, I would receive tickets.
After the dust finally settled, I broke through (pro-tip: sign into your TicketWeb account using Internet Explorer or Firefox). I bought two reasonably priced tickets for $33 (plus fees, which TicketWeb eventually refunded for the inconvenience). It was an eventful few hours, more so than I'd hoped, and at the end of it all, I had tickets to see LCD fucking Soundsystem!
The drama didn't end there, with me. After my personal first world drama resolved itself, I curiously checked StubHub, where I found several ticket sellers (scalpers) asking $400 to $1500 per ticket. It was a situation the band and organizers did everything to avoid, but, like an existential Möbius strip, they were back where they had started.
Many fans and critics were right to recall the painful and well-publicized debacle leading up to the LCD's farewell show at Madison Square Garden in 2011. Unprepared ticketing sites and greedy scalpers led to egregious prices. Some fans are still bitter about the whole thing, and it remained a sore spot for James Murphy. But, ultimately, the show went on at MSG, and fans were treated to a brilliant au revoir. A documentary ensued, and Murphy put his gear in storage and set out to explor other projects in varied spheres that resembled 24 hours in Williamsburg: wine, coffee, and mass transit.
As a romantic, especially when it comes to music, it was an incredibly difficult situation for me to process. I rode a full range of emotions. How lucky was I? I would get to see the band's first show in five years! Would they be as good as they once were? Would they debut new songs? And then the sadly opportunistic thought: did I want to make myself a cool $500 dollars on my extra ticket? Surely there were a more than enough NYU poseurs who could get Daddy to pay for their ticket. Whether or not they deserved it or earned it wasn't the question. The capitalist in me beckoned to take what I can, while I can. Ultimately, I thought better of my good fortune and decided to share the wealth. I decided I'd either give my extra ticket to a friend or sell it on CashOrTrade.org.
Self-described as "the world's first fair trade marketplace where fans ethically buy, sell, and trade tickets for face value," Cash or Trade is a bright spot in the live music industry's dark shadow. The site launched in 2009 as Phish and other in-demand groups mounted massive reunion shows. We were overdue for an alternative and fair solution to reselling tickets, so while StubHub continued charging fees on top of their egregious price points, COT decided they would only allow fans to sell their tickets at face value, or trade for equivalently valued tickets.
Demand was massive, and the site's community has grown to almost 250,000+ fans worldwide. If you regularly buy tickets and attend shows, and you haven't yet signed up for COT, do it. There's no guarantee you'll never pay above face value for a ticket ever again, because some tickets are still too difficult to come by (I'm looking at you, Phish). More than anything, what this site is building is a community of music lovers who are fighting the StubHubs of the world. There's power in their union, and however small, it's definitely something special.
As for the Webster Hall show in March? We'll, let's just say I've spent ten years in New York seeing shows and can count only a handful of shows that were that special. Rumor has it the Webster Hall staff said it was one of the most energized performances they've ever seen. On top of it all, James Murphy was a mensch to the crew loading in his and his band's gear. The band did fumble with some technical difficulties early on, but they more than redeemed themselves with an intense, inspired show. Me, my friend, and a few hundred lucky fans had ourselves a damn good time.
In the end, and in spite of all the corporate opportunism, we can't lose sight of the music. We're running out of unmediated venues for communal gathering and jubilant self-expression. Especially in a live setting, bands like LCD Soundsystem want to tap into the potential for visceral experience that can't be replicated by social media or VR or video games. James Murphy and his mates are blessed with talent enough to physically and emotionally move people. Their music acknowledges the bizarre entitlement, pretension, hypocrisy, and anxiety of our age, an age where we can make money off the results of random ticket lotteries. They mine these universal conditions so you and I can dance our faces off and reveal the raw, fleshy parts of our souls that are still there, throbbing underneath. Thank god for that.
Suffice it to say, even with all the recent reunions and headlining of festivals, I still believe bands like LCD Soundsystem simply want to play music. They do it, as all music should be done. Not for the money. Not for the fame. Not to impress you or me. They play music because they love playing music.
Now, does that mean you would be wrong to describe LCD Soundsystem as a motorboat whose wake is often filled with irate fans, opportunistic scalpers, and angry internet trolls? Probably not. Do present circumstances over-shadow their music? In many ways, absolutely.
Being a great band in today's struggling music industry comes with a massive, unavoidable shadow. The supply of scalpers and re-sellers who want to capitalize on the situation will not run out. And like Fallon says in Almost Famous, ticket exchanges like StubHub didn't invent the rainy day. They just own the best umbrella.
Thankfully, we now have a choice. We can grab for those umbrellas, paying top dollar until they're all gone. Or we can look to alternatives like Cash Or Trade, who have built a communal shelter to weather the storm of bullshit. Hopefully the heaviest of the downpour will soon come to an end. And, if you listen carefully, you can hear the music starting.
Calling all HuffPost superfans!
Sign up for membership to become a founding member and help shape HuffPost's next chapter