Every four years, the United States government and its citizens participate in one of the world's most profound and peaceful transitions of power. Such opportunities present all of us with a choice in leadership – at the executive and congressional levels – as we think about the kind of country we wish to be, and the kind of world we wish to be in. The latter is most relevant because our elections impact so much beyond our borders.
The isolationist rhetoric expressed by too many campaign narratives from the right and left reached alarming heights during the 2016 general election season. Frustration with both domestic economic conditions and the complexity of global challenges threatens to perpetuate narrow campaign platforms, turning a rejection of America's positive global engagement into permanent governing policies and actions. But we cannot deny this country's legacy and vital role as leader in advancing human wellbeing and the rights of the world's most vulnerable people, what we call global development.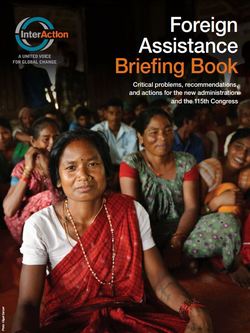 At the heart of America's foreign assistance portfolio – and showcased in InterAction's new 2016-2017 Foreign Assistance Briefing Book – are poverty-focused development assistance programs. These are our country's most important tools to improve the lives and health of people living in the world's poorest and most unstable countries. Development assistance through partnerships between the U.S. government, NGOs, and the private sector advances the ability of people to improve their own welfare, as well as U.S. political, economic, and security interests. Concurrently, building peaceful communities through good governance helps decrease the number of countries that give rise to violent conflicts, terrorism, and international crimes—all of which impacts security here at home. Through a bipartisan consensus, Republican and Democratic leadership have consistently viewed development assistance as a core tool of U.S. foreign policy to address American interests while promoting our democratic ideals and role as a compassionate nation.
Thus, regardless of the outcomes on November 8, InterAction remains committed to the following:
Promoting the principles upon which our NGO members and partners stand: human rights, rights of migrants, humanitarian law, inclusive economies and societies, a sustainable relationship with our planet, an open civil society space, democracy, gender equity, justice, and self-determination.
Advancing the diverse missions of our members: helping children and refugees, promoting gender equity, saving lives, protecting vulnerable populations, promoting inclusion, mitigating the impact of climate change, and advancing food security, health, and education.
Fostering an inclusive globalized world that taps the best of our international system while placing people first.
Ensuring a significant and ongoing investment into people-centered programs that are part of a vibrant U.S. foreign assistance program.
Engaging a vibrant private sector committed to human welfare and sustainable value chains.
Supporting an administration that listens to the voice of civil society, faith groups, and non-profits that are interested in advancing the SDGs, addressing humanitarian crises, and promoting human dignity.
Building a close working relationship with the White House, USAID, State Department, and other agencies.
Challenge new government leaders to ensure support for U.S. NGOs, while leveraging our private resources, and not violating our rights as U.S. nonprofits.
Whatever the outcome of the November election, the U.S. NGO sector will continue to play a vibrant role. We look forward to working with a new administration that shares our visions of a better future.
Popular in the Community