There are many days when we get to our homes focusing on everything except the present. We either worry about past events that cannot be changed or plan for the future that is yet to come. Very few are the times when we take a moment to be in awe with our present.
We easily get lost in the frenzy of daily life and forget to be thankful for the good moments of every day. If you are alive and breathing then there is something in your life for which to be grateful and appreciative.
To help me harness the power that comes from feeling blessed for the joys of every day, I decided to start my fall semester at Smith College with a wall of gratitude. On my night table I have a small basket with flashcards and sharpie markers. Every night before going to sleep I take one card to list the things in my day for which I am thankful.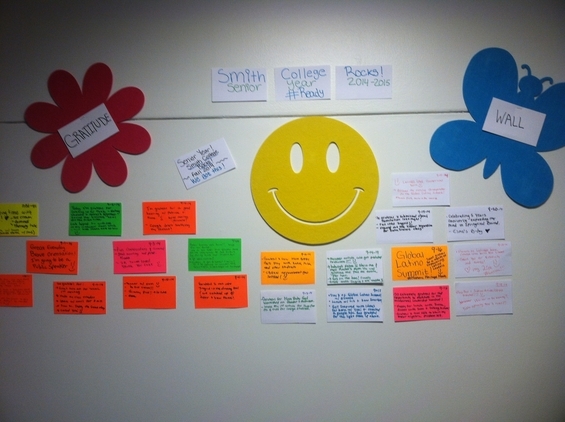 It is about the little things as well as the big things. To give you an idea, here are 13 of the many things for which I have been grateful so far:
1. (8/31): Having bonding time, Dominos, and a therapy talk with a close friend who graduated from Smith last year... all in one day!
2. (9/1): The opportunity to co-facilitate an orientation workshop for first year students with leadership expert Rachel Simmons!
3. (9/2): Introducing a friend to Chipotle food and eating the best ice from Herrell's ice cream for dessert.
4. (9/3): For a great introduction meeting with my linear algebra professor.
5. (9/4): Thank you cough drops for soothing my burning throat!
6. (9/6): My baby niece was born healthy! Auntie mode is on!
7. (9/9): Grateful for the turn out and dynamic brainstorming session at the Wurtele Center for Work & Life first student meeting this fall. Also, so happy to have finalized my class schedule for this fall semester.
8. (9/13): Thankful for an insightful workshop on theater and activism with the Mom Baby God team.

9. (9/15): So excited for a fun computer science and data science class. Programming here I come!
10. (9/16): Thankful for the motivational talks in the Global Latino Submit online conference this month and for the opportunity to connect with my Latina leaders.
11. (9/18): My first two blogs were published at The Huffington Post and the Smith Sophian! Feeling grateful for choosing to not allow fear to paralyze me anymore.
12. (9/19): So blessed for the flow of ideas. I came up with the mission and vision of the business I want to start when I graduate this may. Now I'm planning to compete for Smith's 2015 Draper Business Plan Competition in the spring. PSA: Latina entrepreneur and professional public speaker in the making!
13. (9/20): Grateful for strong relationships: Feeling blessed to celebrate my best friend's birthday and my five years anniversary with an incredible partner. Also, grateful to have been inspired by the richness of Latino leaders and allies of Springfield, Massachusetts, through the 2014 Springfield Bound orientation.
These are only some examples in my own life. But, allow me to share with you that I am not the only one who believes in the power of gratitude.
Motivational speakers Pegine Echevarria and Deborah Deras emphasized gratitude as a tool for being successful and a leader in your own life.
1. Wealth: We must be grateful for having a shelter, clothing, electronics (e.g. phones and computers), and the ability to pay our bills one way or another.
2. Mobility: We must be grateful every single day for the ability to move from one place to another with planes, cars, trains, bikes, wheelchairs, scooters, and all the technologies that make it possible.
3. Flow: We need to be thankful for the flow of opportunities. When money leaves, it also comes back. Whenever we are in a low, then we will soon be in a high.
4. Courage: We must be grateful every day for our persistence to keep moving forward, for our confidence, and our ability to strategize.
Being grateful not only enriches our lives with joy and appreciation for the present. As Echevarria shared, appreciating what we have and who we are today will enable us to see new opportunities moving forward.
Every single day we all have small and big things that make our lives better. It is up to us to choose to live mindfully in the present while learning from the past and planning for the future. We can take action now and start by being grateful for every day.