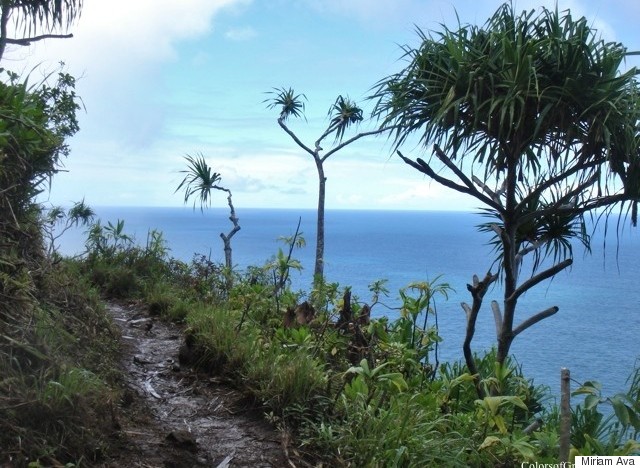 What are you most grateful for? It's a deep question to ponder. It's like this gem that's buried amongst layers of soil, sediment and sentiment, calling your name, making you peel away the blankets of routine, habituated gestures and internalized views. So what is it that most ignites that exquisite life force in you?
I am most grateful for knowing and embodying that every day I get to live and create on this magnificent planet is the most delightful gift I could ever receive. The creamy colors of the morning light that grow stronger with each breath; the breeze of spring in the city park; the playful bark of a pup nearby; the knowing embrace of a loved one; the aura of grace around my silhouette; the excitement of fresh moments resplendent with possibilities -- that's the magic of life.
If I were to offer you one image that captures my gratitude for being right here, right now, it'd be me hugging the world, arms stretched out wide, heart to earth, pulse to people, plants and animals, awash with love, aglow with gratitude.
I wouldn't be who I am today if it weren't for the brilliant beings, two-legged, four-legged and feathered, who've accompanied me on this wild, majestic journey called life. I'm forever grateful for their divine support and unconditional love. It is from this ever-abundant well of wholeness that I draw (most) every time I step out the door to live and create beauty and peace. In fact, mir happens to mean "peace" and "world" in Russian. Thus, I like to think that my name stands for Mir-I-Am, or "I Am Peace," I Am The World. And since we're all connected, my acts of courage and kindness impact you and your mother, too.
I'm blessed that phenomenal teachers have shared their polished and rugged nuggets of pure gold with me, be it in person or through books or the manifold forms of online learning. I'm grateful I've hiked the Napali coast after torrential rainfall, walked the streets of Rome in comfortable shoes and kissed that special guy the night I'd first met him. I'm thankful for the roommates who have crystallized the sweetness of my own place; I see the divine design in the overburdened body that led me on the path of vibrant health. I'm grateful for it all because it's all good.
Gratitude is a lifestyle, really. When we're grateful we're graceful. We're more conscious, inspired, and powerful. We change, and thus we change the world. My quest for the beauty of humanity has led me here. I created Colors of Gratitude, the blog, to give a voice to the grace of our core. To bring forth the kindness, courage and creativity within us, that genuine enthusiasm we may have lost touch with in the vertigo of today's world.
A rainbow of inspiration -- en theos, literally meaning in spirit -- is spread out before us at any moment. It's my intention to inspire gratitude, to open people's eyes to the breathtaking beauty that surrounds them. It's all people and visions and actions. It's all us. Worldwide. We are the fibers of this planet; it's time we shift back into bright peace.
Gratitude's the fertile soil from which creativity, abundance and exhilaration spring forth. It's the cell culture for life force and life force herself. It's the original G-spot that grounds us in joy and ignites us into enlightenment.
I want you to pause for a moment and rest in your breath. Who's lighting up your world? Call them now, or give them a hug. What are you grateful for today? Realize how blessed you are and feel it in your body. Do treasure what you've got but don't white -- knuckle your embrace. Gratitude is both solid and fluid. It's a solid foundation to build upon as well as a fluid, transfiguring flow to trust in.
This blog post is part of a series for HuffPost Gratitude, entitled 'The One Thing I'm Most Thankful For.' To see all the other posts in the series, click here To contribute, submit your 500 - 800 word blogpost to gratitude@huffingtonpost.com.